Increase sales projections by investing in a Sales Performance Management platform that compliments your CRM data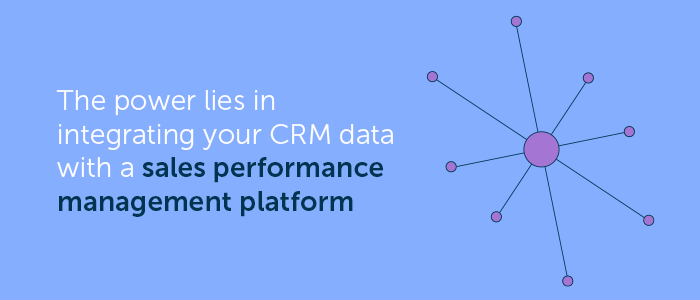 Did you know, according to Insight Squared, companies using sales performance management (SPM) techniques see up to 81 percent of their sales reps meet their quotas?
Every business wants a high-performing sales team. But how do you make that aspiration a reality? For many sales managers, that's the million-dollar question.
The secret lies in SPM—a next-generation approach that focuses on using metrics-driven best practices to optimize sales performance. Some may say that's exactly what CRM tools do. So while SPM may seem to be merely a marketing term for something that already exists, it actually offers much more if you scratch beneath the surface.
So what is different about SPM than your everyday sales tactics? It's not just about hitting goals. It's about looking at sales data and determining how to optimize what went right so you can achieve more next time. Most sales forecasts are based on the previous year's figures and involve a fair amount of guesswork. Indeed, as highlighted in our recent SlideShare, we found that 50% of organizations create between 5-10 iterations of their sales quotas before they are assigned, whilst 54% of companies surveyed deliver their sales targets two weeks to a month after the start of the fiscal year. An SPM platform can enable businesses to make accurate projections based on not only historical and recent data but foresights such as market changes, new product, geographic expansions, based on predictive analytics and advanced modelling capabilities.
Keep in mind, however, that while next-generation tools lie at the heart of SPM, they aren't supposed to replace your CRM tool. Instead, SPM enhances what you can do with the data housed within your CRM. All too often, sales teams end up exporting data from their CRM into spreadsheets—and immediately, the potential impact of that information is diluted—not to mention potentially inaccurate and immediately outdated. SPM tools such as Anaplan for Sales bridge this gap—integrating with your CRM, the financial budget, and marketing plan to ensure all departments are utilizing, measuring, and reporting on the same real-time data and sales forecast.
Additionally, SPM tools are far more sophisticated than your average CRM. Their strength lies in data analytics, and as such, they're designed to deliver capabilities such as scenario modeling, sales forecasting, account segmentation & scoring and accurate sales territory and quota planning in real time. Just imagine: You no longer have to spend weeks slaving over your sales forecasts. The time saved already makes a strong case for SPM—but it also delivers on increasing sales performance.
The key to SPM is that unlike many other sales management techniques, it puts sales reps at its center of the strategy. A crucial indicator is the way in which it helps transform one of the vital structures within your sales function: incentives. Incentives and compensation are obviously essential to sales team motivation. And with SPM's metrics-driven approach, compensation can be directly linked to real-time results, helping increase motivation.
The most important thing is that SPM works. In a typical sales team, only 25 percent of reps can expect to meet their sales quotas. At Anaplan we've found that sales teams utilizing SPM strategies can expect to more than triple that number. It's a difference that can't—and shouldn't—be ignored.
CSO Insights' ICPM study found that 69 percent of organizations use three or more metrics to build their sales compensation plans, but modeling and planning this sales strategy can quickly become too complex as a spreadsheet-driven exercise. It is crucial to get these incentive compensation structures right, and that requires a tool designed for the purpose.
Establish an effective sales strategy. Align sales objectives and sales behaviors to your company goals. Design equitable sales territories. Predict future sales results. Automatically recommend up-sell and cross-sell opportunities to continually optimize sales performance. All on the Smart Business Platform that integrates with your CRM data. See it in action with our live demo.