Launching your Connected Planning Center of Excellence
When companies implement a Connected Planning platform, it's essential to create a Connected Planning Center of Excellence (CoE) to establish a governance structure and support the transformation. But before we jump into discussing the benefits of a CoE, let's first start by defining what it is at a high level. When we talk about Connected Planning, we mean unifying data, people, and plans across the enterprise to make business planning real time, collaborative, and efficient. Its intent is to eliminate the planning silos that hold many businesses back from being able to make decisions with the agility needed to navigate the unpredictability of today's business environment. However, since Connected Planning can easily devolve back into the disjointed siloed planning that is all too familiar to many of us, a CoE is truly the foundation needed to ensure successful rollout, adoption, and governance of Connected Planning best practices across the enterprise.
A CoE is a team that promotes, shares, and collaborates on a specific technical focus area, to efficiently and effectively achieve business objectives, with the goal of maximizing ROI, standardizing around best practices, and facilitating shared knowledge. Launching a successful CoE requires expertise, which is why many businesses choose to work with an Anaplan partner who can help ensure that the CoE has all the tools, processes, and techniques needed to grow with a Connected Planning program.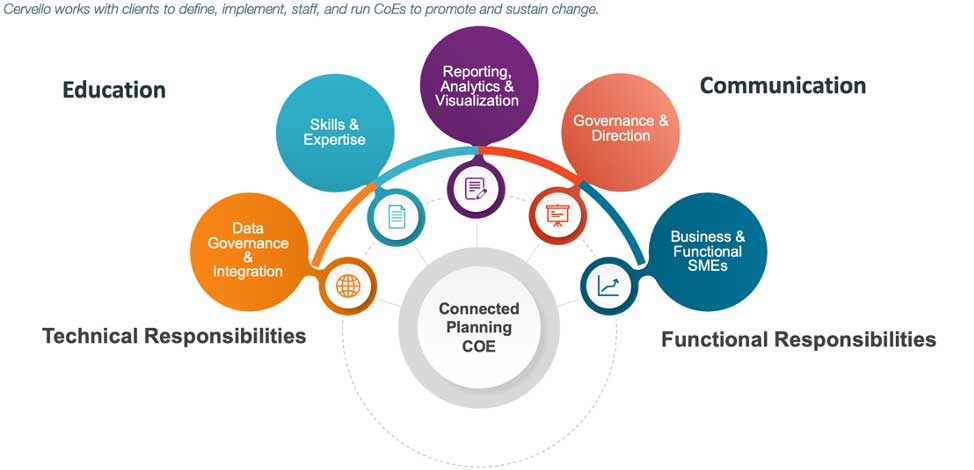 Below, I'll outline the multi-step processes that all companies who venture down the Connected Planning road need to take to launch a successful CoE. The first step is to define your CoE team's purpose and goals. This could be limited to the first use case but should expand to a Connected Planning architecture as the use of Anaplan grows within your organization. You should consider the following aspects:
Technical responsibilities. Does the group cover data management, integration, reporting, and analytics?
Functional responsibilities. Should the group offer functional expertise to challenge complex business processes before building them into the Connected Planning platform? Is there a steering committee?
Education. How will this group initially learn Connected Planning via the Anaplan platform? How will it help build capabilities within the organization?
Communication. What is the communication cadence and forum? This major piece of change management will take place when a new planning system is rolled out.
Beginning with a CoE manifesto that answers the above questions sets a clear direction and provides guidance for the team to ensure success now and in the future. Once your CoE team's goal and purpose are set, the next step is to determine who is going to be part of the CoE.
Establishing role and responsibilities within your CoE
CoEs are typically staffed with architects and model builders, but based on your manifesto, you could also add roles that support data integrations, reporting, and analytics. Other important roles are the CoE lead, project managers, and a business analyst. For each role, you must determine which skills are needed.
The CoE will be staffed with architects and model builders, but based on your manifesto, you could add roles that support data integrations, reporting, and analytics. Other important roles are the CoE lead, project managers, and business analysts. For each role, you'll need to determine what skills are needed. To do this, you can start by looking around the organization to identify individuals who would be a logical fit for each position.
Building and maintaining Connected Planning architecture
The most import document a CoE will create and maintain is the "Model Building Standards" document. If you decide to team up with an Anaplan partner like Cervello, they will provide some basic model building standards from past experience to help you get started, but the list of model building standards should be a living, breathing document that your CoE continually updates. The CoE should also create templates to standardize implementations. A good model overview and user story template will go a long way. Other templates should focus on model design and documentation. These templates and guides will not only ensure that your Connected Planning projects are successful, but also assist with training and onboarding.
Change management
As you roll out a transformational cloud-based Connected Planning platform, change management has to be paramount. The roll-out should be championed by the CoE through plans for communication, training, and knowledge management. The plan for adoption should focus on the following:
People: Engagement from stakeholders, executives, and influencers.
Technology: Business ownership and a training plan.
Process: Early wins that deliver a meaningful business impact.
Data: Consistent, reliable, and available data.
With a sound change management approach, adoption of the tool will follow, allowing for the expansion of the Connected Planning platform across your organization.
Ensuring success in your Connected Planning program
Establishing a Connected Planning CoE is essential to ensuring the success of your program. With a CoE in place, your organization will be better equipped to navigate the transformation and deliver business value faster and more consistently. By using this blog as a guide to get started in the right way, you'll be able to build a strong foundation for governance, standardization, and the critical capabilities that drive your organization forward on its Connected Planning journey. Cervello welcomes the opportunity to share our CoE best practices in more detail and help you get started down the right path.
To learn more about Cervello's Center of Excellence services, visit the official Cervello website.
About Cervello
Cervello, an A.T. Kearney company, is a global strategic Anaplan partner that helps smart businesses win with data. We optimize business performance, improve business analytics, and solve complex data challenges. We specialize in designing Connected Planning processes and analytics using transformative cloud-based technologies to maximize business value and provide deep insights into business performance. We work with enterprise clients in the functional areas of finance, operations, IT, and sales and marketing. For more information, visit mycervello.com.