Making driver-based budgeting and planning work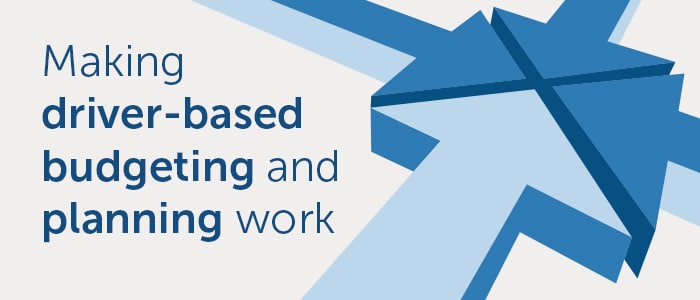 The benefits of driver-based budgeting have been touted repeatedly: tighter alignment across the business, more insightful decisions, and the ability to rapidly reforecast with minimal effort, to name a few. To dig deeper into the subject we invited Paul Hamerman, Vice President and Principal Analyst at Forrester Research and Richard Barrett, finance industry expert, to join us for a webinar on best practices for companies looking to integrate driver-based budgeting into their financial planning process. They also discussed how today's technology solutions can be leveraged to achieve maximum speed, flexibility, and insight.
If we know all the benefits of driver-based budgeting, why aren't all businesses implementing it? During the webinar, Barrett posed this question and then highlighted three perceived barriers to driver-based budgeting:
The level of expertise needed to write business rules and maintain complicated models
The amount of upfront effort required to build a driver-based budgeting model
The inability of traditional budgeting solutions to cope with large amounts of data
Barrett then demystified what is actually required to deliver driver-based budgeting and planning. An optimal architecture, the ability to self-manage, and quick time to value were three key items he listed, and luckily, today's technology has evolved to deliver all of these.
To keep up with the global scale and rapid pace of business, companies need to adopt the latest technologies to stay ahead. Hamerman illuminated four technologies that companies should consider leveraging. He started with Software as a Service (SaaS), which makes planning systems easier to deploy and maintain, and improves the agility and speed of today's companies. Hamerman cited a Forrester software survey that showed that for 72% of respondents, the speed of implementation and deployment is one of the main benefits of SaaS technology. Other top benefits of SaaS implementation included lower overall costs and faster delivery of new features. The second technology that Hamerman mentioned is in-memory computing, which allows complex planning models and large data sets to be managed instantaneously. Predictive and visual analytics, which enable the creation of sophisticated forecasts and allow users to see the results of business performance in more intuitive ways, rounded out his list.
Hamerman offered best practices to solve some of the classic shortcomings of planning and budgeting. He encouraged companies to combat market volatility, disconnected spreadsheets, and control-based budgets by adopting these best practices:
Collaborating across lines of business
Linking plans to concrete business strategies
Building predictive models using forecasting algorithms
Anaplan enables companies to implement driver-based budgeting
The right technology can ensure that these best practices are enacted, and Barrett walked through Anaplan's in-memory planning platform and how it enables companies to implement driver-based budgeting. For a deeper dive on this topic, watch the full webinar or download our recent driver-based budgeting white paper for more insights.