Planning lessons from Hewlett Packard Enterprise
Every quarter, our Chairman and CEO Frank Calderoni hosts a global gathering for all Anaplan employees. He often invites an Anaplan customer to participate in these quarterly gatherings to remind all of us—especially those who don't meet with customers in our daily work—that Anaplan exists to help our customers succeed.
In a recent meeting, Frank's guest was Ben Butler, Director, FP&A Data and Analytics at Hewlett Packard Enterprise (HPE). Ben flew from Houston to San Francisco to join our internal meeting and describe the project he leads, the goals he's working toward, and the ways Anaplan is helping HPE build better, more holistic plans. Here's what Ben told us.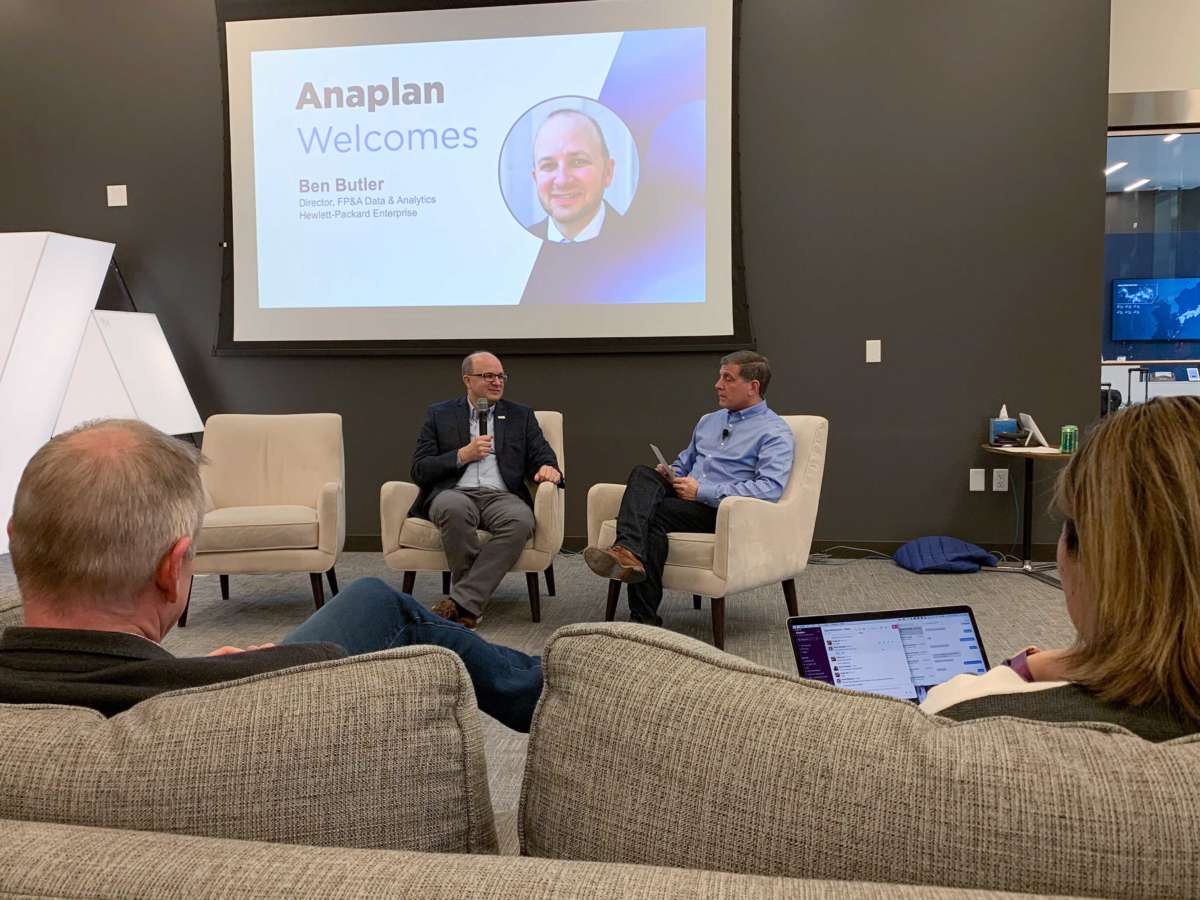 Releasing trapped data
HPE is a global platform-as-a-service company, providing servers, networking, and storage to organizations worldwide. It formed in 2015 (when Hewlett-Packard split) and has since acquired a half-dozen companies, creating an organization with multiple business units and layers and more than 61,000 employees—4,000 in its finance organization alone.
Against this complex backdrop, HPE is in the midst of a company-wide finance transformation. Ben and his team are taking ten IT systems used for primary planning across the organization and moving all of that planning to Anaplan. "It's a very complex environment that is driven by a lot of tools," Ben said of the solutions they're replacing. This fragmented system is a combination of software used by acquired companies, solutions bought for specialized planning needs, and other legacy tools. "Along with several dedicated planning products, we also rely on a lot of spreadsheets for planning and reporting," Ben explained.
But because the current system is fragmented and siloed, corporate-level planners who want to dive deep into questions often can't get to the underlying data. "It is all trapped in non-corporate tools or spreadsheets, so we were constantly sending out fire-drill requests for more data," Ben said.
One goal of the transformation effort is to find and release that trapped data. In the new, Anaplan-based solution, individuals across HPE will work directly in Anaplan, and plans will roll up to the corporate level automatically. When the inevitable questions arise, corporate planners will be able to drill down to source data to find answers.
This is possible because of what Ben calls "flexible standardization" enabled by Anaplan. "We've set up the dimensions and the Data Hub so we can dynamically change things in a structured manner as needed," he explained. Many customizations that users and teams have relied on with the old system can be mimicked in Anaplan, but the data structures and flows underlying those customizations will remain consistent across the organization—a huge win for the people responsible for company-wide planning.
Keys to success
After four and a half months of collecting user stories, aligning on definitions and processes, building models, and user testing, the system was, as of Ben's visit, about two months from going live for about 500 planners (expanding eventually to 750) across HPE. Early users are particularly excited about Anaplan's tracking capabilities—that is, the ability to see at a glance when people have submitted data, altered formulas, adjusted assumptions, and made other changes. In the past, this visibility was only possible by manually comparing plans and checking date stamps on documents and file shares. "As they use the tool more, I'm sure they'll find other things more exciting," Ben said with a laugh. "But right now, that's their favorite thing."
Ben attributed the project's success to three factors:
Outside help: HPE engaged Anaplan global partner PwC to assist with implementation. "PwC has been excellent in quickly helping us build out the tool, identify the places where we need to standardize, and find out where we could offer some flexibility," he said.
Executive sponsorship: HPE CFO Tarek Robbiati advocates for the project, and his support cascades down through finance leadership. "He's made it an objective for every member of his staff to retire the old tools and move to the new one," Ben explained. Tarek himself meets with Ben monthly for updates.
Grassroots excitement: Early users are excited about the new system's capabilities (like the tracking noted earlier) and their optimism is contagious as the user base grows and the go-live approaches.
"From a change management perspective, a project is really only successful when you have both top-down pressure and bottom-up support," Ben told us. "We've got the right combination to achieve great things."
Early success on this project is helping to drive better planning in functional areas outside of finance. In addition to sales use cases (where Anaplan first took root at HPE in 2015), HR and supply chain teams are also looking for ways to build on the solid foundation that Ben's project is establishing in Anaplan. "What we're doing has created a lot of buzz in the company about the potential to step up our planning capabilities," he said.
"I loved having Ben here to talk to the entire Anaplan staff," Frank said after Ben's visit. "He showed us all the huge business impact that Connected Planning can have, and we're so pleased that HPE chose Anaplan to make their transformation a reality."
Read more stories about Anaplan customers.
Live Webinar

Learn about HPE's journey from proprietary tools and spreadsheets to true cloud FP&A

Sign up