A procurement control tower allows better multi-enterprise collaboration
By centralizing sourcing- and procurement-related data into a procurement control tower, multi-enterprise collaboration is more attainable. Through this, better business outcomes are easier to capitalize on, such as identifying and realizing bottom-line cost savings, improving supplier performance, and driving supply chain resilience and agility for greater return.
Better financial outcomes are dependent on better processes and data. With procurement's many moving parts, multi-enterprise collaboration can be challenging but necessary. By using a procurement control tower, each enterprise can report into one place to make informed decisions to enable better returns, more agility, and a greater competitive advantage. 
What is a procurement control tower?
A procurement control tower is a modernized, centralized procurement nerve-center. This location acts as a solution designed to unify procurement systems, data, and multiple enterprises within a secure and cloud-native environment. Anaplan can function as a procurement control tower for leaders within an organization to better inform decisions made within the across the supply chain. This creates opportunities for enhanced analysis and scenario planning for better financial and overall business performance.  
This new technology does not replace any existing purchasing execution software, so it doesn't function as a total overhaul of entire procurement processes. Instead, it will enhance legacy software by orchestrating the planning done before purchasing.   
How does a procurement control tower work?
Because a procurement control tower brings systems, stakeholders, and suppliers together into a collaborative environment, it enables multi-enterprise collaboration. We explained multi-enterprise collaboration in a previous blog you can read here. 
Multi-enterprise collaboration is the ability to have hundreds of suppliers and other partners working together to optimize procurement performance. Unfortunately, this can come with disparate sources of information, different processes and ways of collecting data, and often, the information needs to be compiled manually in a spreadsheet. 
A procurement control tower centralizes internal and external data without error-prone, immediately outdated, limited-visibility, and labor-intensive spreadsheets. This makes existing systems work better together by unifying siloed systems and data into a single platform. The process of collecting and analyzing the data can also be automated, saving procurement teams the hassle of manually managing email status updates.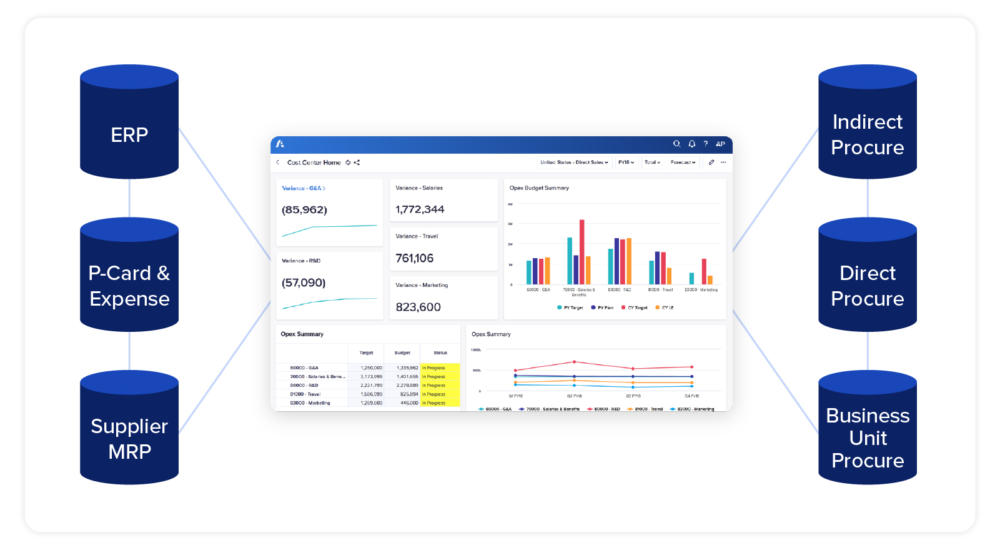 Why use a procurement control tower?
Imagine collapsing dozens or hundreds of spreadsheets into one globally accessible cloud-available portal. The reduction in workload and the simplification of data analysis and sharing can be game-changing. Here are additional benefits of operationalizing a procurement control tower: 
Engage more effectively with multi-enterprise collaboration. 

A powerful, secure, cloud-native platform like Anaplan makes it possible for every stakeholder to connect around one source of truth for faster, more sophisticated planning, forecasting, and analysis. This, in turn, enables better decisions and faster planning for improved performance. 

 

A two-way flow of information.

 Each enterprise can see and use data outside of their own processes to inform decisions,  providing a greater return. Information can be shared seamlessly and quickly, easily improving agility, resilience, and performance.

 

Ability to discover hidden opportunities to reduce costs.

 Opening sightlines reveals ways to streamline processes and trim costs, like within purchasing, and enables pricing, analysis, forecasting, budgeting, and negotiation with suppliers without limited leverage. A procurement control tower can also track cost savings to improve budgeting and increase profitability by providing a line of sight into every dollar. 

 

Automate workflows and achieve new efficiencies

 Procurement teams can realize process efficiency by automating data collection from suppliers and factories, reducing the manual labor needed to provide these insights while creating traceability and accountability across enterprises, which allows operations to continue even with changes in personnel or other disruptions. 

 
Existing systems can work better together.

 Anaplan is easy to use. With everything available in one location, every enterprise can access the info they need when they need it, and ensure that each decision is well informed, making better outcomes for all parties.

 

Reinforcement of supplier network against risk and uncertainty. 

Rapidly changing situations require fast information updates, but with gaps in data and communication capabilities, critical time is lost. Knowing every option during turmoil, from available stock to feasibility of contingency plans, is key for survival. Multi-enterprise collaboration using a procurement control tower ensures that essential services and supplies will always be available, thanks to visibility down the entire supply chain, and the ability to see deficiencies, opportunities, and successes.
Conclusion: A procurement control tower is essential
There is no doubt procurement leaders need robust and effective multi-enterprise collaboration. Without a procurement control tower, it's nearly impossible to align every stakeholder's data, decisions, and performance. But a procurement control tower is only possible through a platform providing a consolidated location for multi-enterprise collaboration. Procurement leaders need Anaplan, which provides the technology and capabilities necessary to operationalize a more effective and successful system. 
Learn how to use multi-enterprise collaboration to create a procurement control tower.