Remove the risk of missing top-line growth with better revenue planning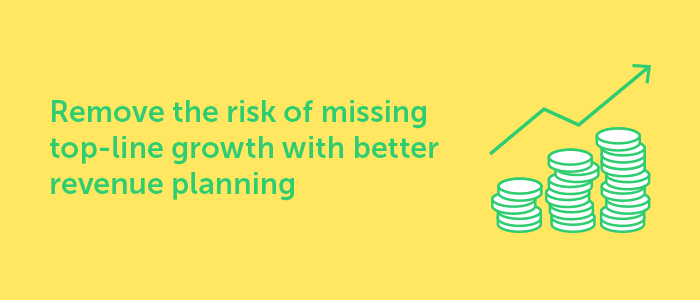 Revenue planning is business critical – investors and analysts expect you to deliver sustainable growth without surprises (and will reward you handsomely with increases in your stock price). That's because surprises of any kind—good or bad—imply that the business does not have a firm grasp of its market and that its revenue forecasting processes leave something to be desired. Regardless of whether your sales are large deals, repeat business, or recurring revenues from an existing customer base, revenue predictability is becoming increasingly important in an ever changing business world.
However, spreadsheets are still commonly used for the revenue planning process despite their inability to scale or handle complex modeling. Spreadsheets can be full of hidden errors, taking a large amount of time and effort to constantly reconfigure in order to add new products or change business logic—ultimately, inhibiting the collaboration essential to building consensus and accuracy in any revenue forecast.
Introducing Anaplan's revenue planning application
Anaplan's revenue planning app was built to fix these issues and more. There is considerable variety in the ways different revenue streams are planned. Anaplan's app provides several revenue plan models, including Professional Services, Unit/Product, and Memberships. That means you can use the app to accelerate your Anaplan implementation, to add or amend changing revenue business models, or as a foundation to modify and support your particular revenue planning needs. It can address many different use cases—below are a few common examples:
The Unit Forecasting revenue planning model enables you to jumpstart planning for products or units across price, cost, and margin. Assign unit names and adjust drivers to see the impact margin in the ready-to-go key metrics report. Use breakback in the interactive grid to adjust total units for the year and proportionally reassign units across periods.
The Professional Services revenue planning model allows you to manage professional services revenue recognition by job or project. You can assign resources to jobs, and then assign revenue to each resource.
The Recurring Revenue/SaaS revenue planning model gives you insight and understanding into the complexity of SaaS revenue modelling with all the standard metrics.
With the Smart Business Platform™ charts, reports, and key metrics update immediately so you see the potential impact before finalizing your forecasts. Additionally, Anaplan is designed for self-management with familiar business syntax, drag-and-drop hierarchies, and built-in logic for time and versions so you can quickly and easily tailor the model to your particular requirements—enabling better decision-making across your business.
Say goodbye to spreadsheets and gain the precision and agility you need for revenue modeling with Anaplan's revenue planning app. View a 3-minute demo to learn how this powerful app can provide confidence for your revenue forecast.