Sales and marketing meets connected planning at Hub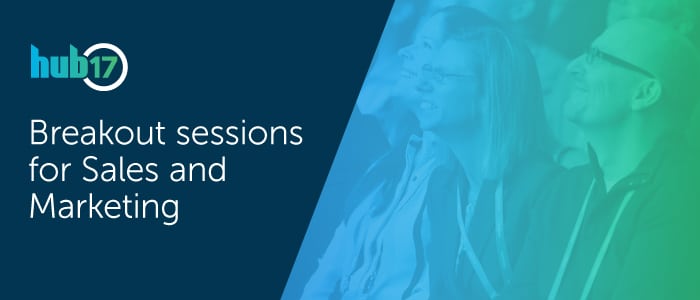 Anaplan's Hub17 global user conference is almost upon us, and I can't contain how excited I am for the 2017 sales and marketing track. Why am I excited? Because we've got some great customer, partner, and best-practice sessions lined up for you. The breakouts at Hub17 promise to be two great days of connecting with peers and learning about the unlimited possibilities of the Anaplan platform.
Rather than take my word for it, take a look at some of the sessions.
Connected Sales Performance Management (SPM)
Learn from Hub17 Global Platinum Sponsors, Anaplan partner Deloitte, as Brandon Kulik of Deloitte's Sales Force Effectiveness group discusses how to leverage predictive insights using Deloitte's Sales Performance Science methodology.
David Cichelli of the Alexander Group will outline "Five Truths of Sales Compensation" and discuss why sales incentive compensation is the link between corporate strategy and sales execution.
Steve Silver of SiriusDecisions will explore the evolution of sales operations in an era of growth requirements, market changes, evolving sales technologies, shifts in the buyer's journey, product innovations, and emerging competitors.
Office supply retailer Staples' sales operations team will share how they've improved the customer experience with more effective sales planning and increased sales productivity.
Myself, Zane Koeller, and Vicky Ascensio of Anaplan will demonstrate what connected SPM looks like, the value it creates within the sales organization, and how you can connect to other parts of the business such as finance, marketing, and supply chain.
Sales Analytics
Jeff Critten of Cadence Design Systems, a leading provider of electronic design automation software, will discuss how his company has achieved real-time sales analytics.
Charles Atkins of McKinsey and Company will provide a detailed perspective on the sales insights that high-performing sales organizations use to outgrow their competitors. He'll also show how Anaplan can support organizations in gaining those insights quickly.
Anaplan Best Practices for Sales
Rob Graham of Facebook will discuss how to utilize data hub best practices to quickly expand beyond your first Anaplan use case and realize quick time to value.
Brent Orr, a Master Anaplanner and Program Director at Intuit, a provider of small business and personal finance software, will showcase how he's used an Anaplan data hub to build a new sales call center planning application. He'll also showcase one of the first weekly statistical forecasting models developed by an Anaplan customer.
Chris Weiss of Accenture, an Anaplan partner and leading consulting firm, will provide best practices for application development in Anaplan. These practices reduce sparsity and increase application performance.
Incentive Compensation Management
Cheryl Betcher and Joey Fitzpatrick from medical device manufacturer Boston Scientific will detail independent business unit journeys with Anaplan for ICM, and describe the benefits they've achieved at each stage of maturity.
Erik Holm, Senior Compensation Manager at Intuitive Surgical, inventors of the da Vinci Surgical System, will chat with Anaplan's Elizabeth Schaffer about territory and quota management and sales compensation management with Anaplan. Erik will share his experience in dealing with complexity, best practices, and reporting.
Kevin Josephson of Anaplan implementation partner ZS Associates will discuss how overcoming obstacles in sales operations can enable high-performing sales force execution.
Trevor Dunham from Voiant, an Anaplan implementation partner, will explain how to justify an investment in an SPM platform, why a platform is paramount to success, and where you should start your journey.
Scott Werstlein of OpenSymmetry, an Anaplan partner, will help you map your business processes to extract full value from the Anaplan platform for sales performance management needs.
Marketing Performance Management
Marketing finance leaders from Netflix will share the story of how they worked with IT and marketing to create a high-performing marketing budget management application for their global media buying and campaign execution processes.
Sales Forecasting and Sales Capacity Planning
Matt Schweiger of DocuSign, the e-signature industry leader, will discuss how his company has standardized its Sales Forecasting process using Anaplan to provide greater insights to sales teams and ensure forecast accuracy for all areas of the business.
AutoDesk—the makers of Maya, the software behind all five Oscar nominees for visual effects, as well as other solutions—will describe its use of predictive insights for sales forecasting.
Territory Management and Quota Management
Carlie Bisser of CEB Global, along with Rockwell Automation, will discuss how they've leveraged the Anaplan platform to transform their sales planning processes at their respective companies.
A full panel of Rockwell Automation sales operations leaders will be on hand to discuss their journey with Anaplan.
IronMountain, with consulting partner Intangent, will discuss how they were able to deliver an account-level territory and quota management solution three weeks early—even while IronMountain was acquiring other companies.
As you can see, this is a stellar line-up of exciting and innovative sessions. Because there's so much sales and marketing specific content at Hub17, we have gathered schedules and details into a single iCalendar file.
I really hope to see you at Hub17, March 27–29 at the Fairmont San Francisco. Registration is still open, so sign up today! And feel free to stop me for a chat.