SMA research: Challenges in effectively managing sales compensation plans
In many organizations, managing the sales compensation plan is like making a broth with too many cooks: Plenty of hands are in—and responsible for—the process, but no one is happy with the results. Clearing the kitchen, however, isn´t a viable option. Instead, the answer lies in finding a common solution to accommodate and align all groups.
Finding a solution starts with an in-depth evaluation of the current process and pinpointing the challenges and opportunities. A recent Sales Management Association (SMA) research paper that surveyed business executives takes a deep look at the specific challenges companies face in managing a sales compensation plan. Here are some of the key findings:
Who creates and operates the compensation plan?
In more than two-thirds of the companies surveyed, senior sales leadership and sales operations play a significant role in managing the sales compensation plan, while finance and human resources are key participants in about half of the organizations.
Additionally, the surveyed organizations are moderately successful in meeting high-level objectives of the sales compensation plan, but many are not happy with the cost—only two in five feel that sales compensation costs align with results.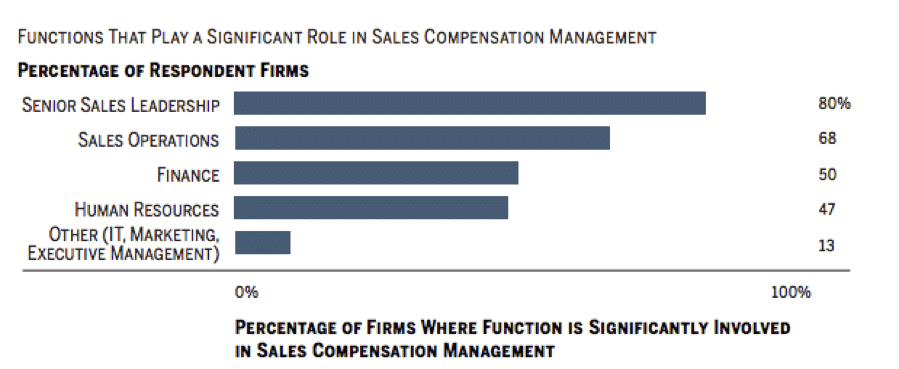 Key challenges to saleS compensation development accountability
The good news is that more than half of the respondents consistently pay accurately, anticipate future plan change costs, provide the sales team with sufficient information about the plan, and properly budget future compensation expenses.
The not-so-good news: Companies struggle with communicating the compensation plan in a timely manner, a clear dispute resolution process, and efficient sales assignments. Even more problematic is that the lowest-scoring areas include establishing effective quotas, evaluating customer potential, and delivering the sales compensation plan documentation and quota assignments on time.
What about sales people's point of view?
Since sales management is their wheelhouse, SMA´s research is focused on the people creating and administering sales compensation plans. But it would be wise to consider salespeople´s point of view. In his Forbes.com article, rather ominously titled "Sales Compensation: Beware, You Get What You Ask For," Lars Dalgaard, general partner at Andreessen Horowitz, stresses that salespeople operate daily from the terms of the plan. And they want to be judged on solid numbers, not anything that could be construed as arbitrary.
Dalgaard also emphasizes simplicity in a plan: Stick to two objectives for salespeople. That may not be realistic for all companies, however. And as complexity increases, so does the daily difficulty experienced by those administering the plan, as noted in our previous blog on optimizing variable compensation.
Technology not yet to the rescue
Respondents in the SMA report gave their companies surprisingly low marks for good use of technology to implement and administer sales compensation plans. Less than a third of respondents rated technology as effective for two basic functions: reducing time spent on low-value tasks and helping to make fast and informed decisions. More complex tasks, such as integrating data between sales and marketing and sales and finance, were rated effective by less than 20 percent.
The solution starts with getting everyone on the same technology platform and access to the same sales data. In the SMA report, about half the respondents said they were using two or three applications—in addition to spreadsheets—just to manage sales compensation. Compensation is a cross-departmental shared responsibility, which means you need a platform that not only covers the needs of the sales team, but those of HR, finance, and marketing as well.
The path to a solution
The goal of a sales compensation plan—one that incorporates data from multiple ownership groups, responds to changes and updates, and delivers clear information to everyone (especially the sales team) in a timely manner—can realistically only be accomplished using the most current technology, not spreadsheets or point solutions.
Using a connected planning platform such as Anaplan gets the sales compensation plan down to the magic number of one system, with the ability to take into account the financial plan, the headcount plan, the quota attainment—all in the same place. With all parties and information aligned, everyone works from the same information that's updated instantly as strategy changes. Plans are transparent and delivered in a timely manner, leading to higher productivity for sales management and sales people alike.
Read the full research report to gain more insight into the specific challenges sales organizations are facing and the solutions they use to solve them.