What is IBP? Process, Strategy & Benefits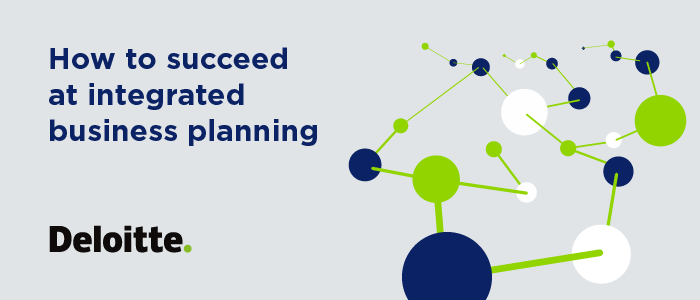 Integrated business planning (IBP) continues to grow in popularity and adoption. And no wonder—when implemented, it provides a solid foundation to meet key goals. But with many stakeholders and processes involved, it's not always easy. Where should you start in order to succeed on your journey to true IBP?
What is Integrated Business Planning (IBP)
Integrated business planning — the subject of a new report from the Association for Finance Professionals (AFP) — is a single holistic plan that seamlessly connects strategic plans with sales plans, operational plans, and financial plans while balancing practical constraints about the availability of resources and funding with the business's financial objectives.
Benefits of Integrated Business Planning
When you're looking for IBP best practices, a great place to begin is by taking advice from experts like Ken Caron and Ken Olsen of Deloitte. In a webinar (now available on demand), they shared their definition of IBP, discussed some core ideas behind it, and described how you can kick-start your efforts to incorporate IBP into your enterprise. We've recapped some of their message here, starting with an important question: Why should a company do IBP? They offered three reasons:
Alignment and accountability. Instead of spending time and energy debating which plan to follow, all stakeholders agree on one plan—and understand their role in accomplishing the goals of that plan.
Better decisions and actions. The structured process that comes from a well-built IBP approach enables companies to focus on making better-informed decisions and taking the best action based on those decisions.
Increased visibility. IBP enables companies to incorporate insights from supply chain projections, financial projects, and strategic plans. And the more insights incorporated into projects, the better informed a company's decisions will be, which, in turn, will be more likely to contribute to business goals like profitability and efficiency.
So now that you know the potential benefits of IBP, where should you begin?
6 Tips to Succeed at Integrated Business Planning
You need executive alignment and a clear vision before starting anything else. Find an executive willing to sponsor your efforts, "sell" the process, align stakeholders, and consult on change management. When you have a champion in high places, you're on the right track.
IBP is a journey, so you need a roadmap of prioritized actions that drive quick wins and sustainable benefits. But before you can plan that roadmap, you need to understand the basic elements of an IBP framework, which we detail below, along with the benefits each element brings to the table.
Effective governance. Clear roles, decision rights, policies, and incentives create an atmosphere that enables everyone to work together as an organized unit to achieve the company's mission.
Clear mission. A defined aim sets the path for IBP and defines what IBP will deliver.
Organized process. When processes are cross-functional and designed to align the organization toward one desired outcome, you can focus on meeting the goal instead of maintaining the process.
Right talent. Build a talent base with the skills and core competencies essential to IBP, such as strategic planning, financial planning, and supply chain planning. With skilled and experienced employees on board, you'll be able to more effectively implement IBP across the enterprise.
Insightful analytics. With access to real-time analytics, you can run "what-if" scenarios, quickly respond to disruptions and market adjustments, and make insight-driven decisions the core of your business planning. This helps you be proactive and stay ahead of your market instead of relying on reactive decisions.
Powerful technology. Since IBP is a cross-functional initiative, you need an agile, flexible, cloud-based technology to provide a central platform for IBP collaboration and execution.
In their webinar, our two Deloitte experts are joined by Vivek Soneja, Global Head of Supply Chain Solutions at Anaplan. They discuss how you can make IBP a success, as well as some common reasons why IBP initiatives fail. To learn more about how you can succeed at IBP, watch the webinar.
Strengthen the connection between business and supply chain