[Webinar wrap-up] Is clinging to on-premise solutions holding your business back?
On-premise solutions haven't run their course and still have their place in business today. That was one of the messages that Anaplan CTO Michael Gould impressed on the audience during a webinar hosted by Financial Systems News' Gary Simon. Thanks to the work of early cloud pioneers like Salesforce.com, there has been a major shift to the cloud over the last ten years. Today, cloud options have become mainstream and are present in nearly every sphere of business. Despite the abundance of cloud options, there are places where on-premise solutions are appropriate. Gould emphasized that it is up to IT departments to thoroughly analyze all aspects of cloud and on-premise solutions, including:
Total cost of ownership
Speed of implementation
Scalability across the organization
Accessibility
Vendor innovation
The future of on-premise solutions
With the proliferation of cloud solutions available today, what role do on-premise solutions play, both today and in the future? Gould pointed out that the applications tend to dictate what solution might work best. For example, development environments and graphics applications work on tight interactions and leave little room for latency, which make an on-premise solution seem like a natural fit. On the other hand, cloud solutions enable an incredible level of collaboration that allow teams dispersed around the globe to work together. Businesses must look at all the options and determine where on the following scale they need to be.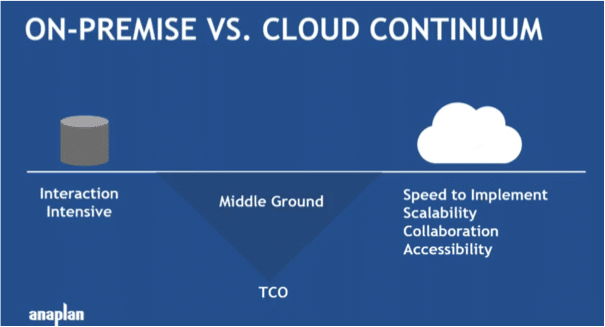 Why move to the cloud?
If on-premise solutions can meet the needs of the business, why would companies move to the cloud? For larger companies, according to Gould, many of the benefits of the cloud could be achieved using on-premise solutions, supported by large in-house IT departments, which enables them to deploy applications across the enterprise. However, sticking with an on-premise solution limites the choice of vendors that businesses have. And with the rapid pace at which technology changes, sticking with an on-premise solution, which are slower to update and implement, can slow an organization's adoption of the latest innovations.
For smaller companies, the benefits of Software-as-a-Service (SaaS) can be quite substantial. A vendor managing a SaaS infrastructure can provide an enterprise-quality experience for the smallest of IT departments. Vendors ensure a timely implementation and deployment of a solution, and can manage its security and scalability across the organization at a standard on par with larger businesses.
What other enabling technologies impact the capabilities of the cloud? Must companies choose between on-premise and cloud-based solutions, or is there a way to experience the benefits that both solutions offer? Experience the full discussion with Michael Gould and Gary Simon by watching the recorded webinar.