[Webinar wrap-up] Transcend silos with enterprise-wide planning
Unpredictable competition, changing regulations, and a rapidly evolving technological landscape are just a few of the factors that today's companies must manage. The ability to navigate change is paramount to a company's success, and to stay ahead of the market curve agility is key. Integrated, enterprise-wide planning enables just that, so why aren't all businesses implementing it? What keeps companies from adopting enterprise-wide planning, and what does it look like in real life when it is used?
Bart Hughes, Director, Deloitte, recently dug into this topic in a webinar that explored what enterprise-wide planning is and how it improves planning and collaboration abilities across all business functions. Irina Lewis, Director Product Marketing, Finance, Anaplan, joined Hughes to highlight his points with real-world examples of how companies are using enterprise-wide planning.
In this webinar, Hughes and Lewis explored the evolution of enterprise-wide planning and to understand its need for more agility and coordination than ever before. You'll also get to see how other companies approach integrated planning, and gain insights from your peers. A peek at some of the survey results that are revealed include:
Interested, but not implementing
Nearly 1/3 of survey respondents are interested in enterprise-wide planning, but there is no timeline for implementation. What holds companies back from moving forward with enterprise-wide planning? Bart discussed the reasons why companies aren't able to implement enterprise-wide planning as they would like to.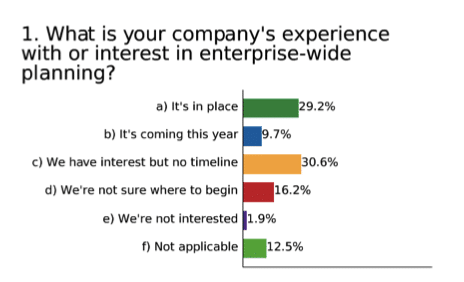 A sea of spreadsheets 
Reliance on spreadsheets was common among survey respondents. Hughes acknowledged spreadsheet's prominent role in planning today, but also urged webinar viewers to think about a brave new future— a world where the flexibility of spreadsheets is combined with new technologies that enable a common baseline of planning.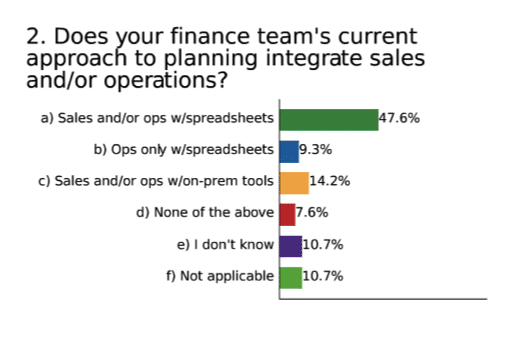 Discover how leading companies connect their sales, financial, and supply chain planning. You can watch the webinar, "Transcend silos and truly integrate business plans," to learn how integrated planning can enable you to position your business for performance and growth.