The writing is on the wall at Anaplan Hub
Most of the activities in the Expo Hall at Hub 2018 are busy and interactive. Attendees go to the hall to meet with Anaplan partners, ask questions in the Guru Zone, grab a coffee, eat lunch, or hit the oxygen bar.
Then there's the chalk wall. It's a pair of 15-foot-wide freestanding write-on boards topped with open-ended questions that encourage anonymous responses. One board (on the left) asks, "What questions do you have for the Anaplan team?" and the other board ponders, "What is the most challenging part of planning today?" Using fluorescent markers, attendees have posted thoughtful comments and questions ("How do I optimize calculations for best performance" on the left board, for example) and slightly-less-serious responses ("Herding cats" showed up on the right board). The chalk wall isn't exactly a Zen experience—and, in truth, it doesn't actually require chalk—but it is a quiet analog antidote to the frenetic energy of Las Vegas.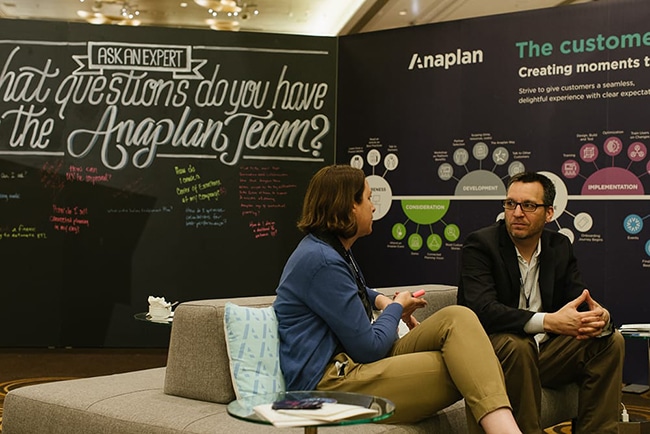 The chalk wall at Anaplan Hub invites people to share their thoughts and questions. This photo shows the left wall.
"People like having a different format to give feedback," says Alicia Crowther, Senior UX Researcher from Anaplan's York office. Alicia staffed the chalk wall for several hours on Tuesday, conversing with passers-by and helping them add their responses to the wall. (She has clear handwriting—a lost art in a world of keyboards and texting.) "The chance to ask and answer questions in a free-form way at the chalk wall turns out to be a really good conversation-starter. These seem like easy questions, but once people start to think about them, they realize how deep their answers can go. The wall sparks really great conversations."
The chalk wall was just one small part of the Hub experience on Tuesday, March 6. The Anaplan marketing team fanned out around Hub to cover the best of the general sessions and breakout sessions.
General sessions: The day began with Anaplan President and CEO Frank Calderoni giving an inspiring presentation of what connected planning can look like in the near future. He led his presentation to the 1,400 people in attendance with a bold statement: "Planning as we know it is dead," he said. He explained why he thinks that's so, and demonstrated how Anaplan is reimagining planning based on technology that is dynamic, collaborative, and intelligent. Frank was followed on the main stage by author Malcolm Gladwell, whose keynote address covered the importance of using the right tools to get accurate, useful answers.
A second general session in the afternoon was led by Steven Birdsall, Anaplan's Chief Revenue Officer. He explored connected planning success with four Anaplan customers: Melinda Cox of Cisco, Sara Park of Coca-Cola, Yves Cabanac of HP Inc., and Joselito Diga of Unilab. The customers shared their Anaplan stories and, in spite of diversity of geography, industry, and use case, found commonalities among their experiences. "Planning is a process, not an event," Sara said in one moment that echoed Frank's morning presentation. "It continues throughout the year."
In between general sessions on Tuesday, Hub participants attended more than 50 breakout sessions. Given by Anaplan customers, partners, and employees, the breakouts were organized into four categories: Finance, Sales, Supply Chain, and Connected Planning. Many breakouts, including those on Anaplan's product direction, model-building best practices, zero-based budgeting (ZBB), and Centers of Excellence, were standing-room-only gatherings. Specific points covered include:
Finance: Transformation was the prevailing theme in the finance track, with speakers from Blackstone Group, Gensler, Unum, University of St. Thomas, MolsonCoors, and other companies. With topics ranging from designing and executing new forecasting processes to reinventing budget models, the consensus among finance leaders was unanimous: The Anaplan platform is a catalyst for true financial transformation. "The Future of Finance," presented by Tim Gross of Deloitte, explored what finance lookslike in a digital world and the toolkit that organizations need to unmask uncertainty. Whether it's unlocking the possibilities of robotics, blockchain, or machine learning, advancements in finance and technology forces organizations to bring planning to join other areas of the business, such as sales, marketing, and supply chain, in a tool that can connect processes and the business.—Anna Miller
Supply chain: The Anaplan platform transforms how companies manage their supply chains. One example from Tuesday's sessions at Anaplan Hub is Walmart eCommerce. Before the Anaplan platform, Walmart managed its open-to-buy inventory planning with spreadsheets that sometimes took two hours to load. Stacey Schriefer, Director of Category Management and Acceleration, shared how the company was able to implement an entirely new approach to the open-to-buy process with Anaplan in just 13 weeks.—Jeremiah Barba
Sales: Sales organizations use incentive compensation management (ICM) to dip their toes into the larger waters of Anaplan. In many cases, companies that started using Anaplan for ICM have begun branching out into territory, quota planning, and other aspects of sales performance management. There are exceptions: One provocative talk from Anaplan partner End-to-End Analytics detailed use of Anaplan for analyzing return on investment for sales promotions and showed how the Dairy Farmers of America increased top-line revenue by using Anaplan to manage promotions more effectively. Several companies, including Cisco, LegalZoom, Zillow, and VASCO, have dramatically streamlined compensation processes using Anaplan, often with small teams. The net result has been more consistently accurate and timely compensation payouts, and significant increases in compensation visibility for sales team members, from reps to executives.—Ben Lempert
Connected Planning: A multitude of customer-led breakout sessions explored how Connected Planning can transform organizations by helping them move from top-down plans to an interconnected, bottom-up plan with end-to-end linkage. Presenters including Tableau, Reckitt Benckiser, RSA, and Autodesk showed that in order to compete in today's volatile and unpredictable marketplace, the distance between planning and real-time decision-making must be zero. For these companies, success lies in reducing the length of decision-making cycles, eliminating version creep, and responding to market changes at the point of interaction, instead of allowing plans to linger out of sync.—Cameron Soojian
Over the coming days and weeks, we'll share more stories from Hub on the Anaplan blog. Be sure to check back often to see some of the other stories.
| | |
| --- | --- |
| Continue the Hub experience | |