ASK Industries connects and fine-tunes sales and finance processes
Car audio OEM builds a Connected Planning environment that spans finance and sales processes across the globe
ASK Industries, an OEM of car audio systems, wanted consistent finance and sales processes across its global businesses, including its request for quotation (RFQ) process. By building and connecting four Anaplan models, supported by Accenture, ASK improved collaboration, sped up "what-if" analysis, and improved finance's ability to support a growing, increasingly complex business without adding personnel.
'What-if' analyses that used to take a day are done in seconds with Anaplan, with zero risk of mistakes.
Enrico Righini, Group Controller
A car audio system shows the value of connection. All components—antennas, cables, amplifiers, loudspeakers—must be connected and fine-tuned for optimum performance.
The same goes for finance and sales processes at ASK Industries, a global original equipment manufacturer (OEM) of automotive audio. ASK's processes weren't harmonious in 2018: Teams in business lines (antennas, amplifiers, cables, and loudspeakers) and markets (Europe, Asia, and America) crunched and copied data in isolated spreadsheets, leaving little time for analysis. Key processes (such as investment and sales budgets and P&L and balance sheet creation) were siloed, and teams often had to start each planning cycle from scratch. "We wanted to avoid duplication and rework, shorten our timelines, and balance our need for data accuracy with the effort required to obtain it", explains Enrico Righini, Group Controller.
Guided by an Accenture team and leveraging the Anaplan platform, multiple processes at ASK were reimagined as four connected Anaplan models:
Request for Quotation (RFQ) and CapEx Planning (the investment budget).
The Sales Budget.
Income Statement Forecasting (P&L) and Balance Sheet & Cash Flow.
Medium- and Long-Range Planning (called PMT at the company).
RFQ, the process used to generate bids and evaluate their financial impacts, saw the greatest change. Every function of the business, from R&D to manufacturing to finance, contributes to as many as 100 RFQs in the first six months. Getting the hundreds of variables in each RFQ right minimizes risk. Righini says: "Having accurate numbers means the difference between building a quote that's financially viable and one that's not."
Variables include where to build a component and what currency to use in the RFQ. "We have operations, suppliers, and customers around the globe, so exploring currency options in Anaplan is central to a successful RFQ," Righini says. "'What-if' analyses of exchange rates, commodity trends, volume prices, and alternative solutions that used to take a day are now done in seconds with Anaplan, with zero risk of mistakes."
ASK Industries uses Anaplan to connect plans in Finance and Sales with the Request for Quotation process to shorten timelines, reduce errors and manual tasks, and continuously improve quotation accuracy.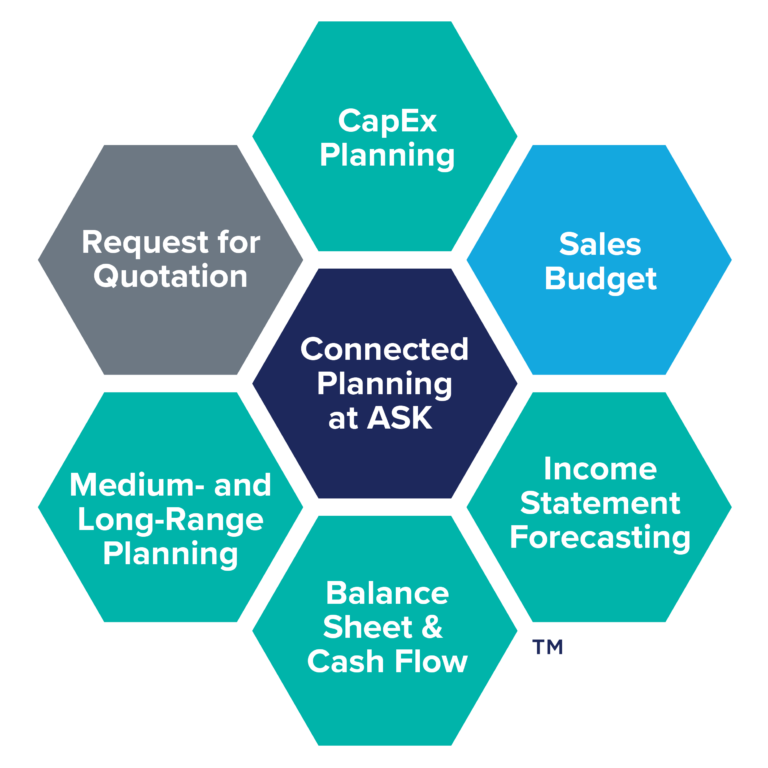 Each process that ASK runs in Anaplan drives the others. RFQ numbers feed into the sales budget, and that, in turn, generates inter-company cashflows and feeds them into the P&L and balance sheet. One-, two-, and three-year figures from P&L then flow into the PMT model. The PMT model generates 15-year horizons for fixed-cost structures and feeds that data into the RFQ model where it's used to evaluate profitability of future RFQs. The entire integrated system was built and deployed in less than a year, resulting in rapid time to value.
Marco Limito, Accenture's Global Anaplan Practice Lead, attributes the success of ASK's project to company leadership. "The CEO of the company is a user of the system, approving RFQs in Anaplan," he notes. Executive sponsorship has been strong, and managers at all levels are gaining greater oversight into plans and expenditures.
Additionally, Limito says the transformation has benefitted from Enrico Righini's change management skills. Righini says the benefits of Anaplan are shorter planning cycle times, the elimination of manual processes for number- crunching and consolidation (and associated time lags), and the ability to do "what-if" analysis in real time. But true transformation has come from the processes that have been reinvented on Anaplan, and there is more to come. "With Anaplan's flexibility and scalability, we are already planning to connect more processes to the existing ones," Righini says. He expects end-user buy-in to grow as people see the full benefits of the solution.
"Plan assumptions, approvals, and outcomes are all available directly within Anaplan," Righini explains. "We've increased and improved financial analysis even as the business has become more complex," he notes, "but we haven't had to add resources."