Anaplan launches strategic workforce planning apps for HR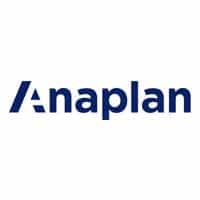 Anaplan launches strategic workforce planning apps for HR
Planning platform helps HR Leaders optimize workforce resource decisions
San Francisco, October 22, 2015 – Anaplan, the enterprise planning cloud company, today launched a portfolio of workforce planning apps that give HR decision-makers valuable insights to plan for and optimize the talent needed to meet business objectives. Anaplan's platform helps Chief HR Officers (CHROs) visualize and augment enterprise-wide data to create dynamic workforce plans for decisions around every company's most important investment: people.
Anaplan's workforce planning apps deliver a quantified workforce view to HR leaders, giving them immediate intelligence to track, plan, and shape how their companies recruit, onboard, develop, pay, and retain employees. The apps enable HR decision-makers to eliminate their dependence on disconnected and non-collaborative spreadsheets and maintain live connections to corporate and financial plans.
The suite of strategic workforce planning apps in the Anaplan App Hub available today include:
Workforce Planning: Plan and unify workforce requirements for headcount, skills, retention, and recruiting. Create a highly-scalable plan with unlimited "what-if" scenarios. Collaborate across HR and business units to align high-level plans with bottom-up operational plans.
Headcount and Payroll Planning: Balance budgets and prioritize headcount needs across the company to meet business goals. Simulate and optimize headcount and total payroll costs, such as salaries, benefits, and taxes. Build potential scenarios for comparing headcount against capacity forecasts.
Onboarding Planning: Define onboarding goals and tasks for every type of new hire to ramp new employees in the most efficient manner depending on unique business requirements. Model and visualize how new hires progress against set metrics and milestones in a consolidated dashboard. Forecast cost and ramp time by employee role, department, or region.
Workforce Optimization: Shape staffing levels to manage spikes in customer demand. Use forecasting tools to optimize labor levels and minimize labor-related costs.
More than 30 large and fast-growing companies, including ServiceSource, Lacoste Operations, and Pandora, are already using Anaplan's platform to optimize human resource decision-making. At ServiceSource, VP of Finance Mike Lemberg uses Anaplan to turbo-charge workforce decisions in its top-down meets bottom-up planning and forecasting process for 200+ customer engagements across nine offices and three regions. "With Anaplan, we have found new and exciting ways to plan our business. Anaplan combines the governance we were looking for in our planning process with the flexibility to do any kind of modeling for our workforce planning needs."
Additionally, the modeling power of the Anaplan platform is leveraged to build optimization capabilities for large call center workforces by leading companies that use Erlang and agent calculations to estimate workforce demand.
Fred Laluyaux, Anaplan CEO says, "Anaplan empowers HR planners to continuously optimize the dynamics that affect their human capital. This creates agility, which ultimately lowers talent acquisition costs and ensures the right talent is found when and where it's needed most in the business. In 2015, no one deserves to be running such a critical process with a mountain of spreadsheets dispersed all over the business."
"Only 12 percent of organizations are able to explore workforce planning scenarios and examine implications, leaving few that have the flexibility required to act quickly in order to be successful," said Mark Smith, CEO & Chief Research Officer, Ventana Research. "Anaplan has introduced workforce planning apps that bring a centralized cloud computing approach to help HR professionals save time and be smarter in their planning efforts."
About Anaplan
Anaplan is the enterprise planning cloud company. Anaplan brings together an unrivaled planning and modeling engine, collaboration in the cloud, and a simple interface for business users. Anaplan customers can choose from over 100 pre-built planning apps from the Anaplan App Hub, or easily build their own apps. Anaplan is a privately held company, headquartered in San Francisco, CA with global offices on four continents. To learn more, visit anaplan.com. Follow us on twitter: @anaplan