Anaplan named a Leader in enterprise performance management report
Anaplan cited for highest score in Strategy category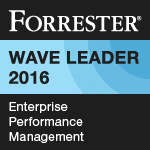 SAN FRANCISCO, October 6, 2016 – Anaplan, the leading planning and performance management platform, has been named a Leader in "The Forrester Wave™: Enterprise Performance Management, Q4 2016" report by Forrester Research, Inc. Anaplan was among "the 10 most significant" companies invited to participate in its October 2016 Forrester Wave™: Enterprise Performance Management (EPM) evaluation. Software providers were evaluated on 36 criteria covering current offering, strategy, and market presence.
"The EPM market is growing because business stakeholders see these solutions as a way to innovate and accelerate processes for planning, analysis, compliance-driven financial reporting, and management reporting," wrote Forrester Vice President and Principal Analyst Paul D. Hamerman in the report.
According to Forrester's report, "Anaplan disrupts the traditional notion of finance-centric EPM. Customers use Anaplan's flexible and scalable planning and modeling platform in sales, marketing, HR, operations, and other domains, in addition to finance." The company received the top score in the Strategy category and also earned the highest score possible in the model development, prebuilt planning models, configuration flexibility, and SaaS approach and maturity criteria. The report also stated that "Anaplan's core strength is in planning use cases, including revenue forecasting, and it offers an app store consisting of prebuilt models, both its own and from its partners."
"Today's volatile and continuously changing market landscape requires businesses to be fast, agile, and precise in how they plan and course-correct as they respond to both expected and unexpected changes," said Grant Halloran, Anaplan's Chief Marketing Officer. "The Anaplan platform enables them to do that. We are honored to be named a Leader by Forrester, and believe this recognition shows our ability to help customers become smart businesses."
Anaplan's planning and performance management platform is used by many global businesses, including Chevron, United Airlines, Louis Vuitton, Del Monte, Gatwick Airport, Kellogg Company, Hewlett Packard Enterprise, Psona Tquila, and DocuSign. As an EPM Leader, Anaplan equips its customers with technology that enables them to plan and manage performance on a single platform. The company recently achieved $100M revenue run-rate, growing revenue by 80% year-over-year, and increased its global user base to 100,000.
For more information, download Forrester's report.