SMRT and Anaplan honored at the 6th Annual CFO Innovation Awards in Asia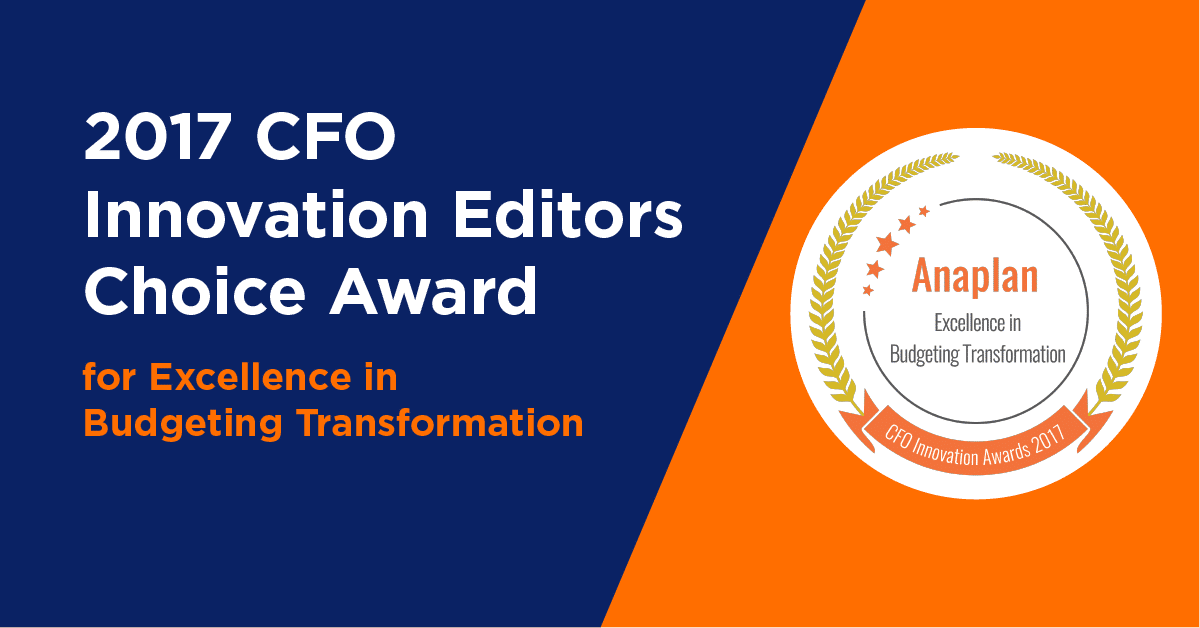 New funding to accelerate sales, product development to meet demand for connected planning platform
January 8, 2018, Singapore. Anaplan, a leading platform provider driving a new age of connected planning, was selected as a co-recipient of the CFO Innovation Awards 2017 Editor's Choice Award for "Excellence in Budgeting Transformation" together with Singapore's local public transport operator SMRT Corporation Ltd. The CFO Innovation Awards, held at the Marina Mandarin Singapore, recognized financial management leaders from throughout Asia.
The Excellence in Budgeting Transformation Award was given to SMRT Corporation and Anaplan to recognize a solution that made planning and budgeting faster by eliminating, simplifying, and automating financial and other business processes. The solution was praised for its flexibility and proven responsiveness to rapid changes within SMRT Corporation's business and macro-economic environment.
"Connected planning is helping SMRT, Singapore's premier multi-modal land transport provider, to fulfil its mission to deliver a world-class transport service and lifestyle experience that is safe, reliable, and customer-centric," said Bhavik Vashi, Vice President of Customer Success, Anaplan APAC. "The Anaplan platform is leveraged across many global industries, including several businesses in APAC."
"At SMRT, we are always looking for innovative solutions that increase productivity, improve efficiency, and streamline processes," said Cindy Lau, Group Chief Financial Officer of SMRT Corporation Ltd. "We are thrilled to receive this award for Budgeting Transformation with Anaplan."
Cesar Bacani, Editor of CFO Innovation Asia added, "We were impressed by the enthusiasm of SMRT's finance team for Anaplan's cloud-based platform. Through the solution, SMRT was able to enhance data integrity, improve timeliness, and streamline overall processes. For these and other outcomes, CFO Innovation honored SMRT and Anaplan with the Excellence in Budgeting Transformation award."
Anaplan is consistently recognized and awarded by industry experts, analysts, and influencers for its technology, innovation, and vision. For a full list of acknowledgments visit: anaplan.com/about/recognition/.
About Anaplan
Anaplan is driving a new age of connected planning. Large and fast-growing organizations use Anaplan's cloud platform in every business function to make better-informed plans and decisions and drive faster, more effective planning processes. Anaplan also provides support, training, and planning transformation advisory services. Anaplan is a privately held company based in San Francisco with 18 offices and over 150 expert partners worldwide. To learn more, visit anaplan.com.