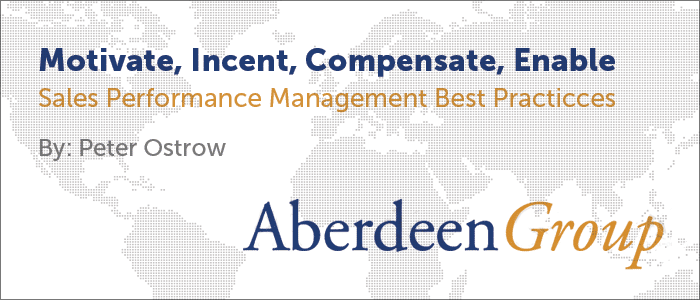 Sales Performance Management Best Practices Delivered by Aberdeen
Businesses today face the most crucial challenge yet, as competitive threats, savvy buyers, and ongoing budgetary restrictions put pressure on sales leaders to do more with less. The care and feeding of professional sales staff will make or break your likelihood to be successful.
In this best-in-class benchmark study, Aberdeen Group delivers an in-depth and comprehensive look into sales management process, procedures, and technologies, and has identified best practices and actionable next steps for your company.
Download this report, Motivate, Incent, Compensate, Enable: Sale Performance Management Best Practices, and discover:
How sales performance management is most effectively deployed
Why best-in-class companies achieve higher annual quota attainment and higher corporate revenues than other firms
Several common characteristics shared by best-in-class companies, such as enabling structured process, coaching for underperformers, and deploying a CRM that includes a compensation module or commission estimator
Get the report now.