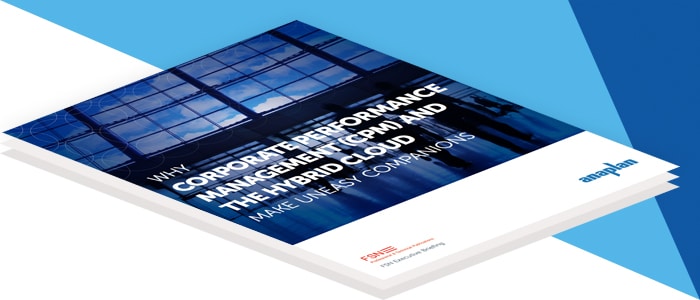 Cloud computing has now become a permanent fixture of the enterprise computing landscape. According to analyst firm IDC, public IT cloud services spending will grow to more than $127 billion in 2018. However, despite the rush to jump on the cloud bandwagon and take advantage of the accompanying benefits, some organizations found themselves economically, operationally, and technically anchored to their on-premise legacy systems.
In an effort to accelerate their move to the cloud—and side step the limitations of the on-premise world—many companies are now looking to the hybrid cloud for solutions that will enable them to build a bridgehead in the cloud while phasing out their dependency on outdated technology.
In this white paper, discover what a hybrid cloud is, and if CFOs should be concerned about hybrid architectures in the context of complex corporate performance management (CPM).
Download "Why corporate performance and the hybrid cloud make uneasy companions" to learn:
What a hybrid architecture is
Why more companies are adopting a hybrid cloud model
How the hybrid model could create problems for CPM
Download now

In partnership with