Leading independent research firm names Anaplan a Breakout Vendor in SaaS business applications
San Francisco, CA – July 29, 2016
–
Anaplan
, the Smart Business Platform™, was recently named a Breakout Vendor in SaaS Business Applications by Forrester, a globally recognized research and advisory firm
1
. For its enterprise performance management category, Forrester cited Anaplan's high-performance planning platform that supports complex business planning scenarios.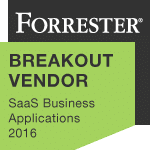 Authored by Forrester's Paul D. Hamerman and Liz Herbert, the report highlights innovators in the rapidly evolving and highly competitive SaaS market. The report identifies vendors "with the potential to disrupt the status quo and become breakout leaders in their respective categories."
Forrester cited several factors that they feel differentiate Anaplan as a Breakout Vendor:
The platform's proprietary in-memory computing architecture, which is optimized for large and complex business problems that can support calculation-intensive workloads
Its scalability to support planning processes across the enterprise, including HR workforce planning, sales and operational planning, supply chain planning, and sales compensation planning
Anaplan's extensive global partner network, which consists of over 150 implementation and consulting partners
The company's extensive platform roadmap, which will enhance features such as performance and scalability, analytic visualization, collaboration, mobile, and security, as well as focus on several predictive analytics improvements
"To be successful, the largest and fastest-growing companies in the world need to be ready to rapidly adapt to change," said Grant Halloran, Anaplan's Chief Marketing Officer. "With Anaplan's Smart Business Platform™, companies can combine planning, performance, and rapid course-correction in every part of their business."
To view Forrester's "Breakout Vendors: SaaS Business Applications" report, click here.
Anaplan is consistently recognized and awarded by industry experts, analysts, and influencers for its technology, innovation, and vision. For a full list of acknowledgments, visit Anaplan's Recognition page.
About Anaplan
Anaplan is the Smart Business Platform™ enabling smart planning and advanced decision-making in every part of your business. Anaplan delivers an unrivaled planning and modeling engine, predictive analytics, collaboration in the cloud, and a simple interface for business users. Founded by Michael Gould, Anaplan is the worldwide leader in cloud-based planning and modeling and is a privately held company headquartered in San Francisco, CA, with offices in 15 countries. To learn more, visit anaplan.com. Follow us on: Twitter, LinkedIn, YouTube, and Facebook.
1. Breakout Vendors: SaaS Business Applications," Forrester Research, Inc., May 10, 2016