On-demand webinar
Top 5 culprits: How sales compensation can sabotage your corporate strategy
Great sales compensation plans drive sellers to achieve corporate strategy. So why don't they always work? Join David Cichelli, Senior Vice President at The Alexander Group, and Sarah Van Caster, Senior Product Marketing Manager for Sales Solutions at Anaplan, as they discuss the top five sales compensation culprits sabotaging your corporate strategy.
The 2019 sales compensation season is already underway: now is the time to align your sales compensation plans with your 2019 corporate strategy. In this webinar, you will learn to:
Identify and fix the top 5 sales compensation alignment culprits
Undertake your 2019 sales compensation planning process
Best practices for aligning sales compensation plans and corporate strategy
Bonus: Key takeaways from the 2018 Sales Compensation Hot Topics Survey, published by the Alexander Group
Featured Speakers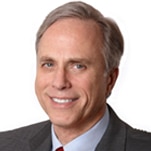 David Cichelli
Senior Vice President
The Alexander Group
David Cichelli, a Senior Vice President with The Alexander Group, Inc., a revenue growth consulting firm, contributes his knowledge and experience to a wide array of sales organizations. He has worked with hundreds of sales organizations to structure, manage and deploy winning sales functions. The Alexander Group's Revenue Growth Model™ helps ensure and sustain alignment between customers and sellers. He is author of "The Sales Growth Imperative" and "Compensating the Sales Force (third edition)" published by McGraw Hill. He has never met a sales department that could not achieve its own greatness.
Sarah Van Caster
Senior Product Marketing Manager for Sales Solutions
Anaplan
Sarah Van Caster has over a decade of experience in the high-tech industry in roles spanning product marketing, product development, and sales. She spent time at several enterprise software companies including Anaplan, Apttus, Oracle, and JDA. Her passion lies in designing innovative, customer-focused content and solutions that demonstrate value and inspire change. Sarah has a bachelor's degree from Drake University and an MBA from the University of Wisconsin.