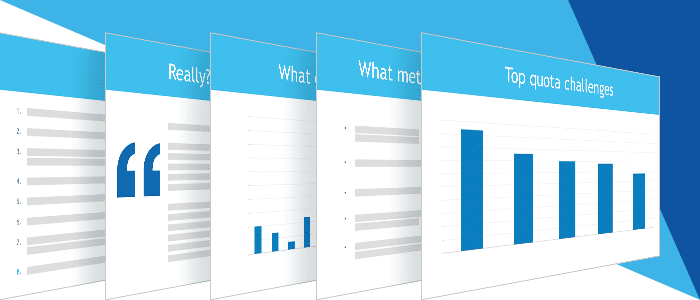 Video Cheat Sheet: Overcoming Quota Challenges
Calculating quotas isn't just about setting the right numbers. It's also about understanding your people, facilitating goals, and inspiring teamwork. Mark Donnolo, managing partner of SalesGlobe and expert in the field of sales innovation, strategy, and coaching, recently joined us to share the latest best practices on aligning top-down revenue targets with bottom-up sales quotas. We condensed the
full recorded webinar
into this quick and easy video cheat sheet.
In the cheat sheet below you will:
Discover how companies are developing their quota plans
Find out how a company responded to a tricky sales quota and compensation situation
Review 8 questions to ask when confronted with a complex quota issue
1. What are the top quota challenges facing companies today?
2. How does your plan stack up against other companies?
3. What does successful quota distribution look like?4. When a rep overshoots their quota: what do you do?5. How do you resolve misaligned quotas?
Learn more about how other organizations navigate these challenges by downloading our sales planning survey, created in partnership with SiriusDecisions.

You might also like
Event: Connect with us at Dreamforce
Blog: 5 Keys to Great Sales Territory-Mapping
Video: Territory & Quota Planning
Sales performance management apps