8 best practices for paying the sales team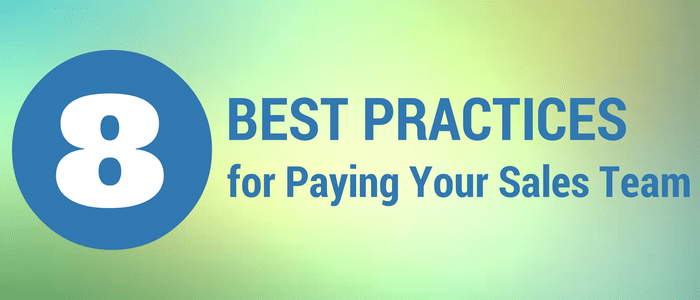 It is said that an individual salesperson supports the jobs of 27 other employees through their hard work and endeavors to secure business. That alone is a reason enough for them to warrant their alleged huge pay packets, right?
The myth persists that sales people take home a good wage, bolstered by commission but this isn't always the case. It depends on the compensation plan that their employer operates and devising such a plan is no mean feat. It needs to balance the needs of the business with the needs of the employee, while providing enough flexibility and growth for it to move as and when the business focus changes.
When it comes to implementing a compensation plan, there are several factors to take into consideration, namely: culture, goals and feedback. As such, here a few examples of sales compensation best practice, to help you create an effective plan:
1. Determine how commissions mesh with your corporate culture
There are two schools of thought when it comes to paying sales people. The first is to pay a basic wage – typically a low amount – then to offer incentivizing 'performance pay' in the form of commission. This option positions the salesperson as master of their own destiny and paycheck; they have control over their earnings. However, it could also mean that some are working around the clock to scrape a decent wage together. The alternative is to pay them a higher basic salary, offering the peace of mind that comes with a regular level of income. While more secure, this also has a downside – will well-paid salespeople feel less motivated to stretch themselves?
Most companies take the commission approach and if that's the route you might take, it's a good idea to introduce a cap so that budgets can't be exceeded. The route you choose needs to align with your corporate culture, to ensure there isn't unnecessary friction between your sales team and the rest of the organization.
2. Align with business goals
Your plan must correlate with wider business goals for it to be successful. Careful thought and analysis of past, present and future growth are necessary to determine what sort of sales volumes could or need to be achieved.  By taking a disciplined approach, instead of plucking figures out of the sky, you can ensure that the compensation paid will elicit optimum sales and won't exceed payroll budgets.
3. Set consistent commission pay dates
If you're opting for the performance pay option, then you'll need to decide at which point during the sales cycle the commission is actually paid, i.e. when the deal is sealed, upon the customer's first invoice settlement or after a set amount of months. This requires careful consideration as moving the payout too far away from closing the deal can create a disconnect between the salesperson's success and their reward. And in some cases, it could cause some salespeople to feel forced to assume the role of debt collector to hurry customer payments along, which can create a less than optimal customer experience.
4. Communicate expectations
For your strategy to work, it's crucial that you put clear sales targets in place, so that the salesperson knows precisely what is expected of them. That will provide any easy, consistent way to measure performance. Some companies use a single consistent rate across the entire sales team, while others choose to stagger goals according to experience and size of territory.
If you want to introduce a pay strategy that doesn't focus on commission, then you'll similarly need to make sure that objectives are clearly set, with regular monitoring to check that targets are being met. This should hopefully dissuade or expose any potential slackers.
5. Make sure it motivates
Undoubtedly, you'll want to introduce a plan that provides optimum motivation. However, the mixture of base salary and commission plus the nature of the unique sales role can render traditional motivators useless. Desk-based employees might be spurred on by the thought of an annual bonus, recognition and a healthy work-life balance. Sales staff, on the other hand may already receive quarterly bonuses and possibly work long hours alone in the field without anyone to praise them on a great pitch. Consequently, it's key to find ways to motivate the sales force. One idea is to ask them.
Some businesses use accelerators, which change commission rates according to performance – i.e. they might up the targets of successful sellers to spur them on. Other ideas include basing a proportion of the commission on company performance, to create a more team-orientated motivation.
6. Make use of intelligent software
With a typical sales force geographically dispersed around the country, be it in satellite offices or working from home, making use of integrated, collaborative technology could save a lot of time and duplication of effort. Intelligent systems can allow individuals to log in from a remote location and enter sales information into a centralized repository. This in turn could feed through to payroll, calculating commission as appropriate.
7. Be flexible enough to change when business goals do
Ideally, the compensation plan should allow for a change in corporate objectives without detrimentally impacting the sales staff. Changes to business focus could affect the ability to earn commission, by either inadvertently removing opportunities or refocusing sales' efforts on a certain area and thus pushing payroll costs well over budget. Remember to keep your sales payment program in mind when changing tack or creating new directives and review the potential impacts before formally introducing anything.
8. Get feedback
Before implementing a new plan, ask your sales team for some feedback and ask other relevant people to review the strategy, playing devil's advocate to find holes. Read the overview yourself as if you are a salesperson. Does it meet your needs? Is it clear? Are the goals reasonable? Consider piloting the new payment structure before rolling out permanently, so that any glitches or unintended outcomes are identified and rectified early.
Ultimately, salespeople need to be able to control the factors that contribute to their success and earning potential. Without that, they will become disenchanted, possibly aggrieved, and start job-hunting elsewhere. To hold on to your best salespeople, you must reflect this need in your compensation plan.
Quickly create and optimize incentive compensation plans that drive revenue and align with your corporate goals.