Anaplan & Google Cloud Partner for Enterprise Planning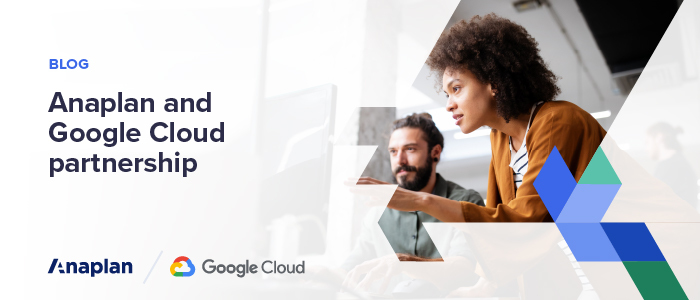 Our global enterprise customers are fundamentally changing the way they plan, across finance, workforce, sales, marketing, and supply chain. With recent disruptions and uncertain market conditions, our customers realize the need to strike a better balance between efficiency and resiliency and deploy strategies that turn change into an advantage. Anaplan's enterprise Software-as-a-Service (SaaS) platform is already helping these enterprises orchestrate their business performance and link business strategy to operational plans. We want to further extend the reach of our platform, provide access to customers in new geographies, and empower customers to access Anaplan's platform closer to where their users are located.
That's why we are pleased to announce Google Cloud as our first public cloud partner.
A large and diverse enterprise such as Google knows first-hand the value of connected planning at a global scale to make faster, more confident operational decisions. Google has been an Anaplan customer since 2016 and is already running Anaplan on Google Cloud. We want to extend these capabilities to a broader set of customers accelerating the execution of their digital transformation strategy.
With Anaplan on Google Cloud, global enterprises can leverage the leading performance of Anaplan's in-memory Hyperblock® calculation engine running on Google's global public cloud infrastructure. It will enable elastic scale, especially in new regions. Operating in close proximity to user base helps drive even higher productivity and performance, while also addressing local and industry-specific data sovereignty use cases.
Businesses can also improve decision-making and planning with future offerings for seamless integrations with Google BigQuery and Google Cloud's AI/ML capabilities. These integrations will enable organizations to blend their data with third-party data sources for dynamic, real-time modeling delivering new business insights.
Global and regional systems integrators such as Deloitte, Wipro, Slalom, and others are already an essential part of how we serve our customers. These partners have strong Anaplan and Google Cloud practices and will be able to leverage their vertical and functional expertise to build robust joint solutions for Anaplan on Google Cloud.
Google Cloud's growing global footprint in the enterprise space is a significant contributing factor to our partnership. By delivering Anaplan on the Google Cloud platform, we are continuing to deliver on our vision of an open, connected planning platform, with a strong partner ecosystem, that helps our customers orchestrate their business performance and drive financial outcomes.
Anaplan on Google Cloud Platform will be available in the summer of 2021. To learn more about the partnership and the capabilities it will unlock, read our press release, visit our Google Cloud partner page, reach out to your Anaplan account team, or email GoogleCloudPartnership@anaplan.com.