How to turn strategic planning into a successful strategy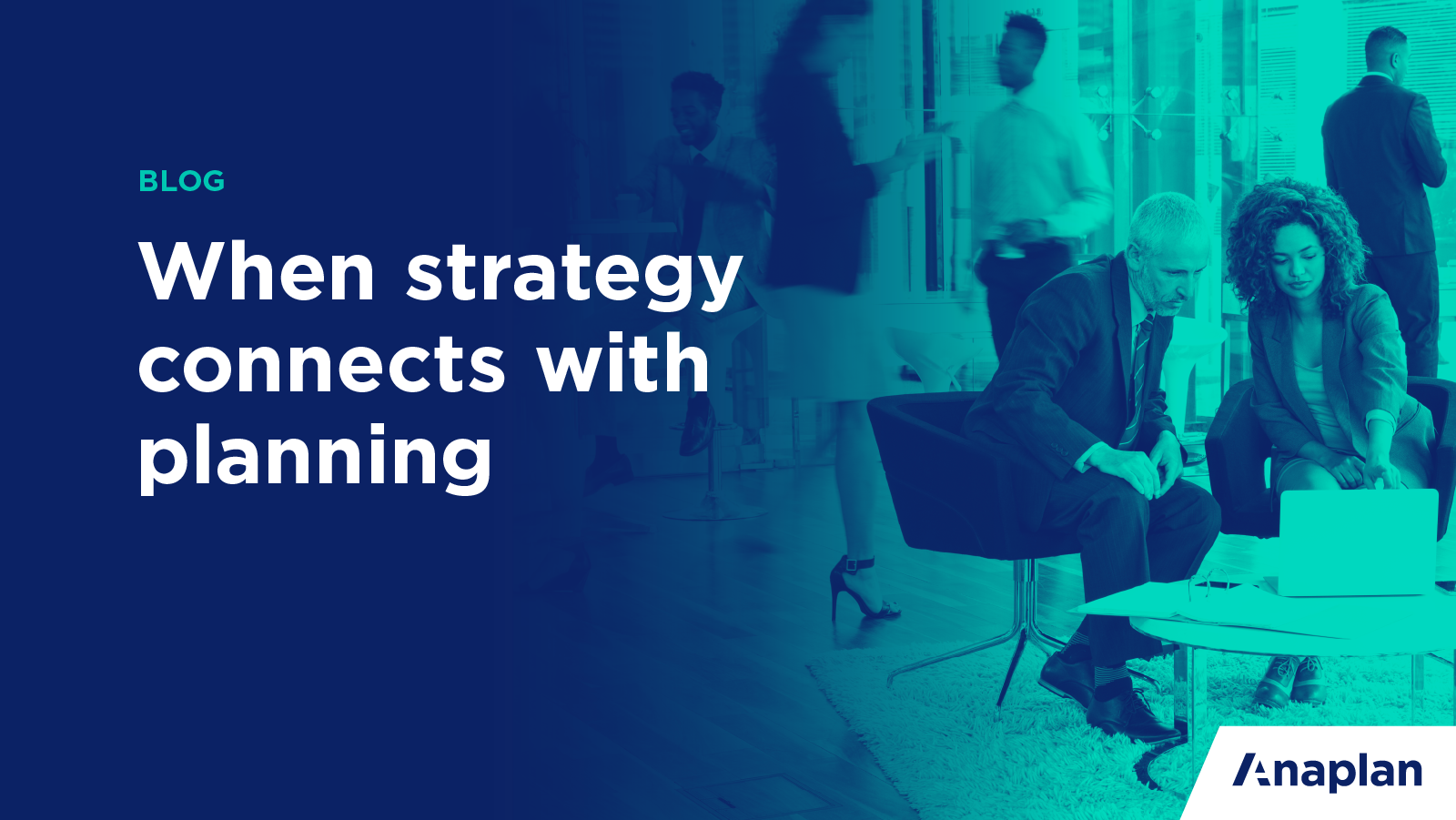 Executing strategy in a fast-paced environment is a crucial focus for every business executive. Developing strategies around uncertainty and tough decisions can be a challenging process. So much so, in fact, that research commissioned by Anaplan recently found that only 15 percent of businesses execute on their plans.
Instead, many executives drift away from the strategic planning process and toward more comprehensive planning initiatives around goals, initiatives, and budgets. Because producing better business results starts with a better way of acting on strategy, for enterprises, strategic planning needs to encompass more than just a process in itself; it needs to align people, processes, and technology with a shared goal of strategic data-driven decision-making.
With today's steady evolution of every business function, business leaders need to push forward with change-adaptable technology. Strategic planning can help.
What is strategic planning?
Strategic planning is the development of a specific, measurable goal or (more commonly) a set of goals that deliver the desired results for your organization. The strategic plan can be used by many different teams across the organization to address the varying cadence of achieving business goals. For corporate finance teams, for example, strategic planning is a critical process for attaining mid- to long-term financial and business objectives.
In addition to developing a roadmap that can better steer business performance, the practice of strategic planning can enable organizations to make better-informed decisions around desired cost discipline and resource allocation.
Developing and implementing a strategic plan must complement the needs of different organizations and industries. Although the concept, process, and deliverables might all look different, the desired outcomes of successful strategic planning are alike. At its core, successful strategic planning includes developing a specific, measurable goal or set of goals that deliver the anticipated results.
What is the strategic planning process?
From conception to execution, the strategic planning process revolves heavily around establishing goals and measuring their respective outcomes. Business leaders must determine where their organization stands within its industry with respect to size, structure, workforce, current profits and losses, and any other major factors that characterize the business.
Existing business plans must be leveraged or a new one produced to clearly define what the organization does. Without specific goals shared across the organization, there are no clear expectations for future improvements. Business leaders determine where the organization should be within a given period of time—whether it's three months, six months, or a year–and establish a timeline for objectives that include significant milestones directly related to business goals.
Once the goals and outcomes have been identified, business leaders determine which processes are needed and assign each step to the appropriate team. Each team's respective leadership shares the organization's new goals, timeframe, process, and next steps with their teams.
It's necessary to monitor progress to ensure that the business is on track to deliver each goal. Additional sub-goals or checkpoints are set based on the primary goals at specific intervals in the timeline. Occasionally, it's necessary to rethink the plan and correct the course.
Seven questions to ask before course-correcting a strategic plan
Uncertainty is constant. Political shifts, revised tax policies, and a spike in interest rates, among many other variables, contribute to uncertainty across industries and companies. With increasing market volatility and complexity, executives must find, analyze, and determine whether they need to course-correct within a strategic plan.
When considering pivoting a plan, the following questions can help make a sound decision:
What is the expected outcome if the business stays on its current course?
What obstacles have come up or could potentially arise?
How much could these obstacles delay the achievement of goals?
It can also help to answer questions around possible ways to adjust plans without straying too far from the established course. A small turn doesn't have to unravel an entire plan.
Is the obstacle only affecting one area?
How could the obstacle be navigated around without changing other parts of the plan?
What happens to the overall timeline if the organization pivots?
What happens if the organization doesn't pivot?
Altering a course of action can seem intimidating at first. Using technology to help determine the projected ramifications of pivoting—or of not responding to new stimuli—can make quick adjustments or large direction changes intuitive and effortless.
Strategy and budgets: Making budgets more useful throughout the year
Budgets are an integral component of strategic planning. Whether for a nonprofit organization, public company, private business, or government entity, financial resources need to be optimally allocated to achieve short- and long-term business goals. Educating and influencing people across the organization is a key element to success, so every team and team member understands how to deliver a healthy return on the resources they control. Enterprise-wide buy-in from salespeople, human resources, supply chain, and operations is necessary or friction can prevent goal achievement.
A culture of communication and shared goals must be consistently reinforced by leadership. People across the enterprise are resources for achieving corporate and departmental goals. Optimization of all resources, including institutional knowledge, advanced technology, and an intelligent plan's implementation, can help companies achieve goals and increase the value of the company.
Investing in technology requires skilled workers who can leverage the power of these assets. Can your company really afford to fall behind?
When strategic planning meets Connected Planning
Companies that thrive in fast-paced environments are those attuned to the pulse of the market and equipped to respond to changes quickly. Changes in the market, innovation, business dynamics, resources, and commodity costs fluctuate rapidly, and subsequent resource reallocation needs to happen just as quickly.
Consider an emerging market opportunity that didn't exist six months ago when the strategic plan was put together. For unforeseen opportunities, how can business leaders procure the necessary resources to respond efficiently? Effective companies need to have flexibility to reduce spending from a lower value area and reallocate to the new and higher-value opportunity.
For many organizations, the problem lies in cultural legacy: Many non-financial managers maintain loose alignment between strategic imperatives and performance factors because the organization's senior executives didn't clearly explain the business strategy.
Across the organization, everybody needs to focus on the same goal at the same time and understand what they can do as individuals to influence that goal. The best technology can make that easy and efficient, which is exactly where Connected Planning comes into play.
Connected Planning connects people, data, and plans across the organization to help leaders make better business decisions and take calculated risks quickly. Connected Planning creates and manages a bi-directional flow of data that provides one true source of information for the entire organization to operate from.
Once a strategic plan has been established and distributed across the organization, teams in every business unit and department need to stay connected to remain on track. Employing a Connected Planning approach, led by a chief planning officer, can help enterprises achieve this level of organizational unity. Each department is connected through a common platform, resulting in a single source of truth that is maintained as it flows up- and down-stream to every department.
Connected Planning further complements the strategic planning process by enabling leaders to track the progress of goals. Specifically, it can help business leaders make quick, informed decisions that may result in significant changes to organizational processes.
Five things to look for in a solution for strategic planning
Organizations have traditionally relied on two options for strategic planning: spreadsheets or packaged legacy applications. Spreadsheets involve a significant amount of time and effort building sophisticated financial logic from scratch for each silo of business data. They are highly susceptible to errors and not conducive to enterprise-wide collaboration.
Packaged, legacy, and on-premises applications can be hindered by inflexible functionality and a tight focus on built-in financial reporting and analytics rather than the modelling of revenue streams.
To evaluate the criteria for a flexible and supportive strategic planning solution, here are five considerations that set next-gen planning platforms apart from legacy software and manual toolsets.
Business-owned innovation. Look for solutions that can be self-managed by business users and allow users to build and maintain models themselves. This enables them to manage complex, overlapping relationships between changing business entities and quickly update key variables such as cost of capital, depreciation methods, taxation rates, exchange rates, etc.
Data integration. Understand how quickly users can integrate data from other parts of the business and better understand key drivers that underpin the longer-term strategic planning model, such as average selling prices, free cash flow, etc.
Scenario analysis capabilities. Evaluate how the planning solution creates and tests new scenarios and various assumptions. This analysis should be quick and easy and measured in minutes rather than hours.
Information accessibility. Accessibility to information is key. Consider how to use technology that shares information across a community of decision-makers.
Timely cloud implementations. How fast can you get up and running without having to install software? Cloud-based Connected Planning technology makes implementation and adoption throughout the entire enterprise and hundreds of users quick, scalable, and seamless.
Explore the new game plan for strategic planning