New research shows that balance is key to innovation in finance
Balance is an integral component of every successful recipe. Take the favorite condiment ketchup, for example. Sweet and salty with a tempered acidic edge, ketchup has become a flavorful, if not unassuming, complement to a variety of food groups. Striking a palatable balance has proved incredibly lucrative for its producers: bottles of the tomato-based sauce are found in 97 percent of American refrigerators.
Having grown up in Pittsburgh, and eventually working in corporate finance at H.J. Heinz Company, I know the value of a bottle of Heinz ketchup firsthand. Powerful financiers, such as Nelson Peltz and Warren Buffett, have sought that value from H.J. Heinz in recent company history.
Balance is also crucial to innovation in finance, new research from FSN indicates. The ingredients for a successful investment in innovation mix technology with processes to drive holistic business insights across the enterprise.
According to the report, 64 percent of organizations that maintain a balanced approach to innovation have been shown to outperform the competition in the ability to do frequentative forecasting more quickly and accurately, thus providing valuable, strategic insights in a competitive market.
"Better learn balance"
As Mr. Miyagi stated in The Karate Kid, "Better learn balance. Balance is key. Balance good, karate good. Everything good. Balance bad, better pack up, go home. Understand?" It is the same in FP&A: A balanced approach to enterprise planning is critical to steering business performance in today's volatile markets.
Research indicates that only 28 percent of organizations strike an ideal balance between investments in customer-facing systems and back-office finance processes. Furthermore, 11 percent of organizations indicated that they had minimal strategy or a clear direction.
Forty-nine percent of senior finance executives shared that the majority of investments in innovation have involved customer-facing processes such as Web analytics, digital marketing, and customer relationship management. Advancements in back-office technology have primarily trailed behind.
In the infographic below, over 1,000 respondents across 23 industries share insights into how their organization approaches innovation in finance.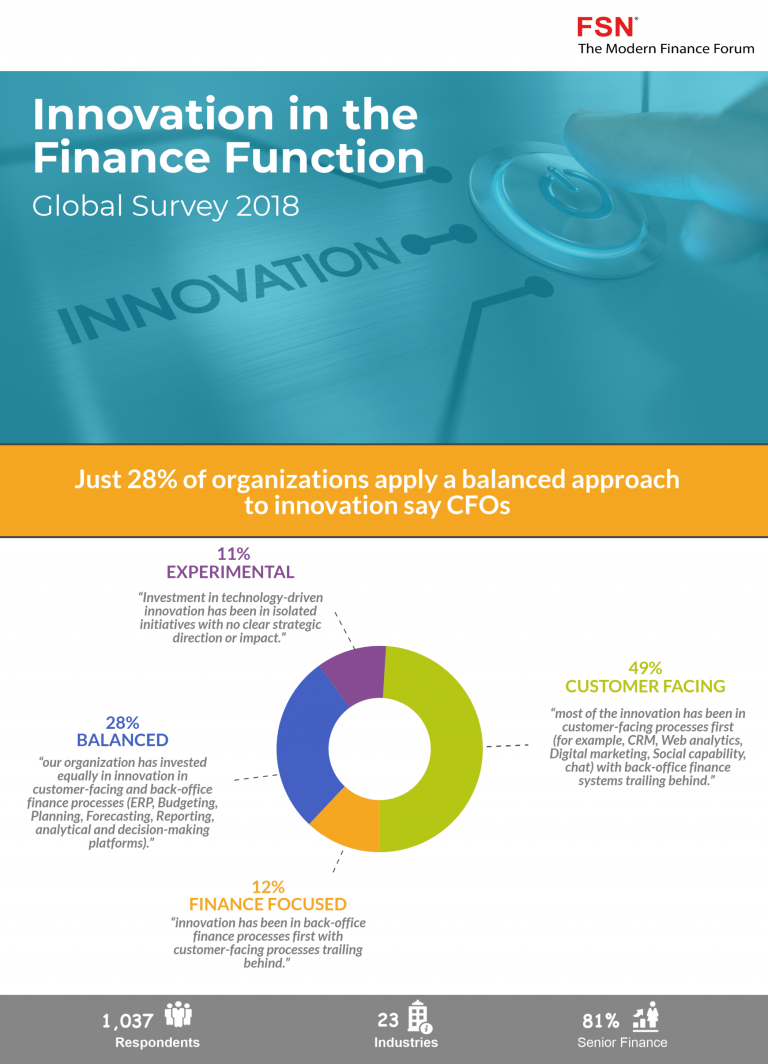 The benefits of balance
Investing in agile FP&A technology is critical to developing a holistic finance function. Business planning platforms that can not only link plans across the finance department but also connect finance with operations have been shown to heighten collaboration, improve data transparency, and bolster productivity.
Even innovative companies have to balance their technology investment to meet myriad needs, such as front-office vs. back-office systems. Sixty-four percent of organizations with a balanced approach to investment can iteratively forecast within one week, as compared to 55 percent of customer-facing and finance-led investment, and 48 percent of experimental investments.
FP&A teams can use Connected Planning technologies to help the organization focus on business insights that provide a more reliable, balanced, and forward-looking view of the business. By implementing a cloud-based planning approach to financial planning, FP&A teams are better equipped to continuously analyze business performance, adapt to fluctuating markets conditions, and foster an innovative business culture.
Better planning leads to better outcomes that serve the needs of all stakeholders, including customers. Investing in a planning platform that not only empowers the forecasting ability of the FP&A team but that can also be leveraged by sales, marketing, supply chain, and operations connects the entire organization to support the goals of all of its constituencies.
This strategy offers organizations a comprehensive, balanced approach to innovative financial planning. As seen in the graphic above, only 28 percent of organizations currently apply a balanced approach to innovation, even though leveraging the capabilities of planning technology is paramount to sustaining a holistic finance strategy.
In the end, let's recall the holistic and sage wisdom from Mr. Miyagi, "Lesson not just karate only. Lesson for whole life. Whole life have a balance. Everything be better." With that, bring balance to your enterprise to be victorious in the FP&A equivalent of the "All-Valley Karate Tournament."
Then enjoy a bottle of ketchup and celebrate responsibly.