People of Anaplan: Meet Bhavik Vashi
Back in early 2014—in only his second month at Anaplan—Bhavik Vashi was a bit shocked to find himself in the company boardroom, presenting planning models to the company's C-level executives. "In that moment, I realized that I made the right decision to join this company," he said. "And I promised myself that I would always be ready for the biggest stage, and for any pitch, presentation, or meeting—because at Anaplan, that opportunity could present itself at any time." When he made that presentation, Bhavik was an entry-level consultant; today, he's Anaplan's Vice President of Customer Success in APAC, based in Singapore. Here's his journey.
When you were younger, what did you want to be when you grew up?
I was hell-bent on becoming the first-ever Indian superstar in the NBA, but that didn't quite pan out. I then decided I wanted to be the CEO of a company that would change the world. This dream is still in play.
Have you always been interested in technology?
As far back as I can remember, I've been a techie. I think it comes from my dad, who studied electrical engineering and spent most of his career working at tech companies. He was always on the bleeding edge of technology at work, and he brought that passion into our family life as consumers. Whatever the newest toy on the market was—TV, computer, video-game console, mobile phone, sound system, whatever—you could bet on my dad buying it. We'd go to Fry's Electronics and spend hours comparing various options. That process helped me understand how to evaluate technology and made me even more passionate about it.
What's your role at Anaplan, and how does your work impact Anaplan customers?
I lead our APAC customer success team, which covers Australia, China, Hong Kong, India, Indonesia, Japan, Malaysia, New Zealand, the Philippines, Singapore, South Korea, Thailand, and Vietnam. Our team wakes up every day with a single purpose: to delight our customers and make them wildly successful. This means ensuring that their experience is optimized and enjoyable along their entire Anaplan journey, from pre-sales to implementation to deployment.
Leading up to a sale—we call this the pre-sales phase—we learn the customers' business processes and planning challenges, educate them on the Anaplan Way, help them create a project plan for their first release, and begin working with them to craft their long-term use-case roadmap.
During implementation, we ensure that models are built using technical and business-process best practices and that every project is managed and governed using the Anaplan Way. We become trusted advisors to our customers and often help them address challenges in data governance, data integration, process re-engineering, and change management.
And lastly, during deployment we monitor our customers' platform usage, end-user adoption, product feedback, and other metrics. We help customers establish centers of excellence, move them toward self-sufficiency so they can maximize their ROI, and help them expand their Anaplan platform usage.
Why did you decide to join Anaplan?
Back in 2013, I was working at a Big 4 consulting firm. One night I was venting about my job with a friend—not so much about what we did as consultants, but about our inefficient way of working. We were constantly aggregating information from disparate sources, normalizing and "prettying up" the data, and passing it up the food chain where it was further aggregated and consolidated. None of us were using problem-solving and critical-thinking skills to perform meaningful analyses or simulations. My friend, who worked for Deloitte, told me about an awesome new technology called Anaplan that solved this exact problem. I asked her to broker an introduction, and the rest is history.
Tell us about a time when you realized how quickly Anaplan is growing.
Every day—especially working in APAC—I feel the "Anaplan is growing" sensation! Whether it's hosting a user group, expanding into a new country, or meeting with a Global 2000 prospect, I get an adrenaline rush that reminds me of how rapidly we are growing and how special it feels to be part of it.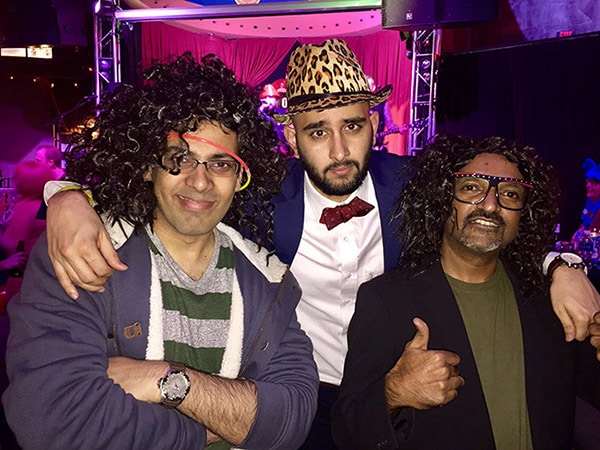 Bhavik (center) poses with two members of his APAC customer success team, Seshadri Iyer (left) and Fuvas Mohamed (right). The photo was taken at a celebrity dress-up party at the Anaplan sales kickoff in February 2017 in Las Vegas.
What is your favorite part of working with your team?
I'm impressed by the incredible talent in our customer success organization. Our team members are expert solution architects and gifted relationship managers. They seamlessly marry rich functional knowledge with a deep technical understanding of multidimensional modeling and how enterprise performance management systems fit into an organization's broader IT landscape. This is not at all an easy profile to recruit for, trust me, but I am humbled by how my team makes it look easy on a daily basis.
On a personal note, I consider myself extremely fortunate to have found and developed amazing mentors at Anaplan who have helped me better understand the secrets of starting, growing, and scaling a business.
What is your favorite thing to plan (either personal or at work)?
I absolutely love to travel and, to use an agile term, travel is a "P1" item for me. In the last few years alone, I've traveled for leisure to Bali, Barcelona, Beijing, Cuba, Peru, Thailand, and Vietnam. I hate traveling alone, so I like to think about the countries that I want to visit and then build a plan to get the right people there at the right time, for the right purpose. While traveling is my favorite hobby, eating is very close behind. Ideally, I am doing both!
Interested a career at Anaplan? Check out our Careers page for current job openings.
Curious about the people behind the Anaplan logo? Presenting the People of Anaplan series, which shines a spotlight on our employees around the world. Learn about their interests and hobbies, what makes them tick, and how they help make Anaplan the leading planning and performance management platform for smart businesses.