Playing a new planning tune: New research revealed by Harvard Business Review
I love to play the guitar, but for the last few years, my work has kept me from practicing. I spend a lot of time on the road—I commute from my home in York, England, to Anaplan's headquarters in San Francisco monthly, and regularly crisscross the world to meet customers. I prefer to travel light, so packing a guitar wherever I go isn't an option. I thought about keeping an extra instrument in San Francisco, but that seemed inefficient and wasteful—and it wouldn't help when I travel to other cities.
Not long ago my wife found the solution to my problem just in time for my 50th birthday: TheBONE TheCLASSICAL II folding guitar that I can take as carry-on. You may have read about this instrument in my interview with Financial Times. (My apologies if you find the link paywalled.) I pop it out, tune it up, and I'm ready to play. With my folding guitar, I can now keep my fingers working wherever I go.
I thought about my folding guitar the other day when I read a new report from Harvard Business Review (HBR) Analytic Services, which was sponsored by Anaplan. The report said 90 percent of 385 business and IT leaders surveyed use spreadsheets as their primary planning tool, but only 22 percent of them are satisfied with them. Users of homegrown tools and on-premises third-party tools are also just as dissatisfied, as you can see in the figure below. Here's the connection to my folding guitar: Just as I wanted a better, more flexible way to practice, business leaders today need better, more flexible planning capabilities.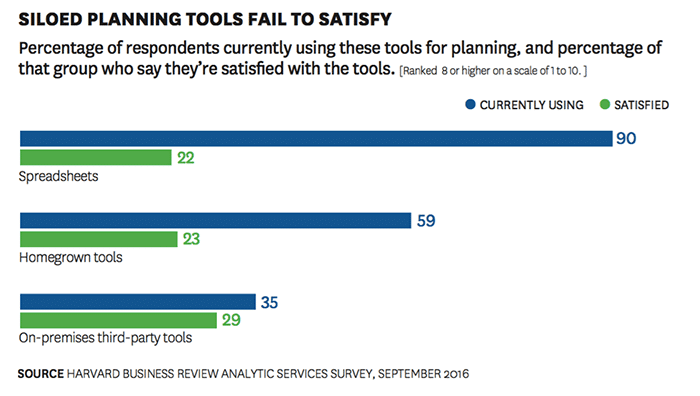 The HBR report, titled "The New Game Plan for Strategic Planning," includes insights from industry experts and analysts Mary Driscoll of APQC, Steve Player of Player Group, Nat Brooks of SynFiny Advisors, and Cindy Jutras of Mint Jutras. And it's loaded with interesting facts, including these figures that leapt out at me:
Three out of four respondents say that their organizations need to create plans more frequently now than they did just three years ago.
More than 70 percent say that the ability to analyze performance on an ongoing basis is important, yet only half of them say they do this well.
Just one-third say their organizations are extremely effective at analyzing performance and course-correcting.
But HBR talked with three global organizations—a major airline, a healthcare company, and a financial services consultancy—that are meeting the challenge with Anaplan. Their success stories are woven into the study; my favorite quote comes from Chanjala Sudhakaran, global FP&A director at the financial services consultancy Capco: "We can now present to management with meaningful insight, rather than just presenting a spreadsheet of data."
HBR concludes the report by noting that companies that don't embrace flexible and agile planning "will likely be left behind, and fast." Nobody wants that—in music or in business—so I encourage you to download the research report and read it for yourself.