Procurement planning platforms: Discover hidden opportunities to reduce costs and achieve new efficiencies
Even in uncertain times, procurement must deliver cost savings and efficiencies. A unifying procurement planning platform reveals pathways to both.
Any number of unforeseen circumstances—pandemics, natural disasters, disruptions to shipping routes—can interrupt the regular flow of goods and services. Regardless, procurement is expected to come through and to do so while saving money and finding new efficiencies. Meanwhile, increasing complexity makes it that much harder to understand where savings and efficiencies might be hiding. In the face of escalating challenges, how can procurement leaders continue to deliver more for less?
Across industries, businesses are recognizing it is time to fully and quickly modernize procurement and supply chain management. Supply chain resilience and agility is a crucial competitive differentiator. Procurement leaders are fast-tracking digital transformation initiatives to give their teams the tools to deal with increased complexity and ongoing uncertainty.
Specifically, a new generation of advanced procurement planning platforms is bringing the breadth of procurement systems together in one place, opening the door to cost savings and efficiencies in three important ways:
1) Multi-enterprise visibility into global procurement data
When systems are siloed, procurement depends on the latest data exports and spreadsheets to make decisions. Important information may be tucked away in a proprietary tool in another division or arrive too late to be useful. Key vendor details could be hidden in a supply chain manager's email, unknown and inaccessible. Bringing internal and vendor systems together in one place means procurement can collaborate with vendor enterprises using real-time data. This timely, multi-enterprise visibility revolutionizes procurement's ability to spot (and seize) opportunities to trim costs and deliver more business value.
Imagine a global enterprise where scores of different divisions require microchips for the products they produce. They rely on a variety of regional suppliers, but one large vendor sells microchips to multiple teams. Operating in siloes, the various teams have no way to know that they've negotiated significantly different pricing and terms for the same product. The disparities only become clear when the systems are brought together in one platform.
Having a big-picture view of needs, suppliers, orders, terms, and costs lets procurement streamline purchasing, negotiate better deals, and think more strategically about how to achieve savings and efficiencies overall. More important, with access to the breadth of procurement data in real time, expedited decision-making becomes possible, boosting agility and creating a competitive advantage.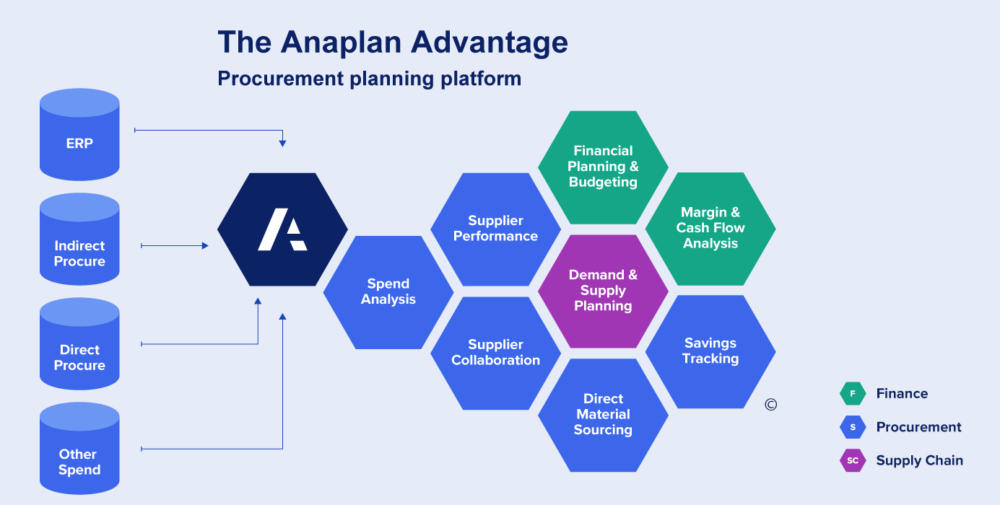 2) Improved budgeting and cash flow
A unifying procurement planning platform creates a shared space where stakeholder teams and vendors can collaborate in real time as needs and circumstances change. Together with continuous access to always-current plans and data, this can have a profound impact on the business's budgets and financial planning. Procurement gains the ability to:
Manage budgets more effectively using complete and current data to better predict variances and accruals.
Make more informed decisions by factoring in data from a broader range of internal and external sources, from sales forecasts and vendor inputs to social media and industry and government tracking.
Use scenario planning to explore various strategies for cutting costs, such as how a change to supplier allocations might impact direct cost of goods sold.
Quickly address changes in capacity, for example, by recognizing where inventory could be reallocated to avert a shortage.
Track savings to the bottom line for full transparency.
In addition, budget cycles can happen faster and more frequently, improving accuracy. Given more accurate information, finance can make more strategic decisions about capital management.
The ability to see what is happening across the enterprise also lets procurement manage supplies more closely. Purchasing can be more targeted and efficient, improving cash flow and freeing up capital to drive profitability.
3) Streamlined procurement processes
Having one place where everyone can access the latest plans and information significantly streamlines procurement workflow and processes for big gains in efficiency. Connecting siloed systems eliminates redundant work. Analytics can be run on the central platform using real-time data rather than offline using multiple teams. Fewer spreadsheets and less offline number crunching means less work and reduced latency.
Eliminating mundane and redundant tasks frees up time for higher-value analysis and strategic vendor management. The procurement team can get involved in purchase decisions earlier while it's still possible to realize savings. Procurement planning cycles can happen faster and more often. With more accurate and timely planning, more options become available, improving agility and resilience.
A central platform also streamlines vendor communications. Connected systems exchange data faster and more efficiently than one-off messages such as email. If engineering needs an update on the supply of a critical material, they can track its status at will instead of requesting news from their procurement contact. The platform improves visibility for all stakeholders, not only procurement.
Without a central platform to unify procurement and ERP systems, it can be functionally impossible to gain a holistic view of what is happening in terms of orders, suppliers, and operational performance. One company used seven completely disconnected systems to run their global operations. When they implemented a procurement planning platform, they immediately gained the ability to track and manage orders, pricing, and vendor performance for the entire enterprise in one place.
Frequent disruption raised awareness of supply chain fragility and prompted businesses to accelerate modernization. But a cloud-native, fully connected procurement planning platform does much more than fortify the business against supply chain uncertainty. It also delivers on a long-standing procurement wish list of ways to manage costs, streamline processes, and improve profitability.
Find out how procurement planning platforms are transforming business agility in the Anaplan white paper, "Unlocking procurement's new competitive advantage."