How Sonos improved supply chain visibility
To succeed in its ongoing quest to re-invent home audio for the digital age—yes, do try this at home!—global home sound–system leader Sonos first had to accomplish another daunting task: achieve end-to-end visibility across its global supply chain. And like Sonos, you can try this in your business, as well.
For inspiration, here's a brief overview of the transformative supply-chain initiative Sonos recently undertook, with Anaplan's platform and business partner, Valizant, guiding them along the way. For more details, check out the full webinar featuring Vivian Zhang, Sourcing Operations Analyst at Sonos.
First, find the right platform
After an extensive, years-long search to find a technology platform that would allow its sourcing team to eliminate their dependence on a mass of unwieldy, error-prone Excel® spreadsheets, Sonos discovered Anaplan. The platform needed to let the team continue to do business their way, without sacrificing the flexibility and speed that enabled their rapid market growth in the first place.
The Anaplan platform has allowed Sonos to scale company-specific processes while also adopting and automating best practices, thereby minimizing manual and time-consuming efforts and enabling them to significantly improve accuracy, efficiency, and productivity throughout the supply chain.
Build from there
When implementing the Anaplan platform, Sonos moved easily from one phase to another, with each new phase building upon the success of previous phases. A seamless flow of information between applications and throughout the supply chain, both internally and with global network partners, means that everyone is using the same real-time information and can quickly and easily collaborate to make better-informed decisions in ways that simply weren't possible before.
Sonos' Anaplan implementation began with supply and demand balancing, which enabled each region to know exactly what products would be available and exactly when they would appear—which simply wasn't possible with any level of confidence prior to the Anaplan solution. Building upon that success, Sonos tackled supply and capacity planning, material spend, component forecasts (with publication to suppliers), and key component visibility applications within the Anaplan platform.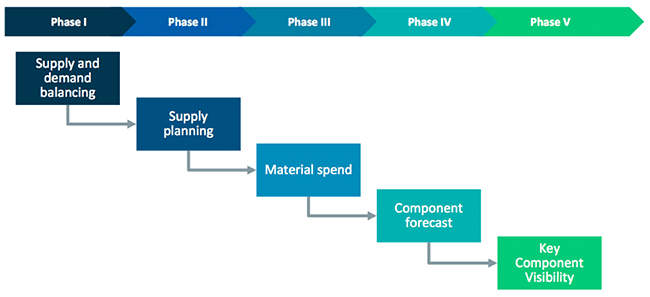 The transformation of Sonos' supply chain began with supply and demand balancing. The company built on that success in multiple phases and now has supply visibility at the component level.
"There is no longer guessing about what the production plan is or if it is out of date," said Valizant's CEO, Ed Lewis, "because it flows directly from the supply-demand balancing, and ultimately from the capacity and supply planning." He noted that publication of the component forecast is based on real production and real bills of materials, not an approximation. The overall forecast, purchase orders, and logistics forecasts are issued with the click of a button.
"We now have full visibility across the whole company, from planning to the tiniest manufacturing partner component," added Zhang. "With Anaplan, we are now able to have one single source of truth."
Hear Sonos' Director of Global Sourcing Jonathan Rocque and Director of Integrated Business Planning Heather Williams describe how the company achieved a single connected plan across resources, spend, and product lines with Anaplan.
Key takeaways
You no longer have to reinvent the wheel when it comes to successfully implementing a solution to improve end-to-end supply chain visibility. Here are some key takeaways that Zhang and Lewis provide to help you stay focused when beginning your implementation:
Target high-impact functions
Demonstrate success to build momentum that carries on to the next priority
Retain company-specific processes and then adopt best practices that add value
Increase user adoption with an agile approach, which includes participation and transparency throughout the implementation (rather than creating a black box that's handed over to users at the end)
Plan for cost-effective adaptability to changing business conditions in the evolving organization
For more information on how to connect the dots to achieve end-to-end supply chain visibility for your business, watch the full webinar.
| | | |
| --- | --- | --- |
| | Sonos achieves end-to-end supply chain visibility | |
.cta {
background-color:#99A4AE;
width: 650px;
max-width:100%;
max-height:auto;
padding:20px;
}
.cta td {
border: none;
vertical-align: middle;
}
.cta-text {
margin: 0 auto;
padding: 0 10px;
font-size: 1rem;
font-weight:600;
color:#0D2463;
text-align: left;
}
#cta-button {
font-size: 15px;
padding: 12px 24px;
-webkit-border-radius: 3px;
border-radius: 3px;
background-color: #00c7b2 !important;
}
/*.single-post .label-tag {
padding: 3px !important;
}*/
@media screen and (max-width: 767px) {
.cta {
width:330px;
text-align: center;
}
.cta-img,
.cta-text {
margin: 0.5rem auto;
text-align: center;
}
}