3 sales territory management pitfalls and how to avoid them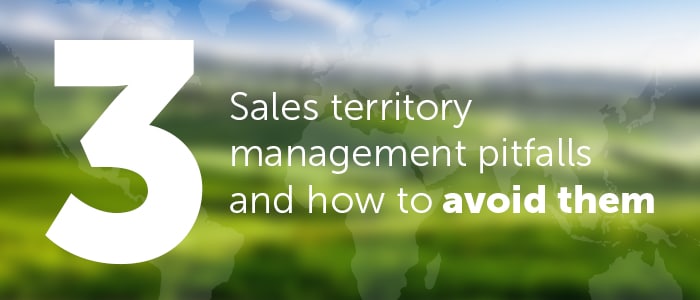 Sales territory management used to consist of taking a big map and drawing some boxes on it to delineate which rep got which piece of the map. Sure, there are still maps and boxes involved, but there is far greater complexity to it. Through recent customer conversations, webinars, and discussions over the last year, we found some fairly consistent pain points when it comes to sales territory management (1),(2):
Resources are over-assigned to the same accounts
The territory target is too large and there isn't enough capacity to reach it
Plans take too long to build and complete and tend to be out of date
Assignment rules can conflict and result in coverage gaps
There can be assignment errors
Poorly managed sales territories can result in negative client engagement, not to mention sales team frustration and high turnover among sales reps. To keep that from happening to you, here are some pitfalls to avoid when it comes to establishing sales territory management.
Pitfall #1: Having limited data—and a restrictive territory management tool.
Don't set yourself up for difficulty down the road when you want to make a change. If you don't have a handle on your client and account data, it will be difficult for you to not only understand how well the territory (or rep) is performing, but also to make any potential improvements. Keep in mind though that you don't want to make too many or too frequent changes to your sales territories, as it may impact client engagement (3), but you will want to at least have the ability to modify territories as needed.
Pitfall #2: Not involving the sales team.
Don't forget to include the sales team. This may seem like an obvious point, but you may be surprised at how often territory planning is done purely top-down with little inclusion from reps and teams. You want to create a territory plan that will take rep experience into consideration and help to motivate the sales force. That means having the right reps for the right territories, and making sure they can see that the plan takes their local business into account—ultimately, a plan the sales team can truly embrace.(4)
Pitfall #3: Getting stuck in spreadsheets.
Companies and organizations who are winning in sales performance and territory management have adopted tools and applications that give them visibility into targets, schedules, and capacity; help them align the best reps to the right products and accounts; and reduce the sales assignment time. In this era of real-time data, many sales leaders recommend moving to the cloud for quota planning in real time and effective collaboration.(5) With a sales application, you can also integrate a CRM system for territory rule deployment. There are sales analytics applications out there for just about any size of company, so you really don't need to start with spreadsheets.
Stay away from these sales territory "don'ts" from the start, and you'll already be on your way to greater sales success sooner than you thought.
Join us at Hub 2015 in San Francisco this May 18th for an opportunity to exchange best practices and ideas around territory management and other sales planning topics with your peers. Be sure to check out the Sales track agenda on Day 2 for all of the areas we'll be covering. You'll also hear from industry leaders as they discuss how connected, data-driven planning is helping them make better business decisions. Register today.
Sources:
Anaplan, How Smart is Your Sales Plan, October 9, 2014
Anaplan, Territory & Quota: Collaborative, Quick & Data-Driven, May 21, 2014
Inc. Magazine, How to Set Up Sales Territories, September 2, 2011
Sales Management Association, Building a Smart Sales Plan, October 9, 2014
Sales Management Association, Building a Smart Sales Plan, October 9, 2014
Click to tweet | Click to share on LinkedIn | Click to share on Facebook