Align sales territories and incentive compensation to attain sales performance excellence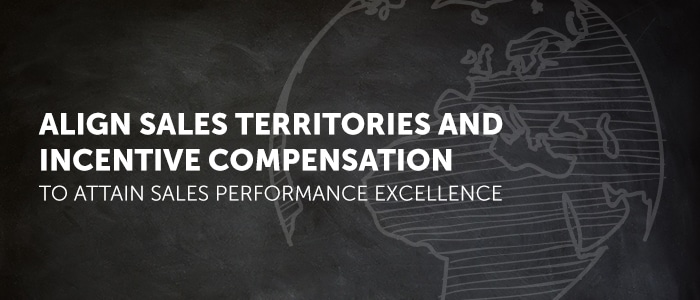 I was driving through Hartford, Connecticut, on my way to visit a customer. As I passed office building after office building, I started thinking, if I were a sales representative here (and not in product marketing), I'd definitely want to be selling insurance. Hartford is well known as the home to many insurance company headquarters, so, if you're selling insurance products, then Hartford is the place for you.
It seems simple. Sell where there is the most market opportunity. But if you're a sales operations professional, or compensation administrator, you know that defining effective sales territories is a complex business problem which involves evaluating and setting goals—for your business and for your reps. My friends, Clinton Gott, and Per Torgensen, both principals at Better Sales Compensation, have helped many organizations utilize sales compensation programs to raise sales performance. Much of their success is due to their understanding that linking territory design to incentive compensation plans can drive sales performance excellence—and unleash the power of an improved territory coverage model.
So let's step back, and consider selling insurance products across North America. Surely Hartford is not the only place with market opportunity. However, not all territories represent the same level of opportunity. To be effective, your compensation programs should reflect these differences. You need to find ways to craft programs that navigate the unique potential in each territory, so you are reaching every opportunity to be had.
For example, in a sales territory where you have a strong existing customer base, you might want to incentivize your reps to retain customers, leverage cross-sell/up-sell opportunities, and improve customer satisfaction scores. In a sales territory with fewer potential customers, or where the organization has not yet established a strong customer base, you may want to incentivize reps to focus on new customer acquisitions. Not all sales territories are equal and, in turn, the incentive compensation plan must include measures that align to your sales territory deployment model.
Clinton and Per at Better Sales Compensation teach their customers best practices for aligning effective sales territory mapping with incentive compensation plans. Their recommendations include:
Establish your sales territories by not only analyzing sales history, but also measuring market opportunity
Set objectives on a territory-by-territory basis (e.g., new customer acquisitions, cross-sell/up-sell goals, penetration into new vertical industries, new product launches, etc.)
Plan an effective sales territory coverage model before designing and rolling out sales incentive compensation plans to ensure alignment
Keep your sales territory coverage model and incentive compensation plans simple (e.g., number of overlays, splits, measures, etc.)
I encourage you to register for our discussion about these issues on Wednesday, March 18, 2015 at 10 a.m. PST/1 p.m. EST: Exploring new territory—the geography of compensation planning
Topics we will cover include:
Challenges created by legacy sales compensation designs in effective territory designs
More appropriate sales compensation designs that work with effective territory management
Lessons from Better Sales Compensation client case studies
I'm confident that you'll take away a few good ideas to start solving your top sales territory and incentive compensation challenges. Don't miss this webinar and the chance to hear what Gott and Torgensen have to share from their experience working with clients with similar challenges as you.
Topic: Incentive Compensation