Updating finance forecasts quickly following changes to sales projections is the foundation for success for this famed beauty retailer. However, forecasting was blemished by a complex, inefficient process that was managed using legacy technology. The company required a solution enabling cross-functional teams to work on forecasts in parallel, see data in a consistent way, and discover information that previous systems sometimes concealed. With Anaplan, this company has live, interactive dashboards instead of static reports, a shared forecasting platform across the entire company, and countless hours of time freed up for analysis.
Adapting to change is just a matter of building a new Anaplan model.
Corporate Treasurer
Beauty product sales have had a makeover in recent years, shifting from department stores into specialty shops and accelerating in online and mobile sales channels. In the U.S. and Canada, one Anaplan customer has elegantly navigated that transformation to become the region's leading prestige beauty retailer.
Forecasting and budgeting are foundational practices for retailers because their costs – greatly impacted by the number and location of stores, marketing activities, and the need for employees – change continuously depending on sales expectations. In this environment, this company's SAP BPC system didn't provide the forecasting agility that finance leaders wanted. It required users to download data from source systems, update that data in a spreadsheet, and upload it back to a central system. If someone failed to update data on time – such as a change in sales numbers or revised timing of promotional activities – the forecast could swing by millions of dollars. Further complicating the problem, each department in the company had its own profit and loss (P&L) structure, which meant critical data often ended up in an "other" category in consolidated forecasts.
"We needed a system in which all teams could work in parallel to create a single source of truth," says the company's Corporate Treasurer. The company chose Anaplan – an easy decision, given that its corporate parent and several sister companies already used Anaplan.
Led by the Senior Finance Manager, the company built a comprehensive financial forecasting model in Anaplan, augmented by specialized Anaplan models for headquarters payroll, IT projects, capital expenditure (capex), and analysis of central vs. store costs. For consistency and ease of reporting, the finance team built the solution using a shared P&L structure and a single Data Hub. (To learn more about the company's multiple connected models, download the full story.)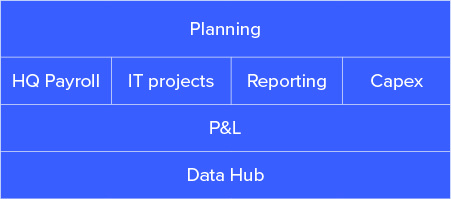 The team worked on the Anaplan solution with a consultant initially, but quickly moved the project in-house as their skills developed. Following the initial implementation, the team adopted an iterative approach in which they review the forecasting models on a regular basis and leverage advances in one P&L area to further automate other forecasting models. This eventually cut the time needed to build a three- to five-year strategic plan from several weeks to a couple of hours – or even minutes. (To learn more about the company's five keys to success with Anaplan, download the full story.)
The Corporate Treasurer and Senior Finance Manager see the value of their Anaplan investment in several areas:
Time savings. Monthly reporting cycles are about four hours faster with Anaplan than before because needed data is readily available. "Anaplan saves us months of time every year that can be invested in better analysis," the Senior Finance Manager says. "Faster reporting is just one of many time improvements we've seen."
Dashboards have replaced reports that were generated by an outside service provider, so the time delay and creation costs were eliminated.
Data availability. Data from all departments is aggregated and drilling down to department- or store-level details takes just a few clicks. The company's Chief Financial Officer is a heavy user of this feature. "Our CFO tells me that he can now discover so many things that he couldn't see before," the Corporate Treasurer reports.
Alignment to shared facts, such as store and staffing counts, enables faster, better decision-making.
Pinpointing problems. Business challenges vary from site to site across the company's 1,000+ stores and locations. The team uses granular data in Anaplan to identify and address specific sites that need attention.
It all adds up to agility and the ability to adapt faster in an evolving business. (To read more about how the company stays agile in uncertain times, download the full story.) The Corporate Treasurer explains it this way: "For us, adapting to change is just a matter of building a new Anaplan model."