Conquer 6 workforce planning and optimization challenges with Anaplan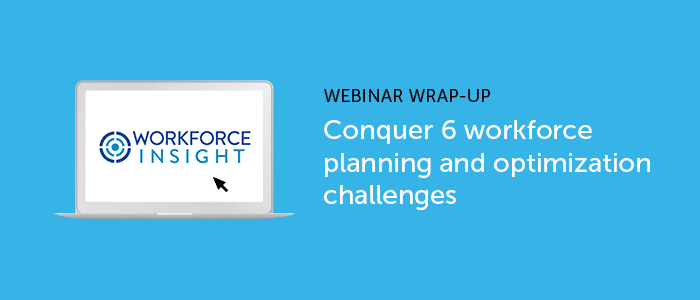 Use of analytics in hiring and staffing decisions has gained wide acceptance, but the best tools aren't yet in the hands of those who need them. In a recent Workforce Insight survey, the importance of analytical capabilities for workforce planning ranked 4.6 on a scale of 5. The same survey revealed that companies ranked their satisfaction with existing workforce planning tools at 2.8 out of 5.
In a recent webinar, Mike Emsley, Executive Vice President, Workforce Analytics at Workforce Insight, joined me to discuss in detail the reason behind this satisfaction gap in survey results and why workforce planning matters more than ever. They also show how the planning-tool satisfaction gap can be closed by conquering six workforce planning challenges using Anaplan.
Staffing decisions are driven by cost concerns, and even minor changes can have a big impact on the bottom line. However, Mike and I emphasize that other factors are just as important. For example, collaboration is critical: Having finance, HR, recruiters, hiring managers, and business leaders working from the same data not only saves time, but also quickly gets everyone working together toward the same strategies and goals.
Surprisingly, external factors (such as customer experience) can also be impacted by workforce planning decisions. Leading HR organizations plan for staffing requirements at least 24 months ahead of time to ensure that adequate, well-trained frontline personnel are ready to meet customer expectations.
Taking into consideration these factors and trends in workforce planning, here are six workforce challenges that can be resolved using Anaplan.
Getting a true picture of current headcount and workforce capacity. Creating a workforce plan starts with understanding where you are today, and getting that clear picture is more complicated than it first appears. The information needed is likely stored in different locations and in different systems. Being able to aggregate data from any place and any system to a single source, such as Anaplan, allows planners to analyze the current workforce by any factor, from diversity to location to role, all in real time.Understanding the workload any location or group can handle is the second key to starting a plan. Using Anaplan to analyze historical data on how employee time is spent, for example, helps determine future staffing needs, especially in call-center and retail environments where staffing needs can fluctuate significantly.
Modeling and predicting attrition. Accurately predicting attrition requires using a company's dataset and matching it to the best algorithm to run analysis. With Anaplan, planners don't have to be data scientists to optimize results—the Anaplan platform reviews the data and automatically determines the best algorithm to use. Additionally, Anaplan's flexibility allows planners to test any hypothesis, such as lengthy commuting time, that might be affecting attrition, so an accurate root cause can be found and addressed.
Accurately forecasting workforce demand. Using historical data and allowing for variables such as attrition, Anaplan can precisely predict staffing needs down to the day, which is especially useful when addressing staffing needs for seasonal peaks or other situations where demand fluctuates. Here, too, flexibility is key: Planners can easily make adjustments for elements not in the model that can ripple across other models or reports.
Preparing a workforce gap analysis. Having precision in staffing supply and demand metrics allows planners to determine if working overtime or hiring additional staff is the best decision. Anaplan provides that precision in a timely manner so decisions can be made proactively as opposed to simply reacting to problems as they crop up.
Testing the impact of significant workforce changes. Whether opening a new location or restructuring a department, planners can use Anaplan to test the effect of a "what-if" scenario on a group of employees and evaluate its impact on salaries, benefits, etc. Individual variables and assumptions can be adjusted to compare results within a larger scenario.
Creating a data-driven hiring plan. By incorporating data from all other departmental functions, the Anaplan platform provides a one-stop view of hiring requirements by region, by country, by department, by role, etc. Since everyone is working from the same data, the focus is on finding and hiring the right people.
Watch the webinar to find out how Anaplan can help optimize your workforce plan in as little as 8–14 weeks. And hear three success stories from leading organizations about how they resolved their workforce planning challenges with Anaplan.