4 components of a workforce plan for temporary employees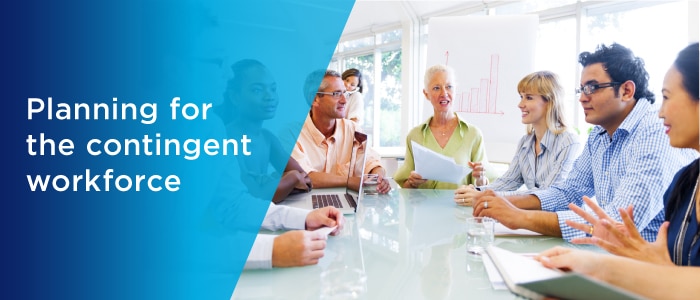 In the past few years, contingent workforces have been growing at increasingly rapid rates. According to Deloitte, some companies are spending up to 30 percent of procurement dollars on contingent workers. These outsourced labor sources provide increased flexibility for many organizations. A recent article in the Wall Street Journal, "In the $75 Billion Videogame Industry, Hiring People Is a Last Resort" by Lauren Weber (paywalled), cites the shift toward project-based work as the leading cause for the growth of the temporary workforce.
"[T]he videogame business looks a lot like the workplace of the future," Weber writes. "A lean core of in-house employees focuses on the most important jobs, with the rest hired out to layers of contractors and subcontractors. Outside workers come and go based on project cycles."
As Weber notes, this shift is not limited to one industry. In fact, there is a growing presence of this type of workforce in hotels, restaurants, retail stores, call centers, and even the technology industry.
But there are some challenges in using this workforce model. For one thing, it increases the complexity of workforce planning and optimization. External labor sources will vary depending on project complexity and time requirements. The management of these workers will involve coordination between internal finance, HR, and operations departments, as well as a contract agency at times. Operationally, companies will be challenged to accurately forecast and determine the required daily labor hours and expenses.
On the other hand, when plans are effectively implemented, companies can save a meaningful amount of money and time, while employees enjoy increased flexibility. The temporary workforce is leading the new wave of employment standards.
So what does a strong temporary workforce plan include? Here are four components that are critical to consider:
Daily forecasting. Use statistical forecasting and historical analysis to determine common workforce trends for the organization.
Productivity analysis. Determine target labor coverage and labor expenses on an hourly basis. This lets you see the financial impact that comes from changes in productivity.
Labor-rate planning. Forecast labor coverage, hours, and expense by role. Doing so helps you build a bottom-up approach to planning.
Scenario planning. Predict how seasonality impacts the business. This enables you to see changes based on factors like day of week, time of year, and holidays.
These four components are essential to successfully run a business with a temporary workforce. But if the temporary workforce is not well planned and managed, it can quickly become more costly than planned. Companies need to be strategic and use scenario planning to predict changes in workload, seasonality, or project demand in order to achieve optimal workforce success. With effective workforce planning, companies can balance the benefits of both a full-time and contingent workforce while saving on costs.
Interested in learning more about how your team can plan for the temporary workforce? Check out our Workforce Planning app or watch our workforce planning demos to see Anaplan in action.
Learn more about Anaplan for workforce planning