Harvard Business Review: 3 steps towards finance-led integrated business planning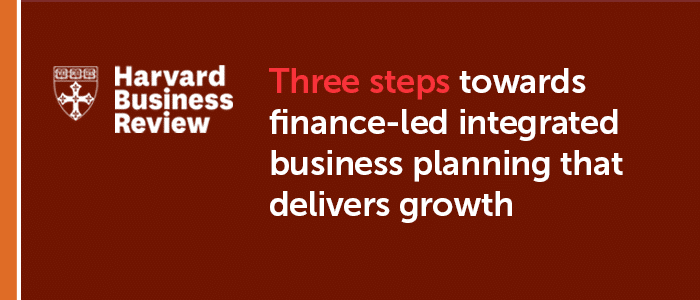 In 1963 when the economy was booming, Stanley Harding, the financial director of Shell, said that one of the three hats that finance managers should wear was to be "an active member of the management team" (the other two were to be a financial expert and people manager). Fifty years later, markets are increasingly volatile, competition is much fiercer, and businesses are anxious for any kind of revenue growth—and many finance teams still have a ways to go to becoming strategic business partners.
Growth today means more than introducing new products or extending into new markets. Companies frequently need to refresh their strategies and reinvent business models to keep up with changing consumer preferences and stay ahead of competition. To be successful, companies need to move away from the traditional approaches to planning and budgeting, and adopt a more holistic approach that provides the agility needed to create and sustain a competitive advantage. This new way of doing things—integrated business planning (IBP)—is the focus of a new Harvard Business Review Analytical Services Report, "Driving Business Growth With Finance-Led, Integrated Business Planning."
The IBP approach depends on Finance partnering with the business since implementation involves taking three steps to unify the planning process across the company:
1. Focus on metrics that drive growth, such as revenue per unit, expense per headcount, customer retention, and customer satisfaction that give a deeper understanding of current performance and better visibility into the future.
2. Increase business-user collaboration for continuous forecasting, with everyone contributing to the planning process using a technology that enables collaboration and connects plans in real time—i.e., not standalone spreadsheets.
3. Treat IBP as an enterprise-wide initiative with a planning platform that brings people and data together into a streamlined process in one central place. This does not mean implementing IBP necessitates an all-in, expensive, big-bang, IT-driven investment. Companies can work at it incrementally by first integrating aspects of sales that directly impact revenue, along with operational departments with highly variable costs, and then extending the process to back-office functions where costs are largely fixed.
With a flexible and adaptable planning platform, implementing IBP can be turned into a series of agile sprints that focuses first on specific business functions where there are quick wins that improve the accuracy of financial forecasts, allowing business managers to more successfully pursue growth.
One suspects that the forward-thinking Stanley Harding would recognize the need to evolve planning and budgeting software for today's topsy-turvy world and be wowed by the business planning software available to achieve the transformation. Read the report to learn more about how you can prepare your business for growth by making the planning process a collaborative enterprise-wide initiative.