Serena Software
is in the business of helping businesses. Specifically, they provide orchestrated IT solutions to the Global 2000. With almost one million users worldwide, Serena is the largest Application Life Cycle Management vendor – and the only one that orchestrates DevOps.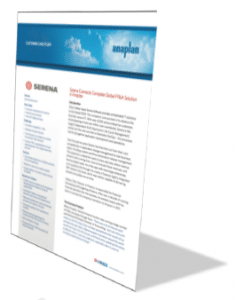 As the company began to grow and branch out from their core competencies of application change management, Nathan Tiller, Director of Finance, recognized the need to have a tighter planning process. "Excel wasn't cutting it. But we weren't interested in trading in the evil of spreadsheets for the evil of another cumbersome tool." Working with Melissa McFarland, Director of Accounting, he investigated a third path, which led them to choose Anaplan. The team couldn't be more pleased, as Nathan explains: "During our two years at Anaplan, every single wish list item that I can think of has become a reality." These results include:
Reduced maintenance revenue forecast process from days to minutes
Increased updates from quarterly to monthly
Decreased annual operating plan turnaround time from 60 hours to 2 hours
Empowered team with accurate and timely forecasts
Self-sufficient in two days
"Anaplan has given us a way to communicate that we didn't have before. Now we're having better conversations that lead to a better understanding of our business." - Nathan Tiller, Director of Finance, Serena Software
Read Anaplan's complete case study for Serena!