A state of autonomy: Where unpredictability and change fuel agile, forward-looking decisions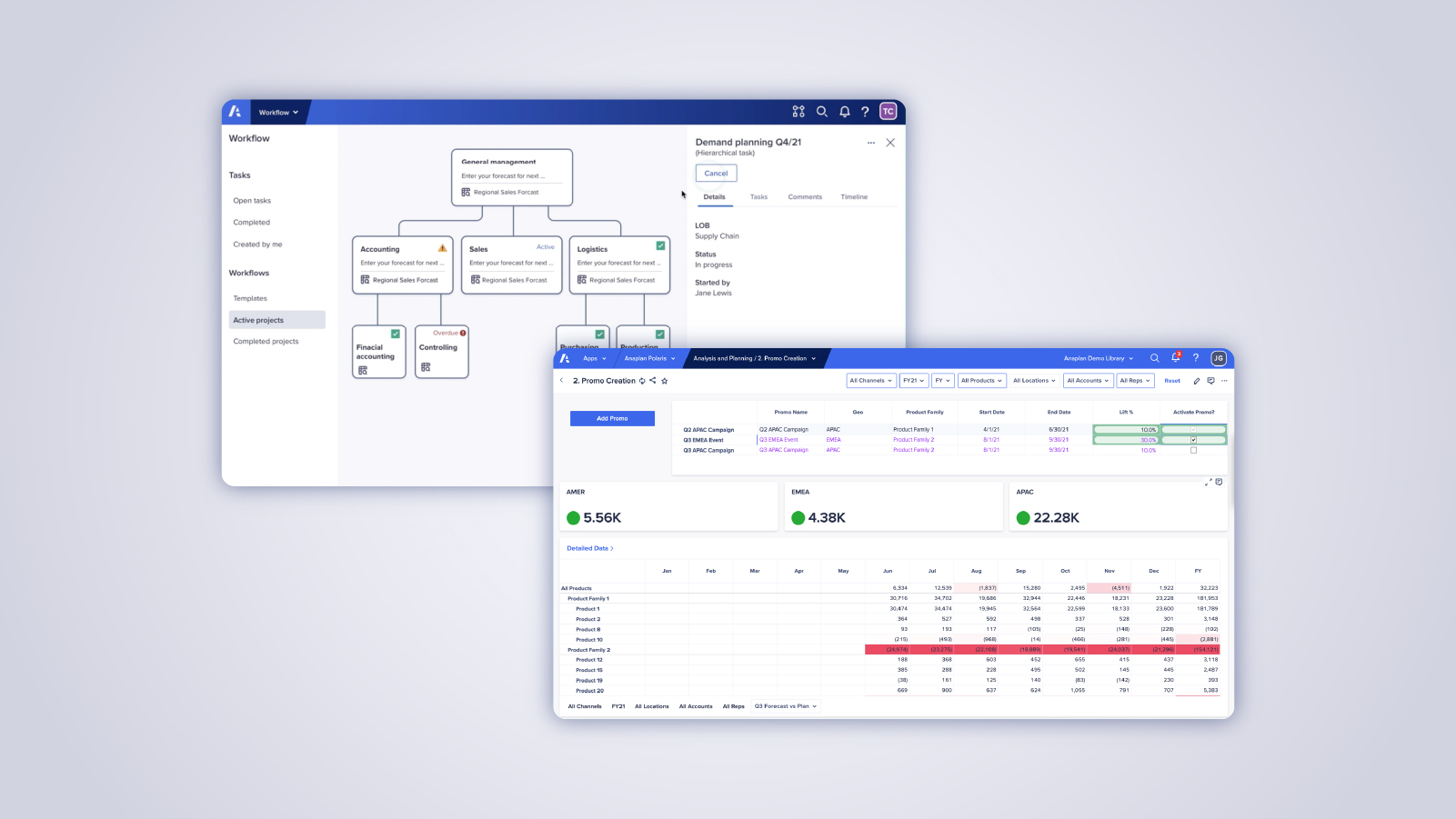 Constant, yet unpredictable, change is the expected course of business today and, as business leaders, we're trained to anticipate and readily manage change at a moment's notice. Yet the same hardships that drive uncertainty and risk can also be used to unlock even greater rewards. If we can master change – or at least the ability to navigate it – we can fuel unstoppable innovation and growth.
The challenge we face is this: To navigate change, we must reimagine our traditional operations. By embracing more innovative business models and tools, we can streamline processes, analyze, and act on better-informed insights, and make change a true competitive differentiator.
This is the next frontier for businesses – a transformation we call the autonomous enterprise.
Empowering every enterprise to become an autonomous enterprise
The autonomous enterprise is more than continuous planning and decision-making. It's a state of being in which tightly woven business units, processes, products, technologies, and people move rhythmically in the same direction. Small, imperceptible business and market changes are instantly picked up and automatically translated into prescriptive, insights-driven actions. Tasks are offloaded, workflows are automated, and data is put to work so you can identify and act on new opportunities faster than your competition.
At Anaplan, our mission remains as clear as it is simple: to help you stay agile and confident in the face of continuous change. This is why we're delighted to introduce the newest innovations across the Anaplan platform, each of which is uniquely designed to bring the autonomous enterprise to life – Always Sensing, Always Translating, and Always On.
Turning data into precise, prescriptive insights
With the introduction of new data and modeling capabilities in the platform, we're making it even more intuitive for large enterprises to sense and monitor their business environments, and mold global complexity into clear, prescriptive insights. Anaplan Polaris™, our next-generation calculation engine in the Hyperblock™ family, significantly expands data dimensionality at scale by blending a powerful planning architecture into the platform's easy-to-use modeling experience. Anaplan Polaris tackles data sparsity head-on and brings enhanced efficiency and scale to the platform, empowering users to plan at the natural dimensionality of their business. If you are a supply chain leader at a CPG company, for instance, you can build models that reflect the nuances of your inventory structure – even if not all SKUs are stocked in all warehouses in all regions or shipped to all customers in all geographies via all transportation modes.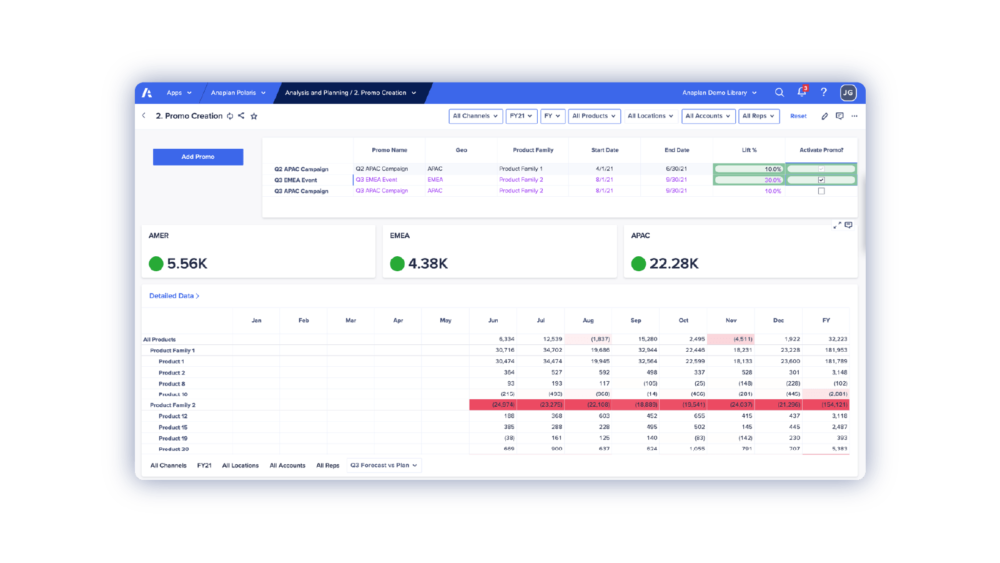 In addition to Anaplan Polaris, new CloudWorks enhancements make distilling data volumes into fast insights an everyday reality for businesses. New data orchestration features combine flexibility and usability with new levels of visibility and automation. With these cloud-native capabilities, low-code integrations pair up with streamlined workflows for easy, hassle-free maintenance. Plus, with direct import/export capabilities of external data into PlanIQ, users can expedite planning intelligence with faster data throughputs.
Translating data-driven insights into action
To act quickly and confidently amid change, business leaders need real-time intelligence and strong insights in fast, easy-to-digest formats. Feature importance and explainability in PlanIQ demystify hidden complexities by making it easier to understand seasonality, and the historical and recent trends influencing forecasts and performance. This means a retail leader can easily see how certain drivers rank and relate to certain forecasts. For instance, weather might play a more important role in a Q4 forecast, whereas production and transportation might rank higher in Q1 and Q2. Additionally, direct integrations to new cloud sources, such as AWS and Azure, along with native intelligent statistical algorithms, help extend the reach of intelligence in forecasting and further democratize AI/ML for everyday business users.
We're also expanding our Management Reporting offering to include new variance reporting capabilities, which enable users to build variance calculations directly into reports, without having to be a skilled model builder. By simplifying financial and business comparisons and speeding up information-sharing, key decision-makers can act strategically in any environment.
"Anaplan's Management Reporting dashboards allow our executives and our department leaders to access both their forecasted budget and their actualized spend," said Robbie Phelps, an Anaplan Architect at Outreach.io. Phelps is working to automate both budget owner variance reporting and visibility on expense spend. Robbie shared his excitement around these new Management Reporting capabilities adding, "with the new variance enhancements being introduced, finance can now create templated views for all department leaders in order to simplify annual planning while navigating current expense variances."
To complement our robust suite of connected reporting tools, we are also introducing Anaplan for Microsoft Office 365 extensions. A bridge between the Anaplan user experience (UX) and Microsoft Office 365 applications, this first-of-its-kind extension will allow business users to easily drop UX cards, images, and data from Anaplan into reports and presentations in Microsoft Excel, Word, and PowerPoint for fast reporting and spontaneous and on-demand analyses. When available, Anaplan customers will be able to download the free extensions from the Microsoft Store.
Taking insights-driven action with efficiency and speed
Finally, native Workflow capabilities in the Anaplan platform, which are designed to unlock the unparalleled value of Connected Planning, will let teams automate processes within the enterprise and across its extended ecosystem. Workflow capabilities weave together internal and external stakeholders, priority tasks and due dates, and large amounts of planning data, enabling Hyper-Automation and enterprise-wide digital transformation. Using Workflow, teams can replace the complexity of multi-level planning with the efficiency of highly collaborative workflows, sparking fast actions and improved outcomes.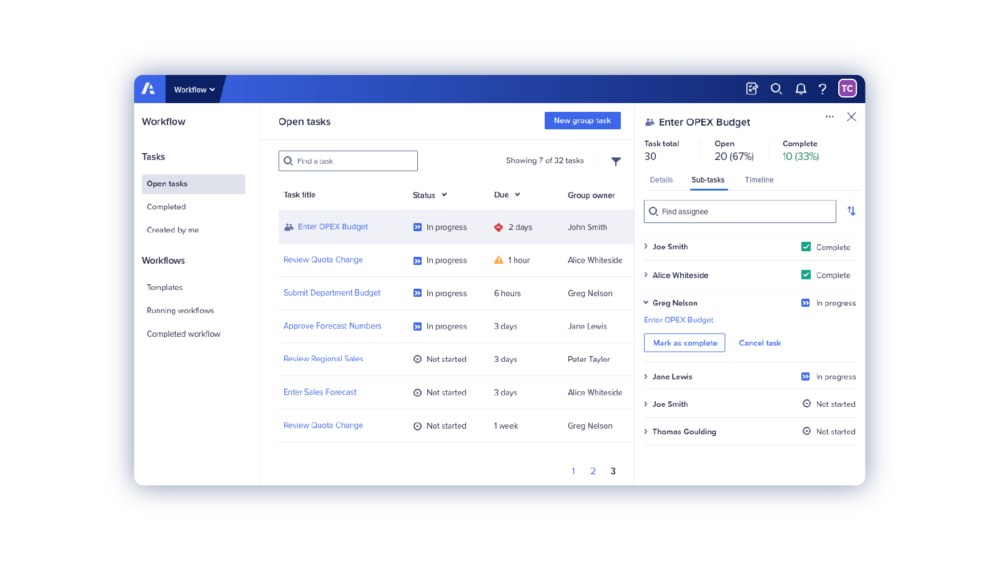 Although we seem to be experiencing more change at a faster rate than ever before, we are also seeing the acceleration of transformation in the business world. Companies are realizing the value that agile, insights-driven operations can deliver in the face of disruption and volatility – they are realizing the need for the autonomous enterprise.
That's why we are working so hard to deliver new capabilities – like the ones introduced today – to our customers. Because we know that through flexibility, scale, computing power, and intelligence, we can help more companies remain agile in the face of uncertainty and turn change into true market opportunity.
Workflow is currently available to a select group of Alpha customers and will be released into Early Access in the second half of 2022. Anaplan will also be expanding our ecosystem with new integrations with Microsoft Dynamics, Adobe, and Salesforce in the coming months. Anaplan Polaris is currently available for early adopters and will be in commercial limited availability in the second half of 2022. New features for PlanIQ, CloudWorks and Management Reporting, as well as Anaplan for Microsoft 365, are scheduled for general availability in the second half of 2022.