Unlocking your organization's potential: Ventana Research 2023 Buyers Guide for Business Planning
Learn why Ventana Research designated Anaplan as an "Exemplary" business planning vendor with recognition as a "Leader" in four major categories.
We live in a time of uncertainty, not unpredictability. Managing an organization in uncertain times is always hard, but tools are available to improve the odds of success by making it easier and faster to plan for contingencies and scenarios.
– Robert Kugel, SVP and Research Director, Ventana Research press release
New challenges come at us every day. Geopolitical instability. High inflation and interest rates. Scarce talent. Labor strikes. Given the many factors impacting our business environment, you need the right tool to enable you to effectively navigate your organization to remain on course to achieve your targets. 
Planning is the backbone of any successful enterprise. It's the roadmap that guides your organization toward your goals and helps you maneuver through the ever-changing landscape of business today. Business planning software is a tool that can help you create and manage your planning process easier and with more agility, empowering you to make informed decisions that drive your growth strategies. 
Why is business planning important?
In today's fast-paced and competitive business environment, effective planning is crucial. Business planning is not just about setting annual goals and budgets, it's about aligning your company's strategy, finances, and operations (e.g. sales, supply chain, human resources) to proactively adapt to market shifts, seize opportunities, and mitigate risks. This is applicable in any industry whether that be financial services, media, technology & telecom, manufacturing or consumer. 
 
Ventana Research, a leading business technology research and advisory services firm, understands the need for robust business planning. There are many different planning offerings on the market, so it's wise to find the right one for your organization with the Ventana Research 2023 Buyers Guide for Business Planning to guide your purchasing consideration. 
What does the Buyers Guide for Business Planning reveal? 
The Ventana Research 2023 Buyers Guide for Business Planning evaluates 13 vendors and provides information about each, including their usability, capabilities, cost of ownership, and challenges and strengths. The Ventana Research 2023 Buyers Guide for Business Planning also explores the latest trends, technologies, and best practices to help you make informed decisions. An invaluable resource for business planning technology decision-makers across industries, here's what you can expect: 
Market insights: Ventana Research provides insights into the current business planning landscape to help you understand the evolving landscape and provides steps in your buying process for the best outcomes.

Best practices: Effective business planning relies on best practices and Ventana Research offers guidance on how to streamline your planning processes, improve collaboration, and enhance decision-making. 

Technology reviews: Business planning tools and technologies are continually evolving, and this guide covers the latest solutions, their features, and benefits, helping you choose the right technology to support your planning efforts including budgeting, forecasting, scenario analysis, and integrated planning.
Planning should be a structured dialog between executives and managers about objectives and the resources and tactics that people need to achieve them, not just the financial plan.
– Ventana Research 2023 Buyers Guide for Business Planning
What's evaluated in the Buyers Guide for Business Planning?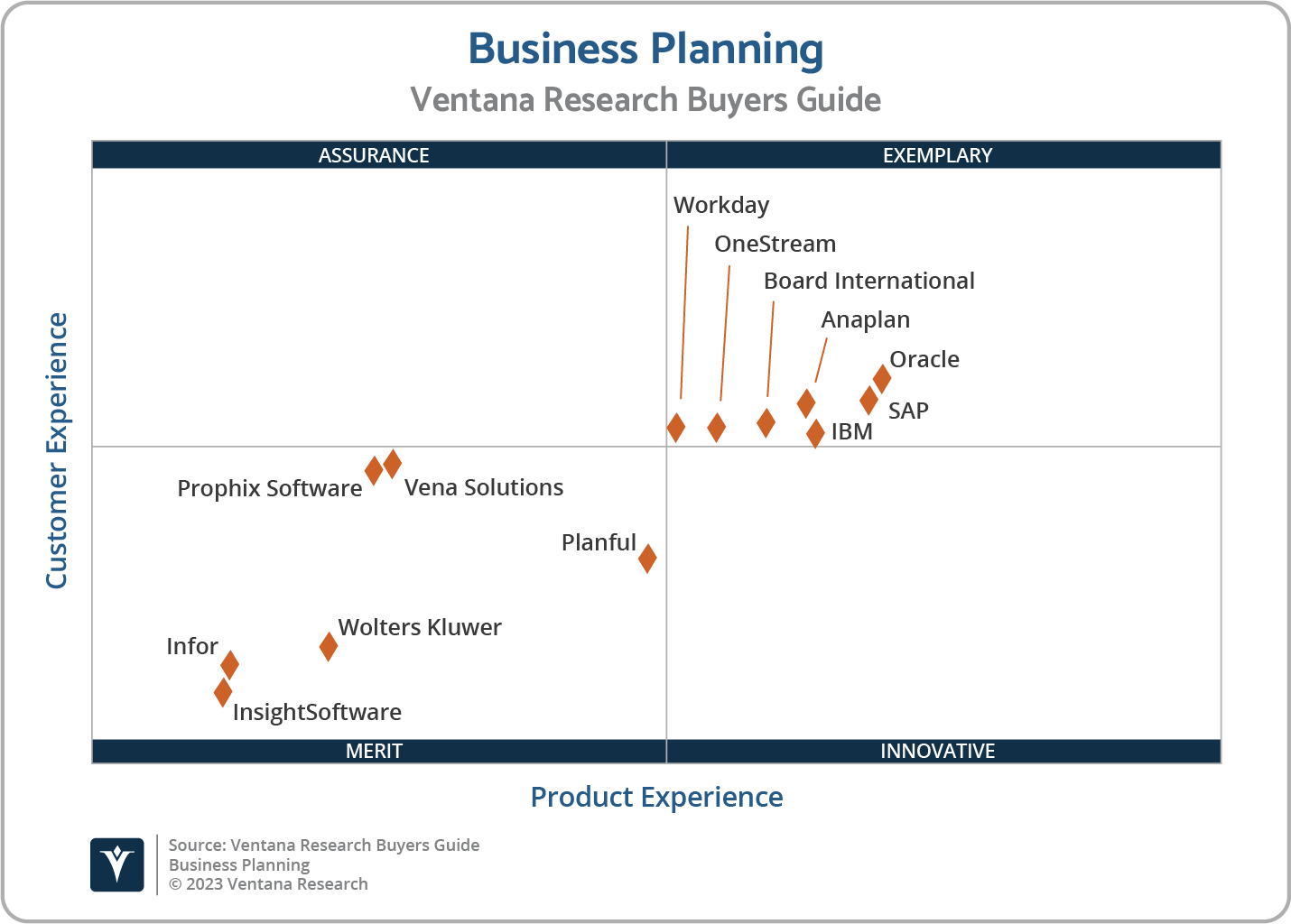 Thirteen vendors are evaluated on their overall weighted performance based on Product Experience and Customer Experience. The vendors are placed into one of four quadrants: Exemplary, Innovative, Assurance, and Merit. Vendors in the upper-right of the quadrant perform better than those in the lower-left quadrant. 
Exemplary (upper right) means a vendor performs best in meeting the overall Product and Customer Experience requirements. Number of vendors: 7 

Innovative (lower right) means a vendor performs best in meeting overall Product Experience requirements, but not the highest levels of requirements in Customer Experience. Number of vendors: None.

Assurance (upper left) means a vendor achieves highest levels in overall Customer Experience, but not highest levels of Product Experience. Number of vendors: None.
Merit (lower left) means a vendor does not exceed the median of performance in Customer or Product Experience or surpass the threshold for the other three categories. Number of vendors: 6
To arrive at the overall rating, Ventana Research evaluated vendors on Product Experience and Customer Experience in seven categories. Product Experience categories are Adaptability, Capability, Manageability, Reliability, and Usability account for 80% of total weight. Customer Experience categories are Total Cost of Ownership/Return on Investment (TCO/ROI) and Validation and account for 20% of total weight. Full details can be found in the report.
Your roadmap to success 
In an ever-changing business landscape, having a robust and adaptable business planning strategy is essential. Ventana Research's 2023 Buyers Guide for Business Planning can help equip you with the right planning tool to optimize your planning processes, make informed decisions, and achieve your business goals. 
 
At Anaplan, we continually invest and enhance our platform to bring the best planning technology for our customers. As such, we are proud to earn Ventana Research's overall Exemplary designation and to be recognized as Leader in four major categories: Validation, TCO/ROI, Usability, and Capability. Ventana Research also notes our strengths in product roadmap and commitment to our customers.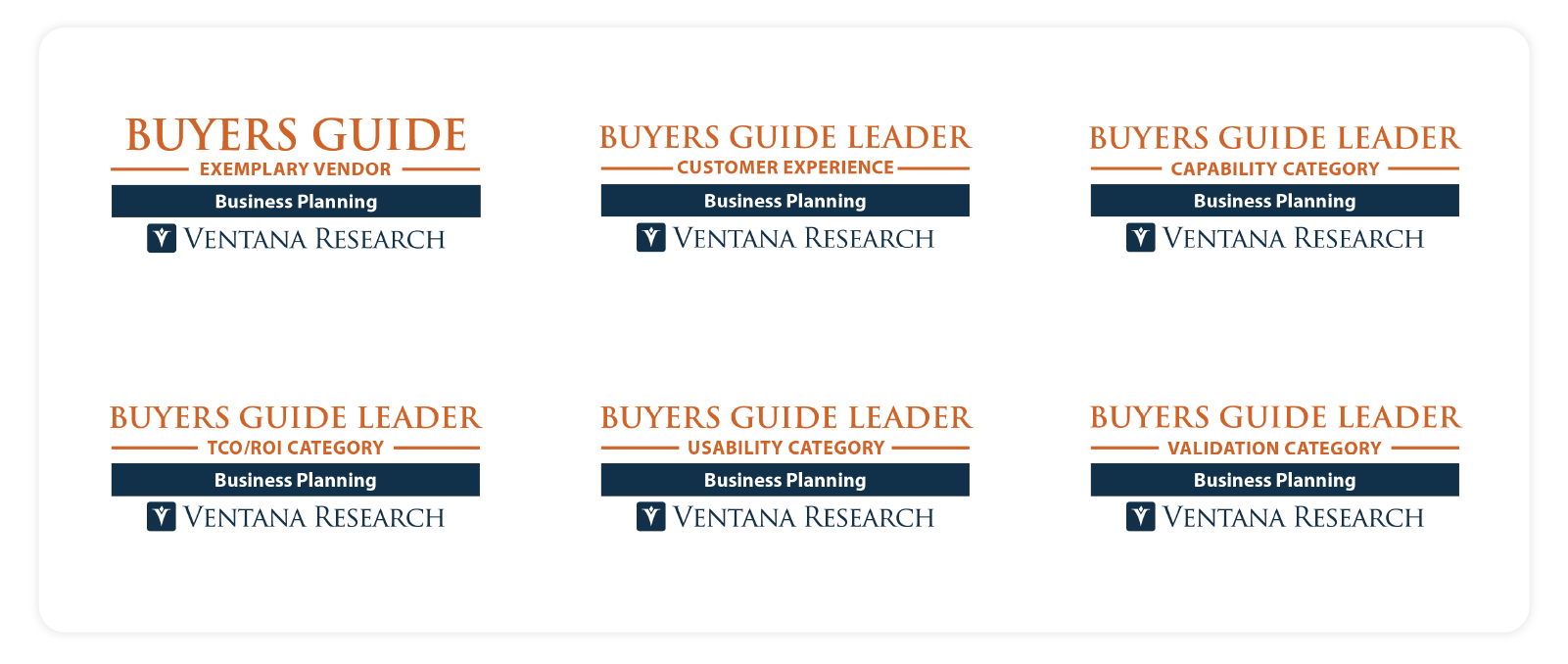 Anaplan can help you see, plan, and lead your organization so you can stay ahead of the competition and achieve greater success.