How can top-down collaboration coexist with bottom-up planning?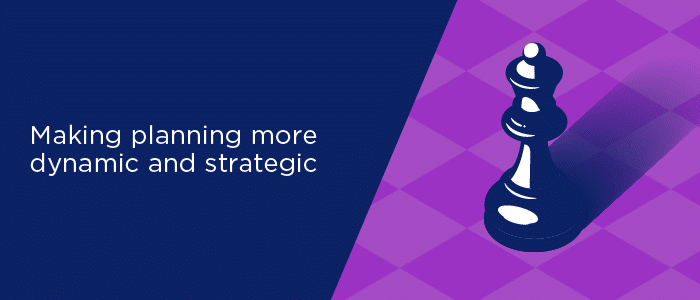 This article first appeared on LinkedIn Pulse.
Planning today is treated too much like a rote task; it's required and important, but not fundamentally dynamic or strategic. The premise of this article is to look at how an organization can transform planning into a strategic driver of innovation within the enterprise, while evolving out of bad habits that plague the majority of teams who strive to predict the unpredictable.
Note that this isn't a finance problem, a sales performance management problem, or a supply chain forecasting problem. Aligning business drivers to achieve top-level target outcomes is fundamental to how all functions plan. Whether it's a budgeted revenue target, a sales quota, a workforce resourcing capacity plan, a production volume target, or a regional demand plan, the methods are largely analogous.
First and foremost, planning is often treated like a necessary evil. Whether it's for regulatory reporting purposes, or to allocate fundamentals like working capital or inventory and purchasing, many treat planning as something that has to be done before we can get to the real work of the business. This myth must be dispelled as it creates a misperception of the importance of the value planning drives in any business. Yes, good planning allows teams to allocate resources to meet the needs of the organization, but it's so much more than that!
Good planning anticipates the needs of the organization before they are aware of the needs themselves. Good planning enables an organization to pivot immediately to capture new market opportunities and avoid risks early while they're less expensive or can be avoided altogether. Great planning has enough actionable detail that leadership isn't even a critical component of the action plans, meaning teams can move even faster and with more autonomy.
Critical to this is the act of scenario planning. Scenario planning prepares teams for the most likely outcomes of their business decisions, and outlier situations where significant events drive unexpected behaviors (e.g., supply shocks, demand spikes, or regional logistical impediments). The challenges I see with most organizations that claim to scenario plan, is that they a) don't plan enough scenarios to encompass a full range of likely outcomes, as well as outlier events; and b) the resulting plans aren't detailed enough to provide meaningful, action-oriented responses.
The drivers of having too few scenarios planned are three-fold:
It is time-intensive to reconcile top-down targets with bottom-up execution drivers. Data flows between too many systems and spreadsheets, with dozens or hundreds of hand-offs necessary to create a complete scenario. This results in a scenario taking days to complete, with only a handful of iterations possible at the end of a planning period.
Systems are either incapable of the scale required to manage multiple scenarios or the costs are too high to make it practicable. Often, planning tools only allow for a single plan per period, possibly with a sandbox for another version. Historical versions are cast aside as the system progresses forward in time, losing much of the historical scenario analysis that teams poured hours of time into.
Storing the detail necessary for creating action-oriented responses is a huge obstacle. Combining loosely structured analytical details (such as metric-level commentary and tactical responses tied to performance variance drivers) with the multitude of possible scenarios for each period is a scale that's impossible to do in spreadsheets and most enterprise systems. Traditional enterprise tools rely on big relational databases that are great for storing lots of data, but not dynamic enough for pivoting on it (multi-dimensionality) or for gaming it (changing drivers to see impacts on outcomes in real time).
Modern collaborative planning tools can handle the crushing load of data and manage it in intuitive structures that are aimed at the particular business using it (e.g., sales, finance, supply chain, marketing, HR, or operations). The most advanced tools are cloud-based and lightweight, manage planning for each of these functions on a common platform for speed and to eliminate integration headaches, and can process the gaming of the data instantly for true plan management.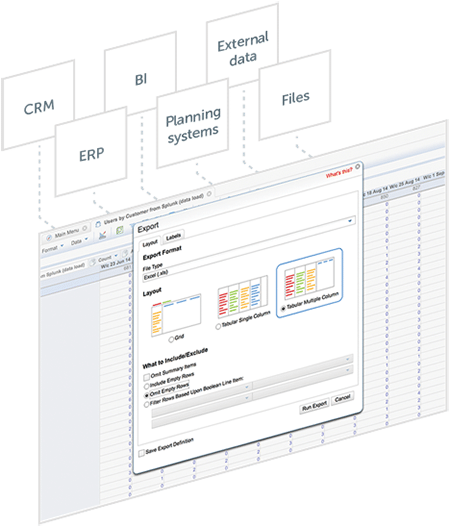 Modern collaborative planning tools handle a crushing load of data from multiple sources and systems.
This transforms planning meetings from "here's what we think will happen" to "here's what we'll do if X, Y, and/or Z happen(s), and here's the impact it will have on each of us." Having access to this much speed, leveraged with such rich data, allows connected planning not only between the top-down targets and bottom-up drivers, but also across businesses and functions.
The active evolution of planning into a collaborative, real-time, scenario-gaming process re-invigorates teams and focuses them on what they will do next, instead of what they think will happen next. By focusing on action as a result of rapid scenario gaming, teams innovate to solve for optimal outcomes. Compare this to the traditional post-actuals process of struggling to place blame on the right planning assumption or allocation mistake.
As you consider how to enhance your planning process, take a look at data collected by Harvard Business Review on trends in strategic planning.