Four pillars of successful sales operations
After many years working in sales—first as a rookie sales rep for SAP, then helping start Ariba before joining Anaplan in 2016—I´ve seen the critical role that sales operations plays in a company´s success. While it isn´t glamorous, sales ops' behind-the-curtain work is key, especially when a company is scaling from a couple of sales reps to dozens—and then to hundreds or thousands.
Recently I had the opportunity to share my thoughts on best practices and challenges for sales ops. The strongest framework for sales ops is built on four pillars: fiscal year planning, systems and infrastructure, lead to close, and sales analytics. We can further divide these four pillars into three categories: go-to-market strategy, sales process and execution, and sales performance management. The image below shows how these pieces fit together to form a best-in-class sales operations framework.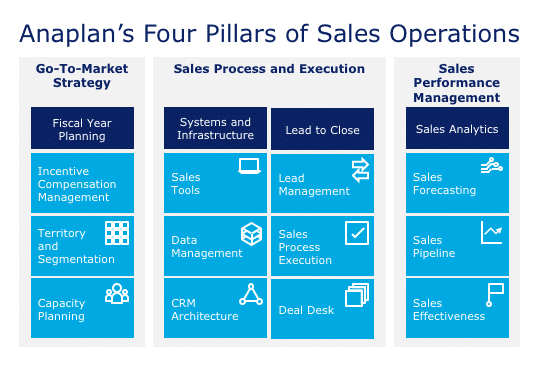 To understand why this framework is important, let´s look at the major challenges in each pillar.
Pillar 1: Fiscal year planning
An annual plan often becomes outdated soon after it's created. Knowing this, the key to effective scaling is to get the planning as right as possible from the start, but being aware that it will evolve as business priorities change. Accurately assigning territories and quotas is the science of sales. How does a company mathematically determine the best allocation of limited sales resources? This poses the biggest challenge as companies grow. There are some pretty sophisticated tools available for scoring, and when you can identify where the activity is (for target customers and target markets) resource allocation becomes clearer.
Some of the biggest companies still do this work using spreadsheets; in some cases, hundreds or thousands of spreadsheets get passed around via email to set quotas. Often, the sales reps don´t get their numbers until several months into the fiscal year. That means they´ve spent up to a quarter operating on best guesses—which can lead to a less than perfect first quarter.
Pillar 2: Systems and infrastructure
Develop a sales tech stack early on and be picky when choosing tools. The marketplace is crowded with tools that are chock-full of functionalities, but it's the quality of information they provide and their ability to connect with other tools that determine a tool's value.
Prospecting tools are a prime example: Some look great because they provide a large number of leads, but it´s the value of those leads that´s the deciding factor. And as we all know, sourcing solid leads helps you develop a healthy pipeline, which, of course, leads to more accurate forecasting.
Lastly, make sure you choose sales technology solutions that don't determine your process. The technology, regardless of what functionality it provides, must be able to mold to your process—not vice versa.
Pillar 3: Lead to close
Defining leads is a broken process in many companies. The relationship between sales and marketing is where this challenge plays out, since the definition of a lead is likely different for each group. Start by developing shared nomenclature, and define which group nurtures a lead through each stage of the sales process.
Use a methodology that accounts for the immutable resource of time. When selling to a large company, know that the lead time just to get a pilot program in place can be six months, whereas a smaller customer might act more quickly. Both may be worthwhile leads, and they may need to be scored and treated uniquely. Having a well-defined, transparent sales and marketing process that begins with qualified scoring activity is necessary whether a company has two reps or 2,000.
At the deal desk, remember that contracts live long past the initial sale. Consider the lasting effect of the terms in every contract. For example, bad contracts can come back to haunt a company´s future valuations. This can be a potential financial disaster when trying to obtain future rounds of financing.
Pillar 4: Sales analytics
Inaccurate forecasting can be disastrous. Massively outperforming a forecast could mean you´ve got sandbaggers or you haven´t properly invested in the business. Missing a forecast likely means you´ve got dreamers or you´re spending at too high of a level. Either way, when board members see a wildly inaccurate forecast, they will have doubts.
The marketplace has many good sales methodology tools. Most are pretty similar, drawing from what successful companies invented decades ago. Their age doesn´t mean these methodologies aren´t good. Quite the opposite—they're critical to an accurate forecast. A good methodology helps qualify deals: Is a deal hitting all the criteria in the methodology? Then put resources there and table underperforming leads.
Look at timing: How long has a deal been in the forecast? Avoid deals achieving what I call "university status"—that is, they´ve been lingering on the forecast for four years. While that´s a funny take on long-running deals, think of the wasted sales resource (and time) that it represents. Getting the right, well-qualified deals in the pipeline leads to sales effectiveness.
Achieve best-in-class sales operations
Establishing an effective sales operations framework based on these four pillars allows sales to function efficiently within an organization. The transparency created by this framework builds trust, and is a part of establishing clear expectations and determining the best use of resources. Consider the upfront work in establishing a sales ops framework as a long-term investment that helps pave the way for growth.
See my full live presentation, including a lively Q&A session covering sales training methodologies, about how a company can change direction and refocus with solid data and analytics in place, as well as the cost of bad sales contracts.