 Autodesk designs and makes a visionary Connected Planning and forecasting environment
With a mantra to connect, optimize, and automate, leading software company leverages agile, powerful finance and sales planning on the Anaplan platform
There's a lot moving around in the world, and having the ability to model different financial scenarios and make fast decisions is really important for our company's leadership.
Hayli Hay, Director of Connected Forecasting & Planning, Autodesk
80%
faster revenue forecast roll-up, even with the change from perpetual to subscription pricing
Rapid
recalibration of plans and forecasts, with models that are well-organized and intelligently architected
30
Anaplan models supporting various business functions on one cloud platform
SOLUTIONS

Finance, Sales & Marketing, Workforce

INDUSTRIES

Technology
With the vision to become the most insightful, digital, and admired finance team in the technology industry, Autodesk built an Anaplan environment that powers go-to-market finance planning, financial and sales forecasting, sales compensation, portfolio optimization, workforce and spends forecasting, license compliance, and many other complex processes. Anaplan's cloud-based platform addresses the limitations of traditional planning techniques and supports Autodesk's "Future of Finance" initiatives that establish engaging new finance career paths and build a finance team that is the best in the industry.
"We don't believe in waiting for progress, we believe in making it." That bold proclamation from Autodesk is reflected in its design and make software applications that are used to transform how things are made in countless industries, empowering innovators everywhere. That same pioneering philosophy extends to Autodesk's internal finance functions. "Our vision is to be the most insightful, innovative, digital, and admired finance team in the technology industry," says Hayli Hay, Director of Connected Forecasting & Planning at Autodesk.
With leadership direction to "connect, optimize, and automate," the team at Autodesk that works on Anaplan is driving the future of finance as a partner to the business while creating financial career paths that embrace new technologies to provide real-time insights and financial reporting. Since 2015, the company has used Anaplan within several internal functions; go-to-market finance, financial planning and analysis (FP&A), treasury, and global revenue operations lead its Connected Planning and forecasting environment, which is continuously evolving and improving, building success upon success.
For example, one early sales planning use case was leveraged to enable Autodesk's changeover from perpetual to subscription licensing. It's no small feat to move a multi-billion-dollar company from a revenue-based plan to one built on multiple metrics, such as annual recurring revenue (ARR) and annual contract value (ACV). The need to forecast sales along multiple lines—including license type, local currency, geography, and product—added further complexity. The result was dramatic: The Anaplan-based process cut forecast roll-up time by 80%, even though the process itself was much more complicated.
That's just one success story from Autodesk's years of innovation and transformation. As a result of the investments Autodesk is making with Anaplan and the hard work across the finance teams, the Anaplan footprint is increasing – and that means progress toward the "Future of Finance." In August 2021, Autodesk migrated the entire resource planning process into Anaplan with the launch of the Spend Forecast Model. The result of cross-functional effort across multiple teams, Spend Forecast is Autodesk's largest and most impactful Anaplan model to date, built completely using Anaplan's new UX and leveraging cutting-edge HyperModel functionality. It builds on Autodesk's workforce planning model to automate monthly spend forecasting and approvals for over 70 end users in FP&A, eliminating outdated legacy tools and minimizing exposure to workflows built on spreadsheets and email. (To learn more about Autodesk's Future of Finance initiative, download the full story.)
 
The environment today—but don't blink
The Anaplan Forecast and Planning team at Autodesk consists of individuals Hay calls "finance engineers" who have a deep understanding of both finance and the technology that supports financial processes. They built and operate 18 Anaplan models and three Data Hubs in four categories across go-to-market finance, FP&A, and treasury:
Forecast and Planning models at Autodesk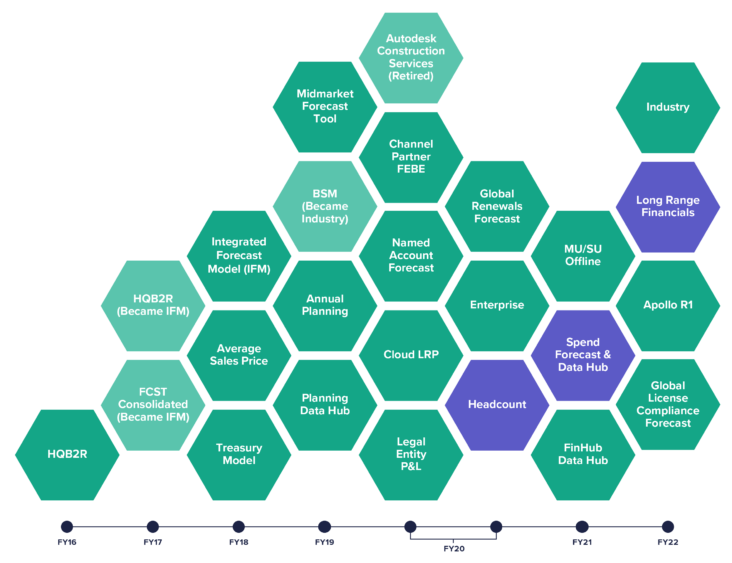 In Autodesk's Global Revenue Operations, eight Anaplan models enable teams worldwide to set sales quotas, build portfolios, evaluate deals, generate forecasting models, and more. "With Anaplan, we are delivering on the promise of turning data into insights," says Damian O'Farrill, Director of Data Science and Revenue Analytics. "We've leveraged the native capabilities of Anaplan and augmented them with machine learning, allowing us to deliver a better customer experience using data science."
 
Highlights of those models include:
Global Revenue Operations models at Autodesk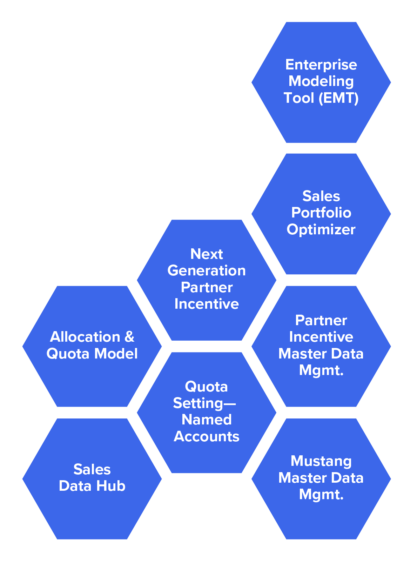 The use case list and honeycombs above represent a snapshot in time because the Anaplan environment at Autodesk is constantly evolving and growing. (To learn more about how Autodesk created an Anaplan solution that easily accommodates changes, download the full story.)  This continuous improvement is supported by an Anaplan Center of Excellence and several Master Anaplanners who provide governance, ensure that all models share a similar user experience, and that the overall environment drives business process alignment, workplace efficiency, and informed decision-making.
As a result of this smart, strategic operation, Autodesk's Anaplan experts have become industry leaders. They're active presenters at Anaplan webinars and events, and valued participants in early access programs for new Anaplan features.
 
Amazing agility replaces urgency
The teams' vision and focus have produced an Anaplan environment that is agile and powerful without being burdened by complexity. The thoughtfully crafted architecture enables the company to make large-scale changes in finance and sales processes easily. "With Anaplan, we were able to implement an entirely new company compensation strategy in the workforce model with simple changes to the master data in various lists and a source system integration query change," Hay recalls.
Another example of this agility—one that many companies can relate to—arose when Autodesk needed to make substantial pandemic-driven strategy shifts just weeks after annual planning was completed in early 2020. As it became clear that COVID-19's effects on the business would be felt for an extended time, scenario planners using Anaplan were able to adjust the assumptions underlying the completed annual plan. "As we began navigating the new COVID environment, we were able to treat it like another forecast, as opposed to a massive, disruptive fire drill," recalls Matt Chapman, Senior Director in Finance at Autodesk. "With Anaplan, we rebuilt the financial plan without significantly disrupting the business. It was pretty amazing."
Hay agrees that Anaplan has enabled the finance team to adapt to change in an agile way, even to the point of anticipating and addressing challenges before they arise. "Our goal is to reduce pain, uncertainty, and doubt for employees because we already have a solution," Hay says. "We're able to do that with Anaplan."
Improved agility is just part of the story. Multi-dimensional models in Anaplan accommodate the growing scale and complexity of Autodesk's business, and Anaplan's modern, secure architecture satisfies both the needs of business users and their IT colleagues. The ability to apply statistical algorithms to historical data and external datasets, along with support for artificial intelligence (AI) and machine learning (ML) initiatives, results in timely, accurate, and reliable forecasts. It also means that the data that underlies Autodesk's plans is more detailed and granular. The result is less noise, greater trust in data, and an enhanced ability for decision-makers to focus on meaningful work. "Anaplan enables people to have insightful conversations around the business and customer needs, as opposed to debating the numbers," Chapman says.
This creates an environment that generates greater satisfaction for Autodesk employees and customers—and supports business growth. As Hay states, "There's a lot moving around in the world, and having the ability to model different financial scenarios and make fast decisions is really important for our company's leadership."
Hayli Hay, Director of Connected Forecasting & Planning, Autodesk: Autodesk is a software company that is focused on creating software in construction, design and make, media, and entertainment. If you've seen a film, if you've been inside a building, or driven on a road, you've experienced Autodesk software.
Previously we were struggling with disconnected processes, manual work, and inefficiency. Anaplan allows us to work differently by integrating to our source system data. The way that we collaborate together, the accuracy that we're getting, it's made our planning process so much easier.
One of our biggest use cases is predicting the expenses of the company. Prior to Anaplan, we had 500 people trying to do their job all at the same time, and there was a wide range of acceptance of up to $1,000,000. Now that we're using Anaplan, we've been able to shrink the accuracy of our expenses to a $30,000 range.
There's a lot moving around in the world and having the ability to model different financial scenarios and make fast decisions is really important for our company's leadership.
I'm Hayli Hay, Director of Connected Forecasting and Planning at Autodesk, and we plan with Anaplan.