6 connected planning concepts from Ron Dimon of Deloitte Consulting LLP
Whether you're planning a complex supply chain; working in financial planning and analysis (FP&A); building a sales forecast; or calculating indirect cost allocation, CAPEX, or sales incentives, connected planning with the Anaplan platform can help you succeed. But the variety of use cases Anaplan can handle also presents a challenge: Each company beginning the connected planning journey needs to address its own unique goals and specific challenges.
That's why companies often seek out a guide who can help them prepare for connected planning, point out potential obstacles, and help keep them on track. Ron Dimon, Managing Director of Digital Finance Technology at Deloitte Consulting LLP, has developed a way of explaining the connected planning journey that business people can relate to: He walks through the many elements of connected planning — strategic objectives, models that embody those objectives, drivers that inform those models, and much more — and maps the connections between them. The final result, shown below, is a process designed to help bring it all together.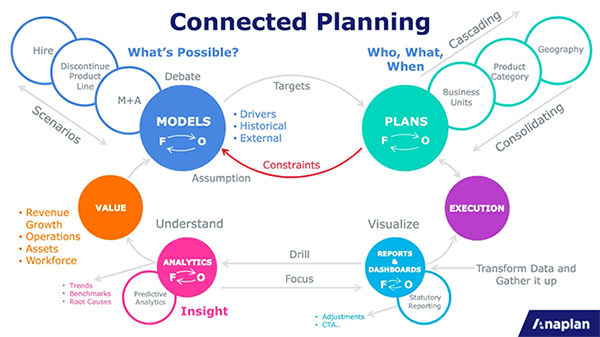 Ron Dimon of Deloitte Consulting LLP creates a connected planning process in the course of a 40-minute webinar. It shows the many elements and linkages that make connected planning so powerful.
If you haven't seen Ron's connected planning presentation, and you'd like to better understand Ron's diagram, we have good news: He shared the connected planning journey in a 40-minute Anaplan webinar, "Connected planning: A framework for enterprise collaboration," that you can view today. Here are six takeaways:
Planning cycles are speeding up. Companies need insightful plans quickly, at the right level of detail. "I work with one high-tech company that attempts to change the business on a dime, reworking hierarchies, moving product groups from one hierarchy to another, moving sales territories around, moving the workforce with it," Ron explains. That company uses connected planning to create "what if" scenarios—what its business would look like if it makes specific changes.
Start with strategic objectives. The ideal connected planning journey starts with the strategic objectives and goals that a company wants to attain, then connects those objectives to sustainable execution. This enables the company to understand what's possible within those strategic objectives — for example, how fast it can profitably grow revenue, or how much profit it could take in this quarter. "One of the first things that organizations do [with connected planning] is build a model that tries to answer those fundamental business questions," Ron explains.
Models and plans are both financial and operational. Connected planning models and plans should incorporate key indicators and drivers of business value. "We try to take the key financial and operational drivers … and build a model that's as close to reality as we can," Ron explains. Drivers might include sales and revenue growth, trends in spend and capital allocation, competitors' activities, customers' activities (buying signals and demand plans, for example), historical data, and external data.
Connected planning is multidimensional. Some businesses cascade financial targets from the top down, some do it from the bottom up, and some do both and meet in the middle. "There is a variety of different planning methods for annual operating plans or rolling forecasts or sales plans," Ron says. "However you cascade throughout the organization or consolidate throughout the organization, you have to make sure that your connected planning environment is multidimensional in nature — meaning it can handle multiple geographies and hierarchies, multiple products or channels, and multiple business units."
Prioritize by ease and value. Two criteria should guide your selection of use cases: Ease (based on implementation time and organizational readiness) and value (based on financial impact). "We walk through each business function and each plan type, and assess what the potential business impact is and the corresponding ease of adoption," Ron says of the methodology, "and very quickly we get a prioritized list of use cases to bring into the connected planning platform."
Technology is key to success. "The sheer amount of manual labor and mechanics that go into budgeting, planning, forecasting, reporting, and analytics" can be overwhelming, Ron says. Lack of visibility, arguing about the veracity of the numbers, and other challenges can get in the way of rapid change. Fortunately, technology can help. "In 2017, connected planning can exist because the technology supporting it is so robust," Dimon explains. "It can handle many more dimensions and a lot more data than we were ever able to handle in the past, without sacrificing performance."
Ron weaves real-world customer stories into his connected planning presentation: An international consumer products company that plans its supply chain by product, then channel, then geography; a large agribusiness that completes GAAP and internal financial reporting on a weekly basis; a technology company manages and predicts territories and quotas for all their sales reps. If your company is setting out on a connected planning journey, check out his webinar today.
| | | |
| --- | --- | --- |
| | Connected planning: A framework for enterprise collaboration | |
As used in this document, "Deloitte" means Deloitte Consulting LLP, a subsidiary of Deloitte LLP. Please see www.deloitte.com/us/about for a detailed description of our legal structure. Certain services may not be available to attest clients under the rules and regulations of public accounting.
This communication contains general information only, and none of Deloitte Touche Tohmatsu Limited, its member firms, or their related entities (collectively, the "Deloitte Network") is, by means of this communication, rendering professional advice or services. Before making any decision or taking any action that may affect your finances or your business, you should consult a qualified professional adviser. No entity in the Deloitte Network shall be responsible for any loss whatsoever sustained by any person who relies on this communication.