A comprehensive approach to an accurate sales forecast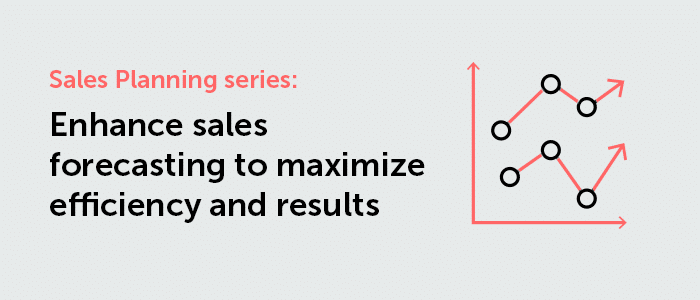 In this five-part blog series, we discuss how to enhance the end-to-end sales planning process, including sales account planning, territory and quota, incentive compensation, sales forecasting, and deal desk. In this blog, we talk about how to optimize your sales forecast for the best results.
The sales forecast is an essential part of daily sales operations—but unfortunately, it often also is a matter of guesswork, gamesmanship, and missed targets. With a variety of sales analytics tools out there, sales forecasting has become a popular challenge to solve for but still requires a careful strategy and a comprehensive approach. As a result, many sales leaders still struggle to find more accurate ways to develop their sales forecasts.
It's not good enough to ask your team for their latest estimates or plug numbers into a sales analytics tool; your sales team needs a broader perspective on the overall state of the sales pipeline to monitor deals in progress. Sales analytics involves using real-time data, complex modeling, a variety of hypothetical scenarios, and aligning the sales team's resources to ensure maximum efficiency and results.
Three steps to a comprehensive sales forecast
Look beyond the deal. Most sales forecasting has traditionally involved looking at what's going on within individual deals—estimating progress based on the sales rep's assessment of how far along the buyer is within the sales cycle—and predicting an expected amount of future revenue based on current trends. Deal-based forecasting can be valuable, but for an added degree of accuracy, make sure your sales forecasting strategy also gives you visibility into historical data and the larger trends over time.
Improve pipeline velocity. Good sales forecasting should not only give your team a big-picture view of your total sales results and the individual quota attainments—it should also help speed up the pipeline by providing visibility into which deals are at which stage of the sales process. More accurate sales forecasts can help your team figure out which deals have stalled (and why) so that you can "unclog" the sales pipeline accordingly.
Make it collaborative. Sales forecasts, like quotas, should not simply be dictated by sales executives. Instead, take a collaborative approach to developing the sales forecast so that the entire team has visibility and buys into the process. The whole sales team owns the results of the sales forecast, so it's only logical that the sales team should be part of developing it.
Your sales forecasting will always be a moving target. However, with a well-thought-out approach, strategic planning, and a collaborative spirit, your sales team can find new insights from the sales analytics data and improve their overall sales forecasting performance—driving better business decisions and results.
Learn more about how to improve your sales forecasting. Watch our three-minute sales forecasting demo to see how leading organizations are optimizing their sales forecasts in real time to get measurable results.
Read our previous blogs in this series—including how to optimize your incentive compensation structure. And check back for our fifth blog in this bi-weekly series, where we will discuss the advantages of implementing an effective deal desk.
"When it comes to gathering data about upcoming sales possibilities, companies and CRM systems rarely measure anything real. For most kinds of business-to-business selling, your CRM database is an outdated collection of anecdotes and guesses…Why is this the best we, as sales leaders, can do? Because for the most part we are collecting and summing opinions instead of data."

Matthew Bellows Harvard Business Review
Topic: Sales Forecasting