3 strategies for building an analytics-driven sales organization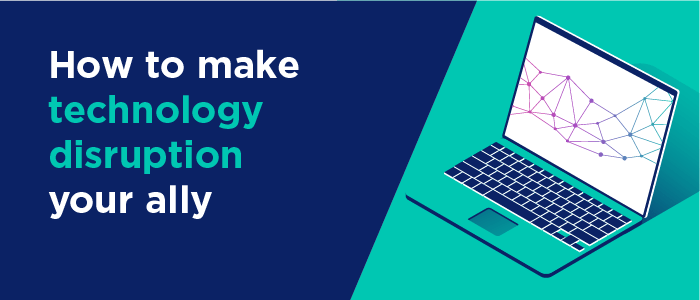 Chris Skinner, a leading expert in the global financial services scene and author of one of the industry's most influential blogs, delivered the keynote at our inaugural European financial services summit in London.
Chris discussed how digital transformation is redefining the role banks will play in the finance industry of the future. He also addressed the challenges banks face when it comes to embracing digital transformation, provided his observations on where many are falling behind, and gave some advice on what they need to do to change their habits and secure their future.
Digital transformation is not an evolution of business-as-usual
Chris pointed out that one of the key mistakes banks (and other industries) make is thinking of digital transformation as merely an evolution of their existing processes—when, in fact, truly embracing digital represents a wholesale change in their operational models. For centuries, the banking business model has been built on the physical: paper money, buildings, people—a wealth of tangible assets. In the newly digitalized world, however, data, software, and services are taking precedence. And most banks are not ready.
Connectivity is the new competitive advantage
The most valuable businesses around today are all about connectivity. They operate on a digital model based around connecting those who want things with those who have them. Chris referenced peer-to-peer lender Zopa and payment company Stripe, which was founded in 2010 and now the world's most valuable fintech start-up with a higher value per employee than JPMorgan. These new players understand how the world has changed and are more than ready to step in where banks fear to tread.
You can't afford to be average anymore
As some of the largest corporate structures in the world, many banks have focused on being "average at many different things" rather than honing in on a single area of differentiation. This is now their biggest weakness, and the one that is leaving them vulnerable to agile start-ups—which, in contrast, concentrate on developing deep expertise in one very specific area, such as mobile banking or peer-to-peer payments.
Data is the air that we breathe
To survive in this era of change, banks need to learn how to breathe the same air as their smaller, smarter competitors, which means embracing data and learning how to use it to their advantage. Most banks are still using proprietary systems they put in place 20, 30, or 40 years ago. Whereas start-ups regenerate their platforms every couple of years, 43 percent of banks are still running COBOL systems—and discovering that the people with the expertise to maintain such systems are retiring. And according to Chris, two out of five banks have no technologists on their senior leadership team, making it difficult for them to integrate technology into their business at a fundamental level.
Curation is the banking role of the future
So do banks as we know them have a role in the future, or are they doomed to die? Chris's view is that banks will always survive because customers need someone to do the job of finding and curating the best financial services for them—whether those services are advisory or digital.
To seize this opportunity, however, banks must change. For many banks, digital opportunity still comes down to technology and business process; for instance, they think embracing digital means building a consumer app when really it means making structural and cultural changes from within.
At the heart of this change lies a willingness to take a far more open approach than most banks are used to. Taking on the role of curator will mean building relationships with a network of partners rather than trying to create a wide range of proprietary tools that are merely "good enough." If banks are brave enough to adopt digital-era structures and strategies, they will be able to do more than just create their own technology when it's needed. Instead, they'll be perfectly positioned to bring together the services—including money management, mobile apps, and analytics—that customers need and take these services rapidly to market through a single technology platform or portal.
To do this successfully, banks will have to move from a reactive model to a predictive one. Curating the products and services customers need requires agility and the ability to identify what customers will want before they know it themselves. This ability to prepare for and adapt to any scenario is what digital transformation is all about.
| | | |
| --- | --- | --- |
| | The future of sales planning | |