Supply Chain Management Lessons from Toys 'R' Us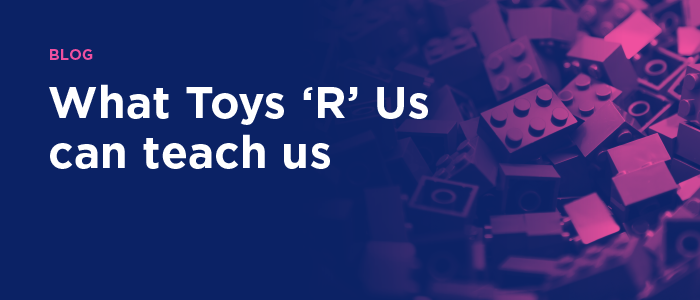 The Toys 'R' Us location in Times Square was my son's favorite spot in New York City while he was growing up. I used to take him there every chance I got. It was a sad moment for millions of kids like my son—and for adults who grew up singing the "Toys 'R' Us kids" jingle—when the iconic toy store brand filed for bankruptcy.
In March 2018, the chain announced that it would close its U.S. stores and lay off more than 30,000 employees. Like many retail brands, Toys 'R' Us was squeezed by marketplace changes, notably the Amazon Effect.
And so, in a truly mournful moment for kids and adults across the country, Geoffrey the Giraffe packed up his suitcase, grabbed his sunglasses and walked out of the store for the last time.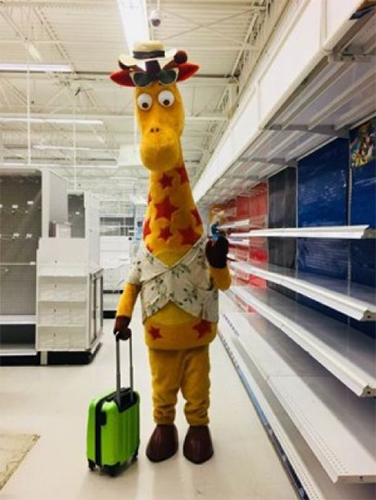 Thanks to Amazon, consumers are hooked on convenience these days, and retailers that fail to adjust will suffer the same fate as Toys 'R' Us. It's ironic because earlier in its history, Toys 'R' Us was famous for innovation in response to shifts in consumer demand. A 1985 Wall Street Journal article noted the chain's use of computers to track products and identify trends before their competitors.
The brand's demise wasn't caused solely by a failure to match the online shopping experience offered by competitors like Amazon; the truth is, retailers need to rethink their business model more broadly to respond to omnichannel demand. The baseline failure is one of planning. To succeed today, stores must be distribution centers in addition to retail locations, and that requires a new approach to meeting omnichannel demand.
A thriving supply chain in an omnichannel environment
Retailers that want to succeed where Toys 'R' Us failed must adjust in two ways: First, they need to understand the nature of the omnichannel shopping environment, where sales in one channel can cannibalize sales in another. Retailers must not only offer online shopping, they must have the ability to plan, track, and fulfill orders in real time to offer customers options like in-store pickup.
Considering the entire omnichannel environment includes everything from rethinking the in-store experience to online pricing. Toys 'R' Us recently deployed "play labs" at some stores to try to offer something competitors couldn't match. But it wasn't adopted widely enough to make a dent in their losses, and their online prices were consistently higher than their competitors' prices.
Making data truly useful
Creating new in-store experiences to attract consumers requires a new level of rigor and creativity in merchandise and assortment planning processes. Merchandise and assortment planning needs to be informed by consumer demographics in a particular store or cluster of stores. In today's business environment, when there is so much data about consumers readily available, retailers can harness that consumer and market intelligence to develop customized and targeted assortments like never before.
Today, most retailers use technologies like geotracking and inventory marking, but to function as an efficient distribution center, they also need systemwide inventory visibility and deep planning capabilities. Retailers need to know what will resonate with customers, using data to identify consumer behavior and advanced planning models to create accurate forecasts.
The power of an accurate forecast
The reality of the omnichannel shopping environment is that demand is always volatile, which means that retailers must be able to respond to changes and adjust buying plans and inventory in real time. In a volatile demand environment, the store-level plans need to be connected with overall demand and supply planning.
To be prepared for volatility, retailers need to develop a range-based forecast, which is a paradigm shift from current methods of planning in which history-based consensus forecast is considered a key driver for demand and supply planning. Range-based forecasts assume that demand will always be volatile, and retailers are prepared and ready to respond with the right strategies, whether demand is "above plan" or "below plan." This type of planning also needs to be connected with financial planning and analysis (FP&A) in real time to understand and maximize profitability in every scenario.
Another critical aspect of responding to the omnichannel environment is implementation of fast and flexible inventory management practices. One of the downfalls of Toys 'R' Us was empty shelves caused by an inaccurate "in stock" measurement. The chain considered a product "in stock" if they had three SKUs in the store, but consumer availability lagged.
With a Connected Planning platform, retailers collect data from all sources in one place, which gives them visibility into demand patterns plus a real-time pulse on what's happening at the point of sale. Connecting data across business units—including suppliers, marketing, sales, operations, finance etc.—in one place allows retailers to respond to changes quickly and in a way that maximizes profits. In this environment, planning is always ON. Retailers track store performance on a near real-time basis and respond to changes dynamically.
Toys 'R' Us tried to respond to a changing marketplace, but the actions they took were too little, too late. For retailers still in the game, and the supply chains that serve them, Connected Planning is the key to understanding supply chain management. With deep planning and analytics capabilities, retailers can compete and win in a rapidly evolving marketplace.
Topic: Supply Chain Management
Discover five strategies for retail planning success and create a comprehensive merchandising plan