Drive sales productivity and effectiveness by aligning all the moving parts of your sales planning process
Target setting, territory, quota, rep coverage, overlays, channel partners, commissions, forecasting and more.
Create a bullet-proof sales plan – crowd source it!
Leverage analytics in combination with the on-the-ground expertise of your territory managers to effectively plan all variables in the sales planning process—rep coverage, quota, accounts, product mix, territories, overlays, channel partners and more. Anyone, anywhere, anytime can collaborate from any device.
Optimize your plan against real-time insights into sales performance
With pre-built connectors, Anaplan makes integration with Salesforce and other common platforms easy so that your plan can easily be executed on and constantly optimized with real-time data from the field—ensuring you are always making decisions on the most up-to-date data set.
Adapt to disruption with plans that can be updated on the fly
Without technical assistance, any user can change business rules and models on the fly. Simply update a key driver and see changes ripple through your model. Anaplan's in-memory engine enables detailed sales planning process models that utilizes all your data down to the transactional level.
Anaplan for Sales
Territory & Quota Planning
Build a real-time territory and quota plan from your Salesforce data, advanced analytics and the collective intelligence of your sales team
Incentive Compensation Planning
Model, plan, and forecast compensation using your Salesforce and financial data with real-time views tailored to both rep and manager
Sales Forecasting
Deliver accurate, dynamic, and data-driven forecasts through actionable insights provided by a constant stream of data from Salesforce and other systems
Deal Desk
Leverage Salesforce opportunity data for seamless workflows, deal consistency, and dynamic pricing
Trade Promotion Planning
Optimize and align your promotions plans against market realities–at a strategic or SKU/customer/location level
Salesforce Integration

Anaplan offers an API, intuitive user Import/Export and pre-built connectors for common platforms like Salesforce.com and SnapLogic. Anaplan's data integration tools ensure your plan can easily be executed on and constantly optimized with real-time data from the field. Anaplan gets data and plans into the hands the front lines of your team while enabling key insights to be quickly surfaced to your management team. Ensure your business is always making decisions with the latest data and users are spending more time on analysis and less time aggregating datasets.
Collaborative Workflow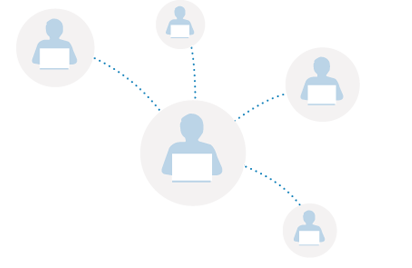 Anaplan streamlines and speeds up employees' workflow by centralizing communication around specific plans. Monitor status and approvals with a collaborative workflow that streamlines top-down target allocation and consolidation of roll-ups from the field. A robust audit trail ensures that changes are easy to track. Never lose track of where the project is at or waste time searching for the latest model or plan version.
Multi-dimensional planning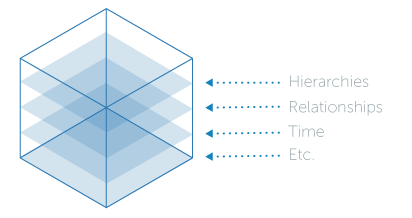 Anaplan enables business users to build multi-dimensional models to the right level of detail that matches business sophistication—all the way down to the smallest unit size. Build models to any level of granularity with any number of dimensions—layer in time (daily/weekly/monthly), hierarchies, relationships and more. Easily create dynamic scenarios in minutes using our time, version and dimensions. Using our breakback feature, quickly deliver a top-down sales planning process.
Mobile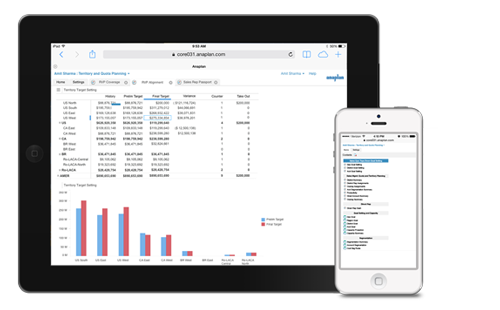 Anaplan is fully supported from any mobile device (iOS, Android, Windows) so you never have to be disconnected from your data. Users can access plans anywhere, anytime.
Dashboards & Reports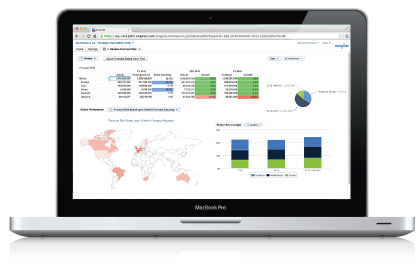 Anaplan has variety of publishing features including dashboards, charts, PDF generation, and a tightly integrated XLS plug-in. Share insights with the field, enable management to do their own scenario analysis, and create stunning executive packs.
A global community of customers