January '15 Anaplan Platform Release
We're excited to announce the latest release of Anaplan!
We're always looking for ways to improve the Anaplan platform's ability to help you empower decision-makers in your company to improve planning processes. The Anaplan January release allows you to provide dynamic insights and clear actions to your business managers without sacrificing simplicity.
Dynamic business insights
New dynamic hierarchy views and time formulas empower decision makers to explore data on-the-fly. Feature highlights include:
Explore by hierarchy level
To effectively execute plans and achieve targets, managers need the ability to quickly view and analyze the performance of your organization from many different perspectives. Are we going to meet our revenue targets in each region, for each sales team or individual sales rep? What products are performing well by category or SKU? Which customers are a retention risk by enterprise or industry? These are only a few of the questions you need to be able answer to make better decisions. In this release, business managers can simply click to explore different dimensions.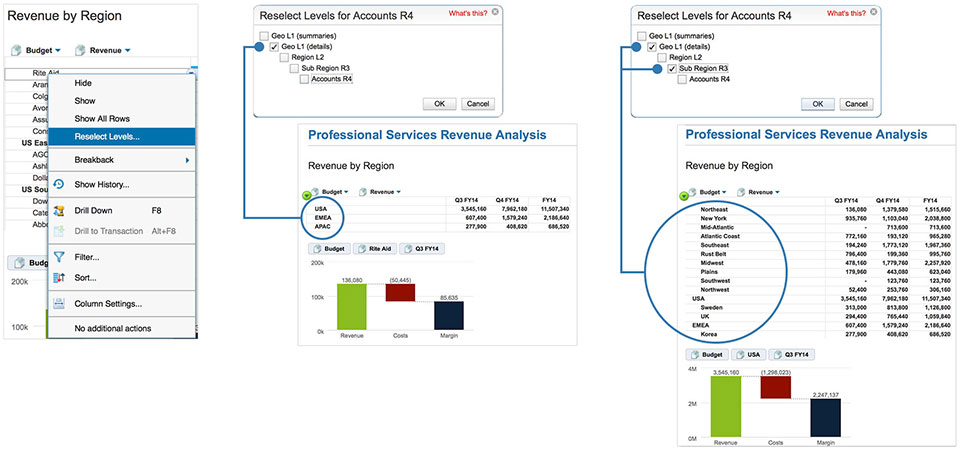 Rolling and self-select time periods
Managers also need to view actuals vs. budgets and forecasts for a variety of time periods. With rolling and self-select time periods, you can deliver more real time flexible insights to decision makers with less maintenance than ever before. For example; when one period closes and another begins, your P&L, operational, and other reports can roll forward and recalculate immediately across actual and budget, variance and forecast, for current and YTD values – with no formula edits required. Empower decision makers with on the fly insight comparing actuals to budget to forecast, for the same time span. Easily look at the "last three periods", "last four" OR "last two + next two". Together with conditional alerts, we make it easy to see if you are on on track or headed off course. Combine dynamic formulas with visual insight for more decision maker-driven analysis. Valuable for comparing actuals to moving average; use it for revenue, expenses, units, hours, people or whatever matters to your business. As the months increase, you immediately see if your average is going up or down, getting steeper, or leveling off.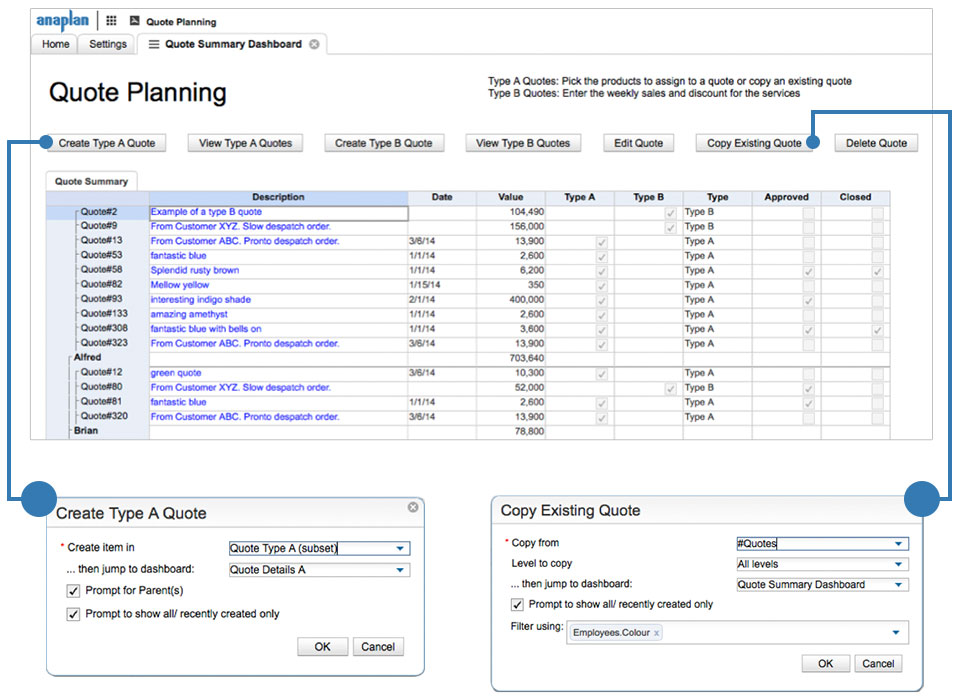 Explore data history
Enhancements to instructions and actions turn dashboards into powerful and simple to use apps you can use to engage anyone in the planning process. Feature highlights include:
New apps
There are many exciting developments arriving in the Anaplan App Hub, including restyled app dashboards, new Learning Apps to help you build better models, and an ever-growing portfolio of ready-to-use Apps:
Learning apps provide best practice instruction for formulas and functions, reporting, and statistical forecasting
The app portfolio is growing! Check out the latest apps at: www.apphub.anaplan.com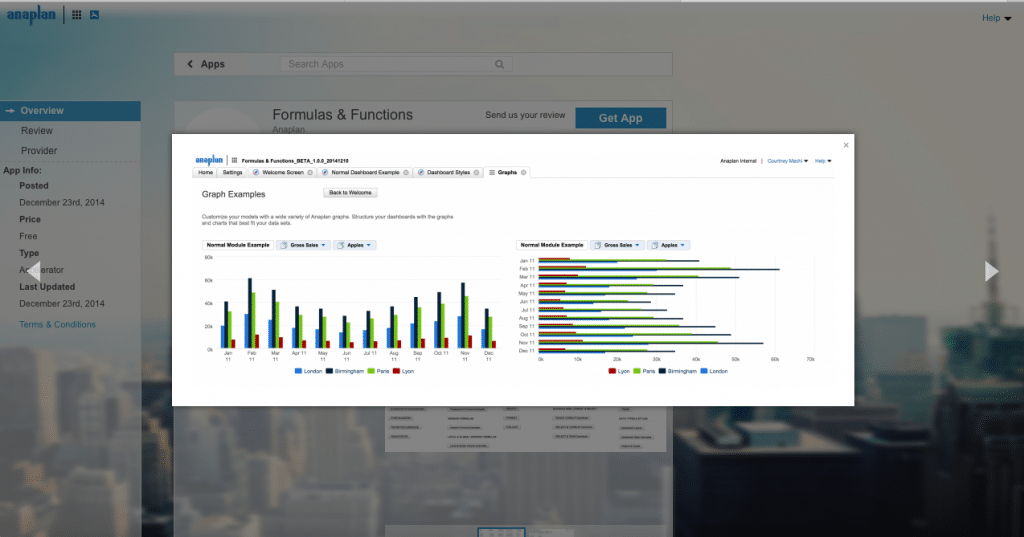 Coming soon: A redesigned Excel add-in will provide an Anaplan ribbon within Excel and a wizard to quickly and easily build views. Be sure to explore Anapedia to learn more about all of the new features and capabilities in this release, which include additional features, to build and maintain your Anaplan applications.
A global community of customers